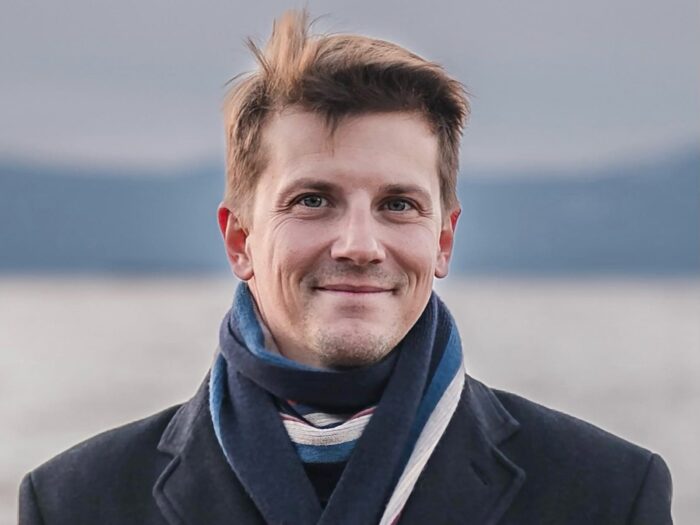 Benoît Douville first got to know Ducks Unlimited Canada (DUC) through his work, but his love for the outdoors motivated him to become more involved as a volunteer. It's a relationship that brings together his passion and his profession with the clear purpose of advancing conservation across Quebec.
In 2009, Douville won a transport and maintenance contract for a property DUC acquired on an island on the St. Lawrence River between the villages of Saint Jean Port Joli and Petite Rivière Saint François. There were many difficulties accessing the site as well as restrictions due to tides and weather. But rather than letting the challenges of the project deter him, Douville put his expertise to work and applied even more effort. "I got involved well beyond the scope of my contract—and more and more every year," he says.
Today, Douville has been going above and beyond in the name of wetlands and wildlife for more than a decade. In recognition of his outstanding volunteer service, Douville was named DUC's Volunteer of the Year in Quebec.
Over the past ten years, Douville and his wife Eliane have been involved in the supervision, operation and maintenance of that same DUC site on a voluntary basis. They also help ensure that the public respects the times of year when access to the island is prohibited, an effort to protect the nesting sites of the many species of birds found there.
"It is an exceptional and fragile place that must absolutely be protected and conserved," says Douville, who is a resident of the area and regular boater in his free time. He adds that several friends have joined him over the years to deliver various conservation tasks for DUC.
"The Ducks Unlimited Canada team in Quebec extends our sincere thanks to Benoît for his great contributions to this project," says Émile Bentz, conservation programs specialist for DUC.
In addition to volunteering with DUC, Douville shares his time and talents with other organizations that align with his conservation interests. He was Harbour Master at the marina of Saint Jean Port Joli from 2009 until 2016, a position which also involved a fair amount of volunteering. Today he works as a consultant and test pilot for a pleasure craft dealer and still finds time to volunteer for the marina in Saint Jean Port Joli and the marina in Montmagny.
Why does he remain committed to what started out as a work assignment? Douville says he shares the values of DUC and knows that his efforts matter.
"My wife and I are committed to protecting the environment and the tangible and intangible heritage of our region," he says. The newest reason? His daughter. "We have just had a little girl, Lena, who will take over."
There are more than 130 DUC volunteers in Quebec and 3,950 across Canada. DUC is proud to recognize each of them—including outstanding leaders like Benoît Douville —as volunteer champions and conservationists who serve with generosity, passion and dedication.