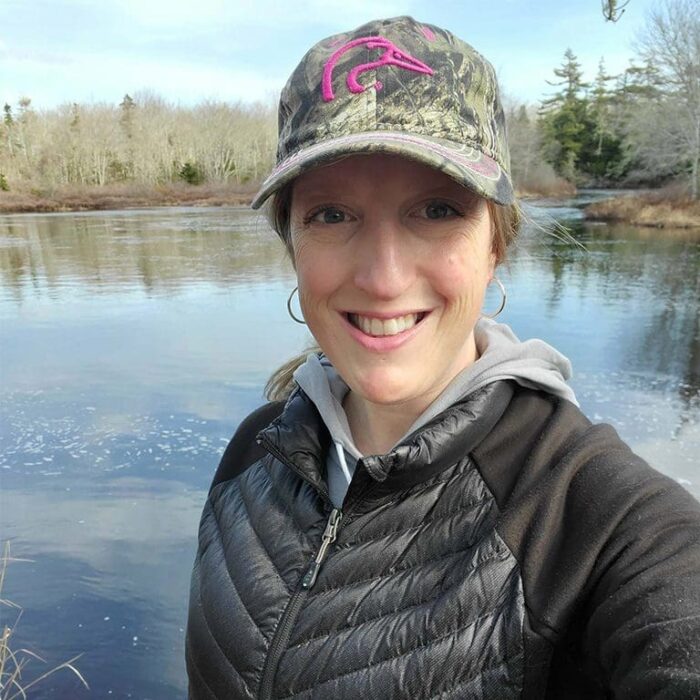 If you need something done, just ask Angèle Scott.
For the past seven years, Angèle has worked with the Shelburne County DUC chapter, hosting dinners, auctions and a handful of other volunteer opportunities throughout the year. Along with working full time, being part of a family sawmill and competing in lumberjack sports, Angèle is happiest when she can roll up her sleeves and get down to work.
"I guess it's in my blood, having that love and connection to nature and being outside," she says. "[I appreciate] having that hands-on aspect and seeing the end result of your work."
That's why Angèle has jumped feet first into her work with DUC. Along with hosting the annual fundraising dinner and auction, she's also involved with the social influencers program, where she shares messages about wetland conservation in her area on social media. The Shelburne County chapter raises money for school groups to take field trips to DUC sites, and Angèle has facilitated the installation of nest boxes in the area.
"I like the nest boxes. When you do it with a group or organization, or even if somebody's doing it with their kids at home, there's a hands-on piece. It's not just talking about something, you're actually doing something," she explains. "And it's something fun."
For Angèle, seeing the results of her work push her to keep going, and to get others in her community involved. That's why she loves supporting the wetland field trips for local school classes.
"It starts with the kids, building that base and having that appreciation of our environment and what's in it."
A self-described "outdoorsy" person, Angèle has always felt an attachment to nature. So, when her family member first asked her to join DUC as a volunteer, it was an easy fit.
"It's a networking thing, too. You get to know different people in your communities through the volunteering," Angèle says.
Since she spends much of her time outdoors, volunteering with DUC has given her a new appreciation for the natural spaces she loves.
In recognition of her outstanding volunteer service and passion for conservation, Angèle Scott was named DUC's Volunteer of the Year in Nova Scotia.