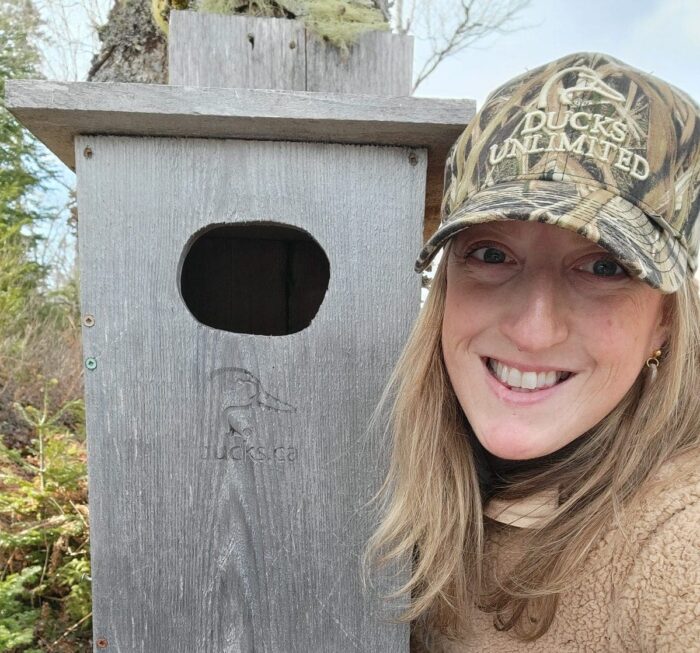 Laying in the grass next to Nova Scotia's Barrington River, Angèle Scott is in her happy place. The home where her grandfather grew up still stands in the distance and the gentle hum of the water accompanied by the sound of bird trills leaves her feeling at peace. She says the outdoors is "in her blood," and it's easy to understand why.
Scott's grandfather and great-grandfather were both hunting guides who passed along lessons about the wild. Her family also owns and operates a small sawmill that's been handed down through five generations, which has given her a special affinity for the woods. Fittingly, it was also family that introduced Scott to DUC and opportunities to give back to the natural areas she loves as a volunteer.
"My sister-in-law works for DUC as an education specialist, and wanted to revive a local chapter, so I volunteered to help her out," says Scott. "Now she and I co-chair the chapter based out of Shelburne County."
Scott has quickly become an ardent ambassador for DUC and a go-to resource for her fellow volunteers, known for bringing new ideas and energy to fundraising activities across the province. Her strong personal connection to the wetland conservation mission coupled with her outstanding volunteer service earned her the title of DUC's Volunteer of the Year in Nova Scotia. It's an honour she's received for the second year in a row.
"Over the years of volunteering with DUC, I've come to learn more about all of the conservation efforts the organization does and the importance of wetlands on ecology as a whole. It's given me a greater appreciation and respect for wetlands." ​
Scott encourages other outdoor enthusiasts in the province to seek out volunteer opportunities with DUC as a way to give back.
"There are so many ways to help, so volunteering with DUC can be as much or as little of a time commitment as you want it to be," she says. "It gets you engaged with your community and creates relationships with people you likely never would interact with.  It's also just a great organization, especially for those who appreciate nature and want to ensure we're able to enjoy what it has to offer for years to come."
For Scott, whether she's relaxing beside the Barrington River, hiking through the woods or paddling in a Nova Scotia wetland, she's at home in the outdoors. All of us at DUC are proud to know that her contributions to conservation as a volunteer are helping keep that connection strong. For all you do, thank you, Angèle!