Hazard Campbell: A legendary life
North America's conservation community remembers "ambassador for the ducks."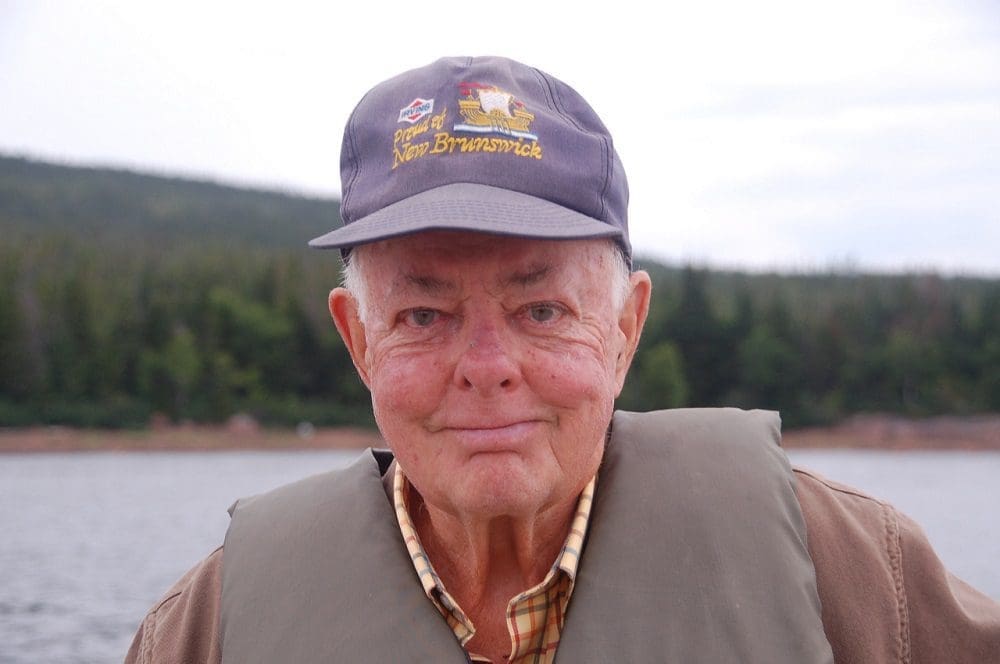 "My first duck hunt was with my dad in 1937 at Turkey Point in southern Ontario….I've always enjoyed good hunting thanks to Turkey Point and when I grew up, like many of you here today, I really wanted to give something back to the resource. Ducks Unlimited was the answer. I joined Ducks Unlimited so I could help the resource and I've stayed with DU because of the people."
– Hazard Campbell, Ducks Unlimited Canada 75th anniversary event, October 5, 2013, Winnipeg, Man.
Last November, Hazard Campbell and his wife Gina spent American Thanksgiving along the shores of Lake Erie at Turkey Point Company Hunt Club, where Hazard had been a member for nearly 80 years. Despite their fading health, Hazard and Gina insisted on maintaining their annual family tradition of enjoying good waterfowl hunting, good food, and good company at their beloved Turkey Point marsh.
About a month later, on December 14, 2015, Hazard headed out on the marsh in a boat with a guide. The final bird in his limit was a merganser: a beautiful bird, but not typically sought by seasoned waterfowlers. Worried that it would be his last bird of the season, Hazard was disappointed. The next morning, he went out again, determined. At 87, Hazard was still a good shot, coming away with a brace of mallards. He was happy.
It would be his last hunt. Hazard passed away on July 27, 2016.
For Tom Worden,  that hunt was the perfect finale to "a great life."
"The thing that struck me about Hazard was his complete enthusiasm for everything: for hunting, for Turkey Point, for Ducks Unlimited, for family, for friends, even for dinner and cocktail hour," says Worden, past president of DUC.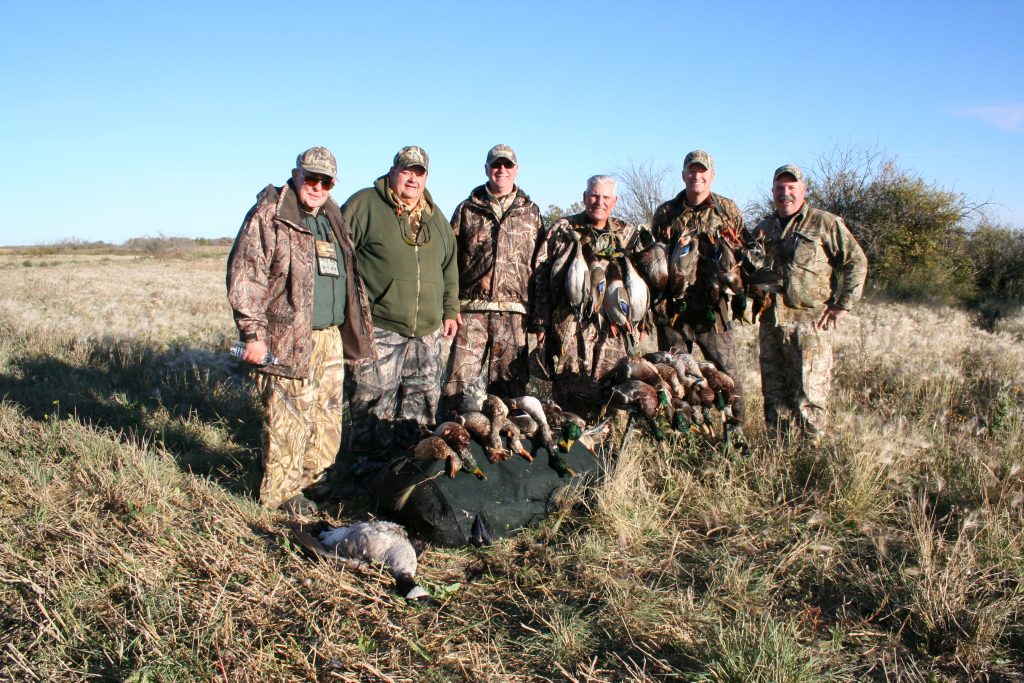 "In the mornings before a hunt, he'd be the first guy up and you'd find him at the window overlooking the marsh."
Worden composes himself, searching for the right words to describe his close friend and long-time hunting companion.
"He loved people. He had this twinkle in his eyes. He was one of those guys that every time you saw him, you came away feeling better – whether it was after five minutes or five days."
Angela Wiggans, the house and property manager at Turkey Point, agrees. "He wanted to know everyone, whether you were poor or rich, young or old."
Hazard had "the spark," says DUC president Jim Couch, recalling a memorable prairie hunt with his long-time friend, two years ago.
"It was a classic fall day with clear skies and plenty of birds. Hazard, who was 86 at the time, was tossing out decoys looking as sharp as ever. You could tell he was totally in his element."
"And that's what we all loved about Hazard. He never stopped pursuing the things that fueled his passion, and he never wavered in his commitment to conservation. As a leader, mentor and as a hunting buddy, he is simply unmatched."
Hazard's history with North American wetland conservation is as long and illustrious as they come. For more than 60 years, he proudly served as a volunteer, philanthropist, leader and ambassador. Hazard was the longest serving board member in Ducks Unlimited Canada history, having generously shared his time and talents since 1978. In 1986, he served as president for Ducks Unlimited, Inc. in the United States (DUI) – the year the organization celebrated its 50th anniversary.
A pioneering conservationist
Hazard made his home in Buffalo, N.Y., and was a strong proponent for wetland conservation in Canada. As chronicled by DU historian Bruce Batt in his book, The Marsh Keepers Journey, in the early 1970s, a groundswell of enthusiasm for greater Canadian engagement in fundraising emerged within DUI. It was an idea ignited by Hazard.
Because he hunted at the Turkey Point Company, Hazard encouraged his fellow club members to attend DUI membership dinners in Buffalo. They did, and before long were inspired to form the Long Point Chapter to explore the potential for a dinner program in Canada. They scheduled the first event for October 23, 1974 – the middle of duck hunting season – in Tillsonburg, Ont.
These first chapter members became known as the Magnificent Seven. Under Hazard's ambitious leadership, they took a pioneering step that changed DUC forever.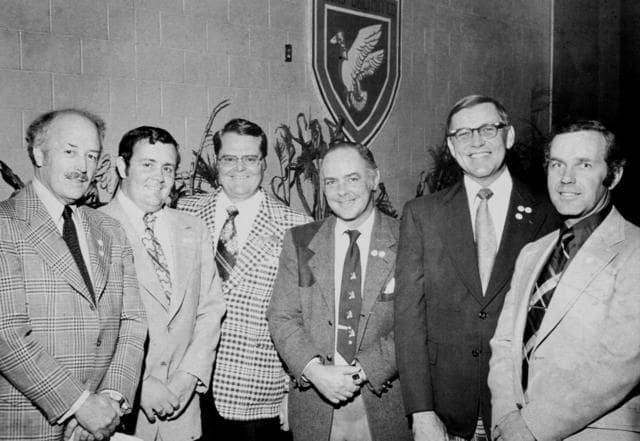 One of the highlights of Hazard's DUI presidency was going to Washington in 1986 with then DUC president Arthur Irving to witness the signing of the North American Waterfowl Management Plan, which had major input from DU Inc. and DU Canada.
"Hazard Campbell was a great friend," says Irving. "We spent a lot of time together over the years whether it was at meetings or in the marsh talking about ducks and ways to make Ducks Unlimited even greater than it was."
"When I think of Ducks Unlimited, I think of him.  Hazard was a very strong supporter of Ducks Unlimited. We have all learned from his examples of passion for the ducks and his kind, caring ways.  His memory will long live on."
Cross-border champion
Perhaps more than anyone, Hazard appreciated the continental nature of wetland conservation. Ducks don't recognize borders, and neither did he.
"Very early on, I knew that one side of the border meant as much to him as the other," says long-time friend and fellow DUI and DUC board member Mike Woodward.
Woodward was part of a committee that organized a special fundraising tribute in honour of Hazard several years ago. Invited guests included Hazard's many friends, as well as past DU presidents from both Canada and the U.S.  Woodward says never have so many past presidents gathered together in one place. Many were elderly, not to mention scattered across the country.
"But for Hazard, they made the trip."
Woodward says that fundraising event raised more than $1.25 million, which was then divided equally for conservation work in Canada and the United States.
In 2011, DUC honoured Hazard's cross-border passion for wetland conservation with a tribute project in the heart of the Saskatchewan prairies. A project was also dedicated to him in his home state of New York in 2010.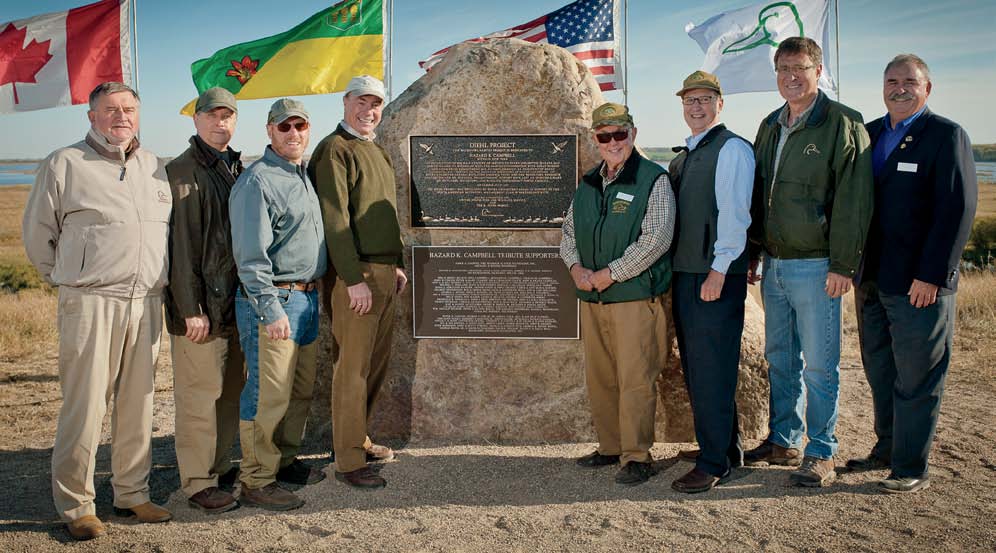 Honours and accolades
The many ways Hazard exhibited his generosity, shared his time and elevated our appreciation for the important conservation work we're privileged to conduct earned him much admiration and high praise.
This past October, Hazard received DUC's Order of Conservation, a continental award recognizing extraordinary efforts to enhance the future of wetlands and wildlife.
During our 75th anniversary in 2013, we were proud to appoint Hazard Ducks Unlimited Canada's Emeritus Chairman of the Board.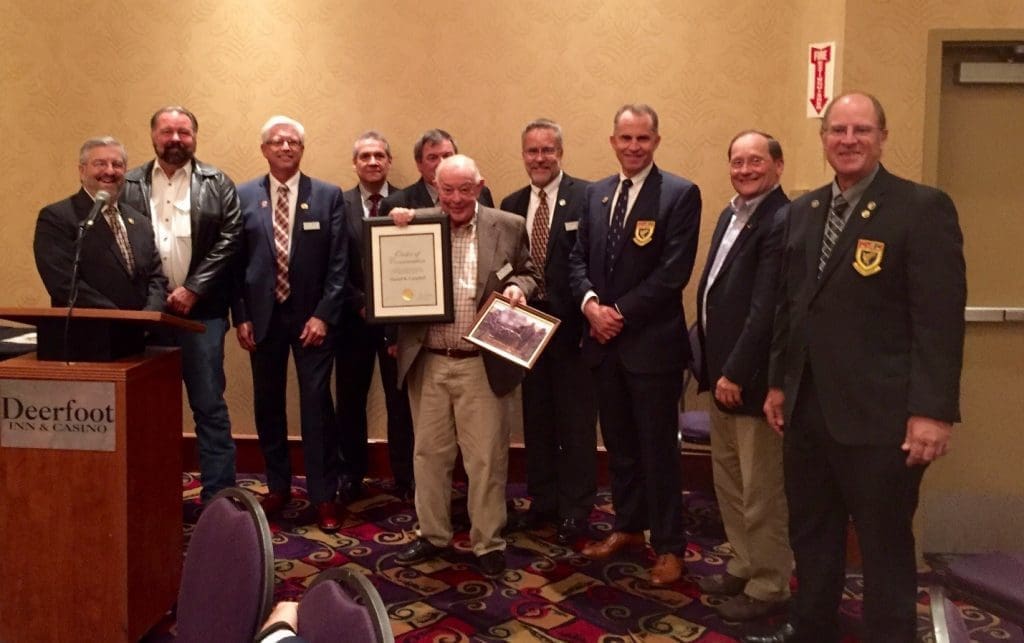 A life that touched many
It's hard to convey in words the incredible zest of Hazard Campbell. The long-time supporter and DUC director's contributions and commitment to conservation are legendary. But when speaking with people who've been touched by Hazard, many of the same terms of endearment were shared. Mentor. Idol. Storyteller. The guy with the twinkle in his eye.
Life-long friend and past DUI president John Tomke summed it up simply by saying, "If someone asked me to describe Hazard in one word, I'd say gentleman."
The greatest legends never leave us; their lessons, influence and impact last forever. For this, we are extremely grateful. It's been a true honour to know Hazard, to have felt the warmth of his friendship for so many years and to have witnessed the power and results of his ambition.
Hazard's inspirational legacy will be seen and heard every spring and fall when waterfowl fill our continental skies.  And his conservation spirit will live on in all of us.
Hazard was predeceased by his wife, Virginia (Gina) in May, 2016. He is survived by three children, four grandchildren and many other family and friends. He was an active steward of his family's philanthropic support of DUC, and the multiple generations of family and friends who proudly embrace their hunting heritage and conservation ethic.
Hazard's ashes will be scattered in various spots around Turkey Point marsh, at places where he shared treasured memories of hunts with his grandchildren.
"I truly believe a small amount of his ashes should be on the mantel so he will always be there and with anyone who has the privilege to be part of the TPCO [Turkey Point Company]," says Wiggans. "Hazard is what the TPCO is all about."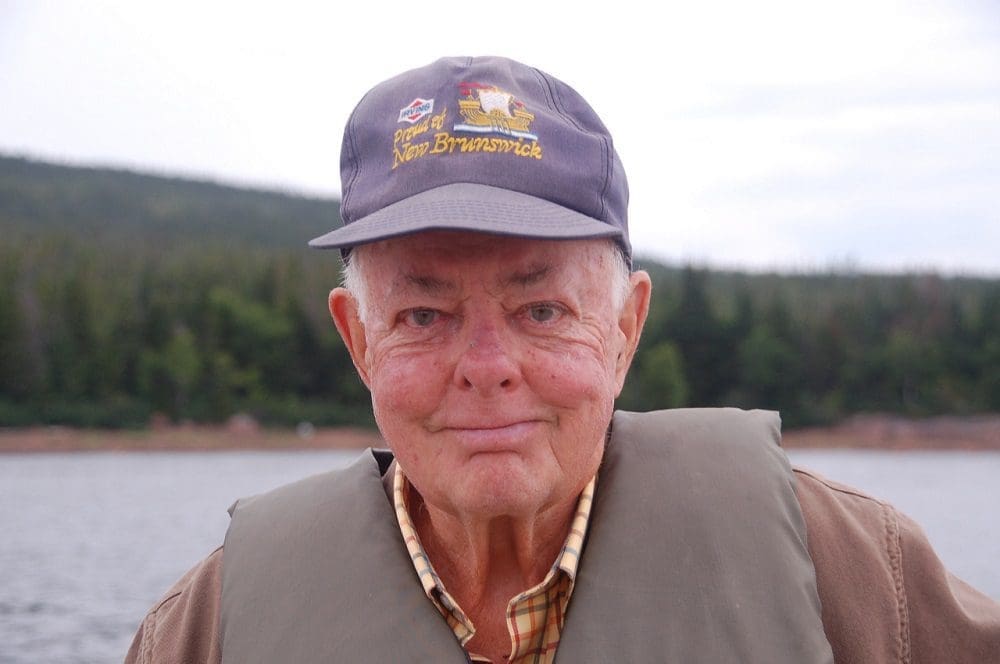 "Our favourite moments in the marsh contribute to our shared experiences across the country and across the continent. Ducks have no borders – most of the ducks we see and hunt are produced above the 49th parallel. I want to urge all my DU friends today to remain committed to helping put ducks in the sky so that others can enjoy the special places and special moments we've all experienced."
– Hazard Campbell, Wetlands for Tomorrow campaign launch, Denver, CO, May, 2009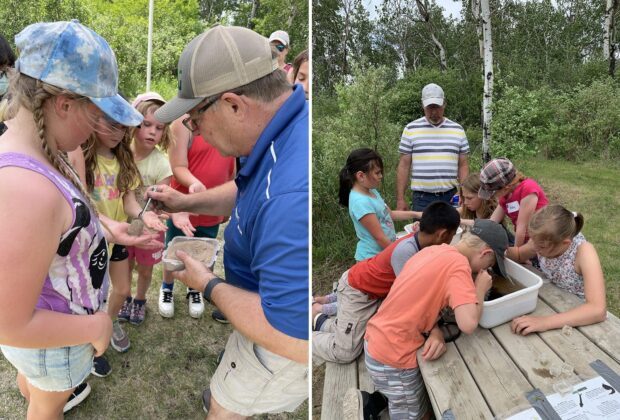 85 Years of Conservation, Education, Volunteers
trueA decades-long partnership has given countless children environmental knowledge, leadership skills and a connection to nature built on respect and curiosity.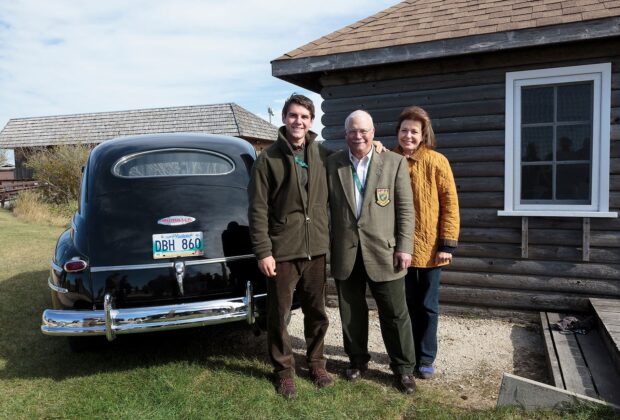 85 Years of Conservation, Grassroots, Volunteers
trueMore confirmation and recognition for George C. Reifel's incredible impact on wetland conservation in B.C. and across North America.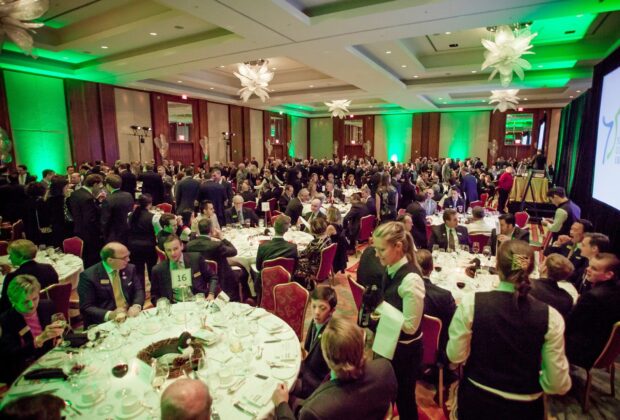 85 Years of Conservation, Grasslands, Volunteers
trueThe secrets of DUC's most successful annual fundraising event: the Toronto Dinner.