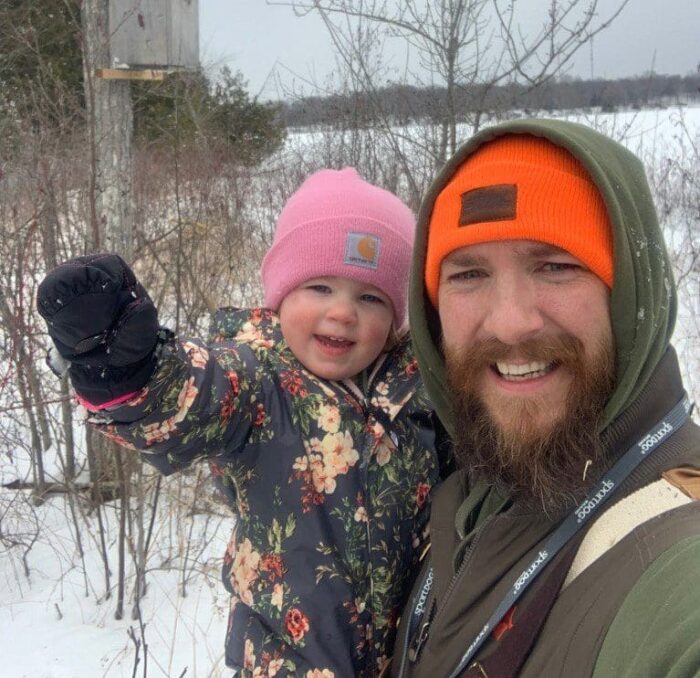 Rob Harmon is keeping the fun in fundraising in Frontenac County. Rob is co-chair, alongside his wife Jessalyn, of DUC's Frontenac volunteer fundraising chapter in eastern Ontario. Rob's great attitude means he's ready to step in where needed, whether that's helping sell out the Ontario raffle calendar or pitching in at fundraising banquets.
Rob also leads an annual motorcycle rally that is heading into its 10th year. Since 2020, DUC has been the beneficiary of the 613 RIDE, a summertime motorcycle fundraiser north of Kingston that has connected with area sponsors—including Kingston's Spearhead Brewing Company, creator of Decoy Lager.
"I started the 613 Ride a decade ago," he said. "It's in memory of Troy McGinn, a great friend, brother and hunting buddy.
"Watching Troy's passion for hunting and overall love for waterfowl grew on me everyday we were in the duck blind and led me to attend the annual Ducks Unlimited Banquets in Napanee with Troy, his father Leon and the family."
In 2021, the Frontenac chapter launched a new Kingston-area rally, the Muddy Duck Run, as an alternative to their banquet.
Rob is a passionate outdoorsman, the kind who can't wait to get out to the wetland. He loves to hunt and documented the time he got Jessalyn to help him out to the blind in a foot cast. "Seeing everyone out goose hunting while I'm laid up with my foot in a cast, I couldn't help it, I had to get out there," he said.
Rob lives his values out loud. That's where he puts his energy: his family, his people and his love of the outdoors. Volunteering to raise funds for habitat is a family affair, with Jessalyn and their daughter by his side. Rob is sharing those values with his young daughter too, his nest-box support squad and in exuberant trailside selfies.
"One thing I always say when talking to other hunters and new people to Ducks Unlimited Canada is, if you take from a resource, you should give back to that resource. I'm a firm believer in this because I want my children and grandchildren to enjoy the same sights, sounds and opportunities that I've had in the outdoors."