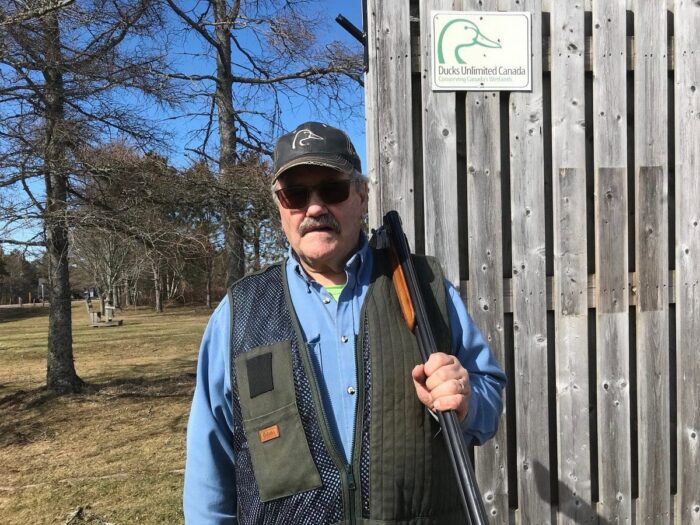 Roger Giddings is as down to earth as they come. The sharpshooting, lifelong conservationist from Charlottetown has been volunteering with DUC for 12 years, and his reason is as simple as it is sincere.
"I just love the outdoors," he says.
Roger's love for the outdoors is closely tied to the enjoyment he gets from spending time afield with friends and family. For him, "freezing your butt off in a duck blind" is just part of the hunting experience. The chance to take in the beauty of the surroundings alongside good company is what's most important.
"We go out and tell lies and drink coffee and tea," he says. "Every now and then, we might get a chance to shoot a bird. But we have fun trying—that's all I care about."
Roger says the occasions where he's joined by his son and granddaughter are particularly special, noting "it's nice to have three generations out hunting together."
Roger is part of DUC's Charlottetown volunteer committee that hosts an annual fundraising dinner and auction. But recently, challenges associated with the COVID-19 pandemic and hosting in-person events put those plans on hold. Fortunately, outdoor events remained an option for community members to safely gather and have fun while raising funds. Roger saw this as an opportunity to put his shooting prowess (and his famed ability to teach left-handers the knack of breaking clays) to work for DUC.
Giddings took it upon himself to organize a "buddy shoot" at the local trap and skeet club with the proceeds supporting wetland conservation. Teams from across the Maritimes are signed up to attend the event, which is taking place in May.
Fellow volunteers and DUC staff have come to rely on Roger as a "go-to" person who's always willing to lend a hand. Whether it's securing donations, selling raffle tickets or raising awareness about DUC projects and programs, this drive to do all that he can for conservation earned him the title of DUC's Volunteer of the Year in P.E.I.
From all of us at DUC, congratulations, Roger. Your many contributions to conservation across the province are right on the mark.