Healthy wetlands in public parks attract birds and other wildlife to places where everyone can enjoy them. In this case, the wetlands will also provide much-needed coastal habitat for wildlife on the Great Lakes—including species at risk.
The James N. Allan Provincial Park protects nearly 300 acres (117 hectares) of natural environment on the Lake Erie shore. The forest and wetland habitats skirt an expansive pebble beach that is a popular summer destination.
The restoration area was previously drained and filled at the edge of an agricultural field. By restoring the wetland, marginal farmland is replaced with productive habitat.
"This habitat will immediately benefit a high diversity of migratory and resident wildlife within the park, including species at risk, and helps us take a big step toward our goal of restoring former agricultural lands to nature within our provincial parks system," says Ron Gould, protected areas specialist for Ontario Parks.
The wetlands are being "cultivated" for wildlife now with structures and terrain designed to support birds, frogs, turtles and pollinators—including nest boxes, native grasses, floating logs for waterfowl, and hibernacula for snakes.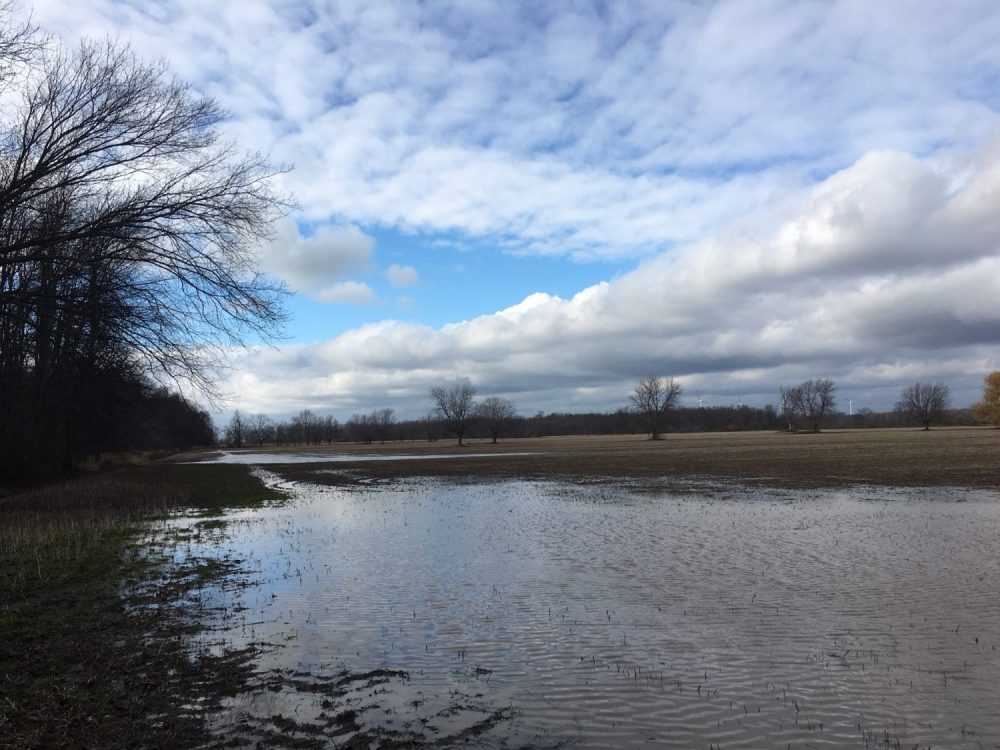 Wetlands help protect Lake Erie water quality
The restoration project at the James N. Allan Provincial Park is part of a larger effort to improve water quality in the Lake Erie watershed. Working with the Ministry of Natural Resources and Forestry, DUC's team in Ontario is delivering large-scale wetland conservation to capture and filter phosphorus and other nutrients from surface water before it travels downstream.
Jeff Krete, conservation specialist for DUC, points to a vision for Lake Erie that supports wildlife and people. "Wetlands contribute to water and air quality while sheltering and feeding wildlife. A healthy Lake Erie is good for all of us."
"The wetland restoration at James N. Allan Provincial Park is a showcase example of what's needed in Haldimand," says Dan Romanoski, president of Haldimand Stewardship Council which has implemented reforestation at the park. "We need more projects like this one for a resilient landscape."
The community partners who came together to support this project include the Patrick Hodgson Family Foundation, the James N. Allan Family Foundation, Ontario Parks and the Haldimand Stewardship Council.
The park is named for the renowned Dunnville-born politician who had a long career in the provincial legislature. His descendant, Scott Allan, helped support the restoration through the family foundation. "The Allan family is very pleased to see some of the farmland rehabilitated in the park that honours our ancestor's legacy."
A legacy for wild birds
The Patrick Hodgson Family Foundation's support was the "kick-start" for the wetland restoration at the James N. Allan Provincial Park. Sadly, Patrick Hodgson did not see the project completed. Deceased in 2018, he leaves behind a family and a substantial legacy.
"The gift from the Patrick Hodgson Family Foundation ignited support for this project," says William Jones, development manager for DUC. "Mr. Hodgson was committed to leaving the world a better place than he found it."
Restoring wetlands on public land
Read about another DUC wetland restoration on public land in Ontario, at Aylmer Wildlife Management Area.
Learn more