How our work impacts conservation across Canada.
Where we're working on the ground from coast to coast.
We need your help to protect our water, wildlife, and wetlands. Here's how you can make an impact.
Ducks Unlimited Canada responds to B.C. Budget 2022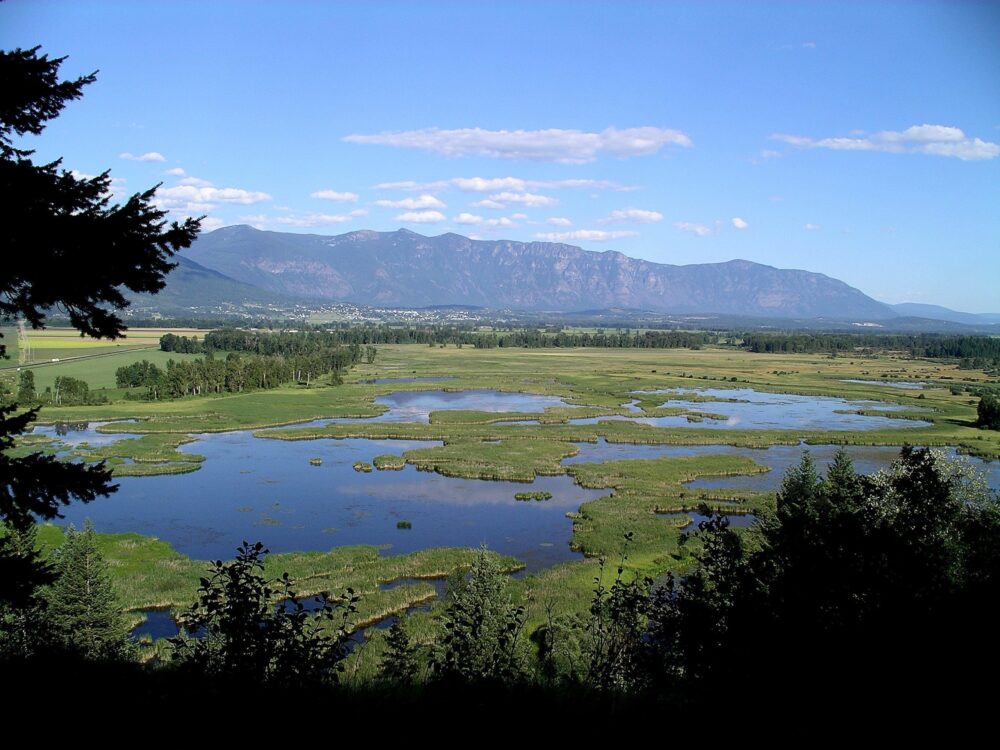 Building a better, climate-resilient province will require ongoing investments in wetlands
This week, Finance Minister Selina Robinson outlined what the Province will do to fight climate change and protect British Columbians from the effects of extreme weather in the 2022 budget. After a year of back-to-back natural disasters—ranging from fires and floods to debris flows—tackling climate change costs and investing in preventative measures are pillars of the government's go-forward plan.
As the country's leading wetland conservation organization, Ducks Unlimited Canada (DUC) was encouraged to see budgetary commitments that recognize the value of nature-based solutions for buffering extreme events. DUC is urging the Province to invest in protecting and restoring wetland habitats as part of its nature-based approach—something that is absolutely critical if B.C. is to prevent similar climate disasters in the future.
"Because of their capacity to absorb and store excess water, wetlands are among our greatest tools for bolstering ecosystem and community resiliency to climate change," says Larry Kaumeyer, CEO for DUC. "It's concerning that B.C. still does not have a comprehensive wetland policy to prevent the destruction of precious intact habitats as well as mitigate and offset losses that occur. Given the tremendous environmental and economic costs of last year, British Columbians simply can't afford to leave this natural capital in jeopardy."
Steps in the right direction
DUC was pleased to see a continued commitment in the 2022 budget to implementing the Climate Preparedness and Adaptation Strategy. This includes the development of the Watershed Security Strategy announced last month, which aims to ensure healthy ecosystems support communities across the province with secure access to clean water.
It's imperative that B.C. wetlands be put at the heart of this strategy, given their direct impact on drinking water, food production, recreation and the health of local economies. The strategy, which is currently open for public engagement and feedback by way of a discussion paper, represents an important opportunity to integrate a policy to protect wetland habitat. Kaumeyer says DUC looks forward to continued collaborations with the government, First Nations and other stakeholders to deliver the outcomes from the Watershed Security Strategy.
Support for salmon
A noteworthy point within budget 2022 was the Ministry of Agriculture Food and Fisheries' objective to address fish species decline. This included a commitment to work with the federal government to revitalize B.C.'s wild salmon stocks.
"Species such as the Chinook salmon have experienced significant declines in recent years," says Kaumeyer. "Working alongside our partners, we've been focused on restoring key wetland habitat surrounding the Fraser River with the goal of renewing salmon stocks and improving habitat for a wide variety of marine life, as well as waterfowl."
DUC is keen to see important conservation projects continue in the province's most famous estuary, which will benefit both the finned and feathered.
Advancing regenerative agriculture
Another promising sign in the budget supports the critical relationship between conservation and agriculture in B.C. DUC has long recognized that agricultural producers are among the most important environmental stewards. Budgetary investments in regenerative agriculture will offer additional support and opportunities for them to improve the productivity of their operations while providing environmental benefits.
Regenerative agriculture refers to a system of farming principles and practices that seeks to rehabilitate and enhance the entire ecosystem. It focuses on things like regenerating topsoil, increasing biodiversity, improving the water cycle and increasing resiliency to climate change.
"We believe there is a significant opportunity to redefine the role of agriculture in supporting resilient landscapes and communities," says Kaumeyer.
DUC is working alongside ranchers in B.C.'s interior to support regenerative agricultural efforts, including protecting and restoring wetlands on their property. This not only provides water for their herds, but also provides habitat for a host of other wildlife and helps sequester and store carbon.
Looking ahead
Recognizing that nature is a key to B.C.'s recovery, the commitments made by the Province in the 2022 budget represent important opportunities for all sectors to work together to address impacts of the climate crisis while creating economic growth. Building a better, climate-resilient B.C. will require ongoing investments in wetlands, and DUC is poised and ready to share our conservation science and put our on-the-ground restoration efforts to work for all British Columbians.