How our work impacts conservation across Canada.
Where we're working on the ground from coast to coast.
We need your help to protect our water, wildlife, and wetlands. Here's how you can make an impact.
Winnipeg students win national conservation challenge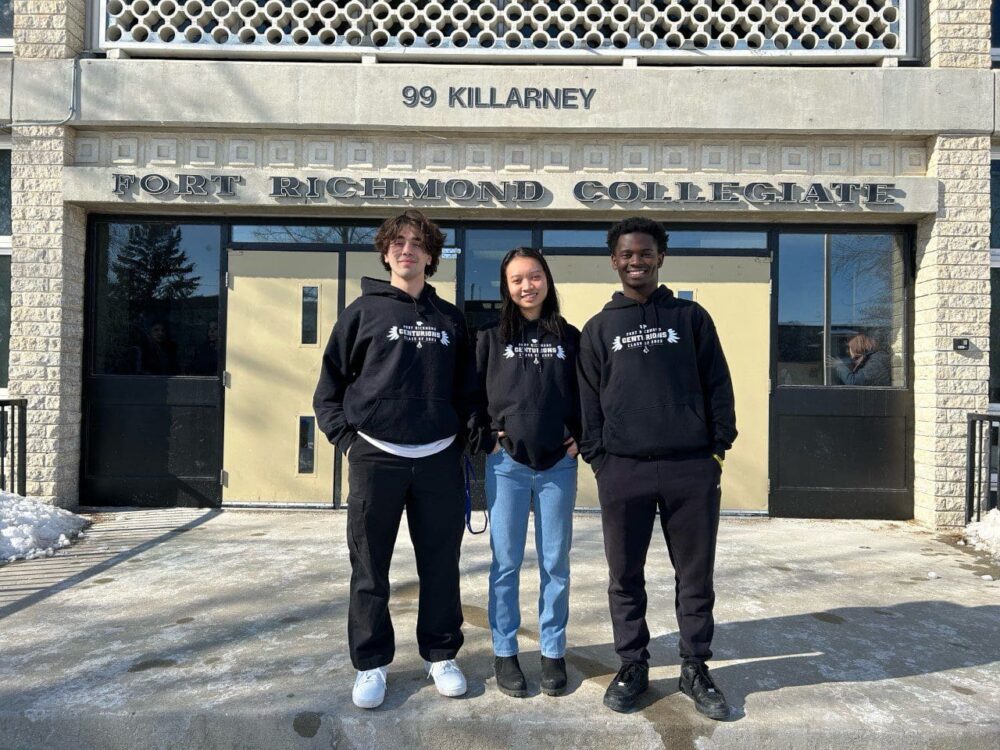 April 24, 2023 – Winnipeg, Man. – Students from Winnipeg have captured a national award from Ducks Unlimited Canada (DUC) for their proposed solution to rising sea levels on Canada's east coast. 
Sotiris Kyriazis, David Mirimba and Ophelia Cheung from Fort Richmond Collegiate placed first among finalists from five Canadian cities in the annual competition that engages students from DUC's Wetland Centres of Excellence program. Students are given two weeks to find a solution to a current, critical conservation issue. The top teams from each school present their recommendations to a panel of DUC scientists. 
"Sea-level rise is a serious problem," says Ophelia. "I moved here from Hong Kong, where I lived along the coast. I've seen first-hand the impact of sea-level rise and the damage it can do." 
Together, the students examined the pros and cons of reinforcing dikes and restoring salt marsh habitat to combat the rising waters that are threatening communities and infrastructure across Nova Scotia and New Brunswick. Both dikes and salt marshes help protect against sea-level rise. Dikes act as a physical wall, whereas salt marshes help by lowering the amplitude and speed of ocean waves and shielding the coastline from erosion. 
"We started the competition to encourage students to think critically about real-world conservation problems," explains Mariane Bolla, DUC's head of National Education. "Students also have an opportunity to see how their local conservation efforts through the Wetland Centres of Excellence can become solutions to broader environmental threats." 
DUC Wetland Centres of Excellence are schools and community partners that deliver hands-on wetland learning and student-led conservation projects. 
In their winning entry, the Winnipeg group proposed maintaining and improving dikes in three key locations—Grand Pré dikelands and Cornwallis River dikes in Nova Scotia and Tantramar Marshes in New Brunswick—and restoring 60 per cent of salt marshes throughout the two provinces. 
"We looked at the economic side, and dike maintenance was just so expensive," says David. "It's expensive to restore salt marshes too, but they can become self-sustainable and won't have that same maintenance cost." 
"There's other benefits too," says Sotiris. "When you restore salt marshes, you can bring biodiversity back, bring plants and ocean life back." 
The students also considered ways to involve residents in changes which could potentially impact their local economy and environment. "I was particularly happy to see community engagement and buy-in as part of their solution," says national judge and DUC conservation scientist Vanessa Harriman. "They did such a great job and should be proud of themselves." 
"The three of us won, but really it's a win for FRC [Fort Richmond Collegiate]," says David, who is quick to credit teachers and fellow students for support. "We had friends that came to watch us practice during lunch. They gave us feedback." 
Learn more about DUC conservation efforts against sea-level rise and how its Wetland Centres of Excellence program is empowering students to become the conservation leaders of tomorrow.  
-30- 
Ducks Unlimited Canada (DUC) is the leader in wetland conservation. A registered charity, DUC uses sound science and partners with government, industry, non-profit organizations, Indigenous Peoples and landowners to conserve wetlands that are critical to waterfowl, wildlife and the environment. Learn more at ducks.ca  
Contact Information
Glen Kirby
Communications Specialist – Manitoba
Ducks Unlimited Canada
204-500-9730
g_kirby@ducks.ca