How our work impacts conservation across Canada.
Where we're working on the ground from coast to coast.
We need your help to protect our water, wildlife, and wetlands. Here's how you can make an impact.
Improvements to wetland and fishway in Dunnville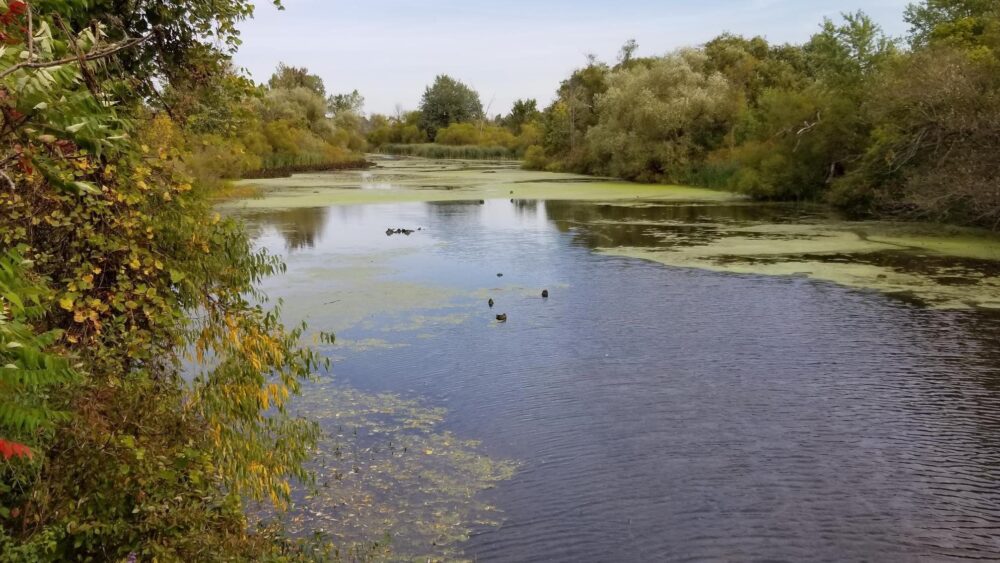 Ducks Unlimited Canada (DUC), with funding from the Government of Ontario's Wetlands Conservation Partner Program and the James N. Allan Family Foundation, has engaged with local partners to refurbish the wetland habitat on Thompson Creek.
The newly completed upgrades to the 20-year-old water-level infrastructure at the Thompson Creek wetland complex were also supported in part by the James N. Allan Family Foundation. Their contribution enhanced the fishway which allows fish a smoother passage up the Grand River.
Essential local partners in Dunnville include Haldimand County and Dunnville Horticultural Society which has helped for many years to conserve the habitats which are adjacent to Thompson Creek Elementary School, while enhancing an arboretum of Carolinian plants and caring for the natural pathways and outdoor classroom.
Like many communities along the river, Dunnville faces changes ahead as population growth brings both opportunities and challenges. Today's investments in the community's natural infrastructure build on 20 years of positive collaboration that helps Dunnville and the river to be climate resilient and well-prepared for future population growth.
Contact us to speak with an expert about the importance of wetlands for healthy watersheds.
Learn more about the project here.
Learn more about the overall program here.
***
BACKGROUND
Thompson Creek is a small tributary of the Grand River, whose watershed is home to nearly one million people—from the Dufferin Highlands to Lake Erie—including five cities and two First Nations territories. It is also home to many significant wildlife habitats and expansive recreation, commerce and education opportunities.
James Noble Allan was born on a Haldimand County farm and served as a prominent representative at Queen's Park for many years. His family foundation also supported the creation of new wetland habitat at his namesake provincial park on the shores of Lake Erie.
This restoration project was supported by the Ontario Wetlands Conservation Partner Program, a $30 million, five-year program focusing on enhancing and restoring wetlands in the Great Lakes watersheds, supporting municipal stormwater management and building climate change resiliency.
Contact Information
Ducks Unlimited Canada
Julie Pollock
Communications & Outreach
Phone: 705-305-0507
Email: j_pollock@ducks.ca