In the small farming community of Shamrock, P.E.I., Rustaret Farm is well-known for its variety of heritage livestock on green, sprawling pastures. The farm is named for its owners and operators, Rusty Bittermann and Margaret McCallum. The couple purchased the land in 2010 with plans to transform it into a working farm – a change of pace entirely after retiring from careers as academics in history and law.
"We always enjoyed the rural life," says Bittermann. "We both had a period in our lives when we both lived on a farm and we loved it—we always had an urge to get back to it."
With backgrounds in teaching environmental history and social movements, as well as agricultural and rural history, the couple began to explore the possibility of returning to their roots upon retirement. Their professional expertise and prior experience guided them as they began their farming journey.
A conservation-minded approach to farming
With a focus on sustainability and protecting biodiversity, Rustaret Farm uses regenerative farming practices. Regenerative agriculture is a conservation approach to farming. It encourages working with natural systems to maintain animal health and build soil carbon, including no-till farming, rotational grazing, mixed forage rotation, and the application of compost and manure. The benefits of this practice are many: increasing biodiversity, improving water quality, enhancing surrounding ecosystems and wetlands, increasing resilience to the impacts of climate change and strengthening the health and vitality of farm soil.
Bittermann says that teaching agriculture and world history helped shape his view of farming today: "Our roots are in an earlier type of farming. We weren't thinking about traditional farming, we wanted to focus on an older style of farming where it is an extension of our lives, we live on the land, and we tend and cultivate our acres as naturally as possible."
Rustaret Farm uses many of these practices to enhance and protect the biodiversity of its 300-acre (121-hectare) property. The use of rotational strip grazing helps manage pasture growth and ensures that the livestock spread their manure evenly, while no-till practices help maintain a mix of perennial forage for livestock and complements seeding of annual forage crops.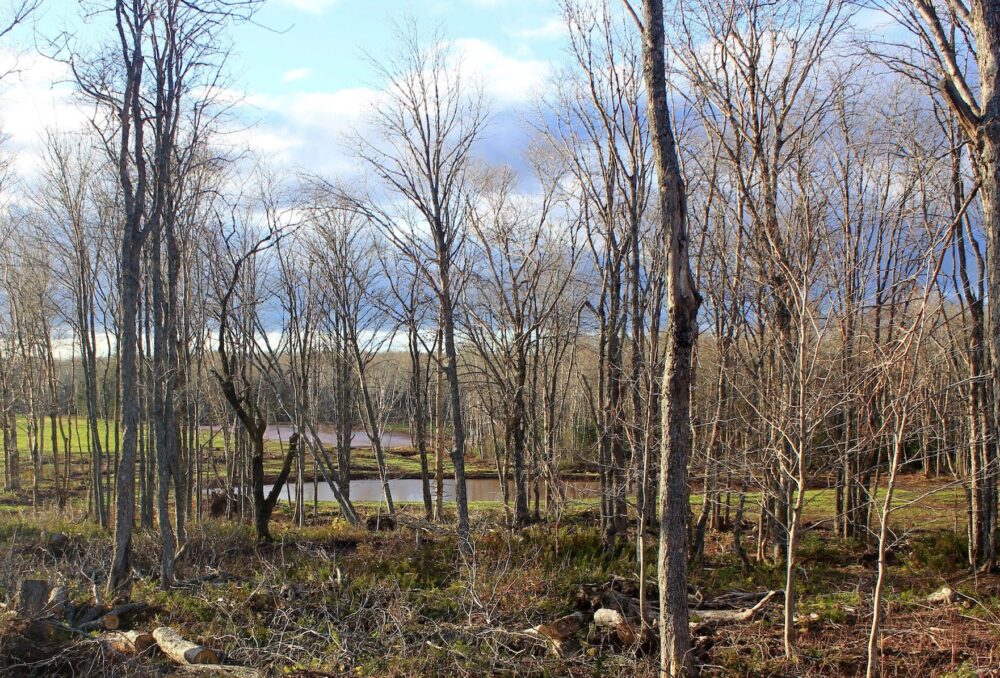 Restoring the natural landscape
Learning about DUC's small marsh program, Bittermann and McCallum reached out to discuss the possibilities for their farm.
"We were looking for a property with a pond on it and upon learning about Ducks Unlimited Canada and its work, we reached out to see how this could be accomplished on a particular property we were looking at," says Bittermann. "We ultimately didn't go forward with that original piece of property, so when we bought the land we have now, we immediately discussed the possibilities with DUC and constructed some ponds prior to building anything else. We are so pleased with the help DUC has been able to offer us."
Restored wetlands provide many benefits, including increasing biodiversity by providing habitat for insects, amphibians, waterfowl and other wildlife and improving water quality by filtering nutrients and sediments. For Bittermann and McCallum and their focus on the sustainability and environmental stewardship of their operations, this was a natural next step.
"With some wet and unproductive areas throughout the property, they were interested in bringing these areas back to their full potential," says Santina Beaton-MacEachern, DUC's local conservation program specialist. "Through our small marsh program, we were able to restore four wetlands on their property and they are currently looking at completing another restoration project sometime in the future."
Creating a home for rare livestock breeds
As a heritage livestock farm, Rustaret Farm also works to conserve rare livestock breeds that have genetic traits suitable for low maintenance, restorative agriculture. The couple raises three breeds of sheep – the Wiltshire Horn, polled Wiltshire, and Katahdin; breeds that are hardy enough to live outdoors and require minimal care, while growing and raising their young on pasture. Each of these breeds shed their wool naturally and do not require shearing or tail docking. Grazing the pastures for as much of the year as possible, the farm's Belted Galloway cattle live outdoors year-round, while the American Milking Devon and Kerry cattle have access to shelter in winter.
As keen birders, Bittermann and McCallum also work with the Island Nature Trust on a farmland bird project aimed at protecting bobolink and barn swallow habitat. This entails conserving land and providing appropriate conditions for the birds to nest and collecting data on their movements.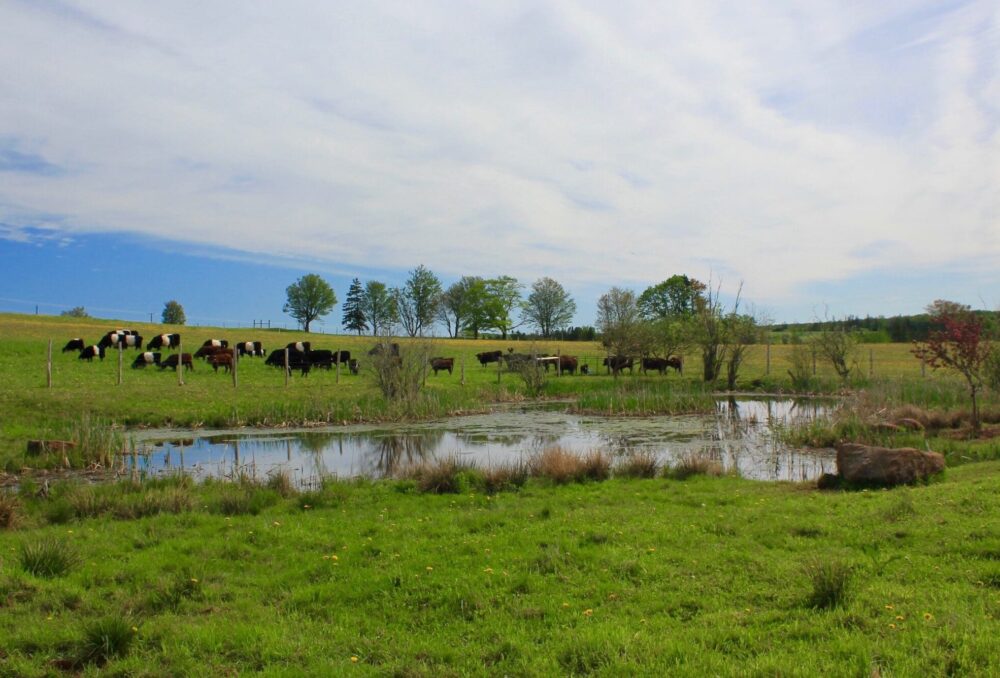 A sustainable future
As Rustaret Farm continues to grow, Bittermann and McCallum would like the farm to play a role in exploring more of the issues related to sustainable farming and how it can contribute to carbon capture, improving biodiversity and environmental health. The couple is already working with the University of Prince Edward Island on climate change research with a weather station on-site collecting data on rainfall and soil conditions, but they would like to do more.
"We would like to do more outreach and to share more about our practices and how we work with the natural landscape," says Bittermann. "We would love to be a part of the bigger research of these issues and partner with ongoing research projects to learn more about sustainable, restorative agriculture and the positive impacts it can have for the environment."
As DUC celebrates its 85th anniversary, strong partnerships with landowners like Rusty Bittermann and Margaret McCallum continues to be critical to achieving our vision of healthy wetlands and clean water for waterfowl, wildlife and people. Their story showcases the benefits of restored small wetlands and how agricultural stewardship practices can sustain both farming and wildlife.