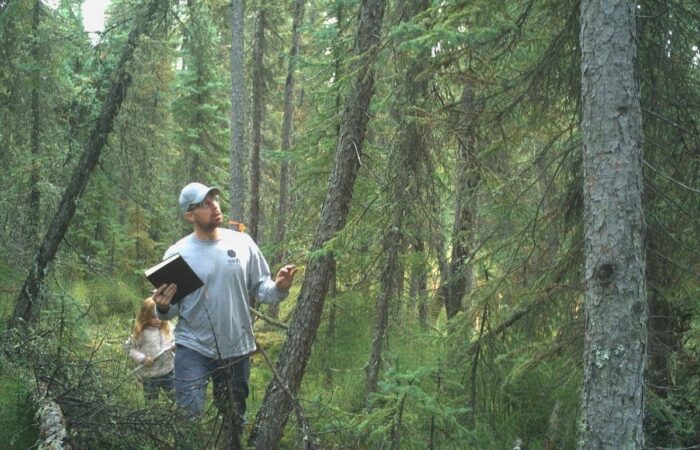 With his seven-year-old daughter in tow, DUC volunteer Sean Hoegy is often seen wandering through forests and traipsing through wetlands at the Evergreen Wetland Centre. But these excursions are much more than simple nature walks or family fun days. Hoegy is compiling important data, including measurements of groundwater depths, while passing on his knowledge of conservation to the next generation.
Located in Alberta's Evergreen Park in Grande Prairie County, the Evergreen Wetland Centre is an outdoor, hands-on demonstration centre that can be used for wetland-related training, research, and industry demonstrations. As a volunteer, Hoegy participates in citizen science activities where observations and measurements are taken in the field to monitor things like wetland biodiversity, soils and water. This data helps DUC understand how wetlands change over time and in response to activities such as development and human activity.
As a construction and environmental consultant, Hoegy has a deep understanding of the water cycle and puts his professional skills to work while volunteering at the centre. He's keen to share this knowledge directly with his children. "As a father it is my responsibility to pass this knowledge on. I am hoping to accomplish this through volunteer activities like wetland monitoring and having focused discussions when we get to be outside," Hoegy says.
Hoegy lives just outside of Grande Prairie with his wife Dana and three children: seven-year-old Amelia (his loyal sidekick), three-year-old Everly and one-year-old Finnegan. In his free time, he loves fishing, hunting, snowmobiling, off-roading and enjoying nature with his family. Together, they revel time spent skating on the pond in their backyard or exploring the woods along Bear Creek while looking for animal signs and enjoying the fresh air.
In recognition of his outstanding volunteer service and dedication to conservation, Hoegy was named DUC's Volunteer of the Year in the boreal region. By making his wetland field trips a family affair, he's imparting important lessons in conservation within the hearts and minds of the next generation.