Hydrogeologist Jon Radtke thinks he has the best job in the world. That job? Radtke is water resource sustainability manager for Coca-Cola North America.
Radtke grew up as a hiker and fisherman in southern Illinois. He graduated college as a geologist and found work as a consultant. Then, one of his big clients, Coca-Cola, offered him a full-time position at a time when the company started taking water stewardship extremely seriously. That was in 2005.
He was one of a handful of hydrogeologists the company employed back then. Radtke jumped at the chance, because Coca-Cola wanted to take serious action about conservation. Radtke was a part of a review of the water sources, watershed and risk factors of more than 1,000 bottling plants Coca-Cola had worldwide. Radtke and others developed training programs and mitigation plans to shepherd the precious water that the iconic company was using in its beverages and bottling processes.
Today, Coca-Cola is striving to return to the environment every drop of water it uses. The company returns wastewater that meets environmental standards, but it also mitigates the billions of litres of water it uses in its products with the help of organizations like DUC.
"We do watershed restoration and in some underserved communities, we do clean water access and sanitation projects," says Radtke.
With its partners, Coca-Cola has been able to quantify the volume of water restored by these projects. "Really, it's about restoring the natural hydrology of a location," he says.
Since 2015, The Coca-Cola Foundation has been working with DUC on just this kind of project in the Prairie Pothole Region. The project, focused on wetland restoration and conservation through DUC's Revolving Land Conservation Program, saw Coca-Cola achieve a million litres of water replenishment per acre.
"The results were fantastic," says Radtke. "Not only does a project like that help us reach our volumetric goal, but there are water quality improvements, it provides habitat for wildlife, and these wetlands store water and slow it down on the landscape, which helps during flood conditions."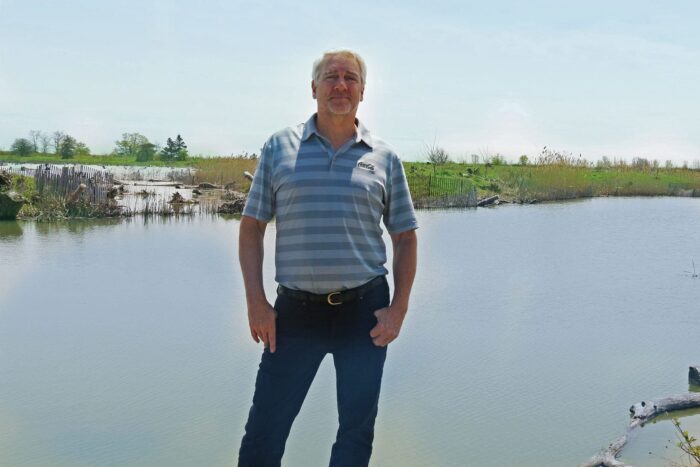 The partners recently marked a milestone, notes Radtke: "We have provided a million dollars of funding that has returned a billion litres of water." And this spring, Coca-Cola announced that it had reached 100 per cent water replenishment in its finished beverages, and so has balanced its water use in Canada.
Circling back to his early outdoor conservationist roots, Radtke couldn't be happier in his current role. "I get to work with these great partners like Ducks Unlimited Canada and I get to go out to these watersheds and help restore them."
Now, that's refreshing.
What goes around, comes around: DUC's Revolving Land Conservation Program
Some of the conservation activities funded by The Coca-Cola Foundation will be delivered through DUC's Revolving Land Conservation Program. It's an innovative approach that engages landowners and other partners to fuel a perpetual cycle of conservation. Here's how it works:
• DUC purchases land with high conservation value and restores the wetlands and grasslands on the property.
• The land is then sold back to producers with a conservation easement placed on the title.
• The easement protects the natural habitat, while allowing subsequent owners of the property to use the land in their operation through haying/grazing.
• Funds from the sale of the land provide DUC with the capital to repeat the cycle.
Get Conservator Magazine
Donate $35 or more now to receive the award-winning Conservator magazine, DUC's magazine for members and supporters.
Sign Up Now