James "Stocky" Edwards has always had a thing for flying. As a boy growing up in Battleford, Sask. he'd marvel at the ducks and geese moving in formation across the sky while hunting with his father. Later, he'd earn his own set of wings as a fighter pilot in WWII, expertly and courageously navigating enemy territory above North Africa, Italy and France's historic Juno Beach on D-Day. These experiences left indelible marks on him. All have contributed to his lifetime of service — for country and conservation.
They're also the motivation behind his latest mission: raising funds for DUC to mark his 100th birthday.
"Stocky is an inspiration to all of us," says Greg Sawchuck, a member of DUC's national board of directors and long-time friend to Edwards. "As a veteran, he fought for our freedom. As a conservationist, he's ensuring future generations have a safe and healthy environment. We're proud to have established the Stocky Edwards Wetland and Wildlife Conservation Fund with a goal of raising $100,000 in his honour."
Going above and beyond
Edwards has a sense of duty that's engrained in his DNA. At the age of 18, he gave up a promising hockey career that included a tryout with the Chicago Blackhawks and hitch-hiked 130 kilometres to Saskatoon to enlist with the Royal Canadian Armed Forces.
Once inside the cockpit, Edwards' love for the outdoors, fostered during those special days afield, played a significant role in his success. The hours he spent hunkered down in a blind hunting waterfowl had made him a crack shot.
"I knew how to shoot deflection and what it meant," says Edwards, referring to the technique of shooting ahead of a moving target. "And that's what was required, of course, in the air. You had to have deflection."
It didn't take long to prove his marksmanship. On his first operational trip, at the tender age of 21, Edwards downed a legendary German Messerschmitt plane. Such a feat was almost unheard of.
From the seat of his Kittyhawk P-40 fighter plane, Edwards had a bird's eye view of the war. The sights provided him with perspective on the natural riches we enjoy in Canada. During an interview with Conservator in 2015, he reflected on how his service reinforced his love and appreciation for the outdoors.
"Everything was being destroyed all around us, yet we had beautiful things back in the Prairies that we loved, like seeing the birds migrating or birds finding their breeding places," he said. "This is something we thought about."
A call of duty for conservation
Today, Edwards' passion for conservation remains as strong as ever. Now residing in Comox, B.C., he and his wife Toni are dedicated DUC supporters who've been contributing to wetland conservation for decades. Fishing, hunting and birdwatching account for many hours they've spent together. And, on a warm afternoon this April, Edwards was able to get out to a Comox Valley marsh to enjoy some fly fishing.
Ever the ace, he reeled in a hefty, eight-pound trout.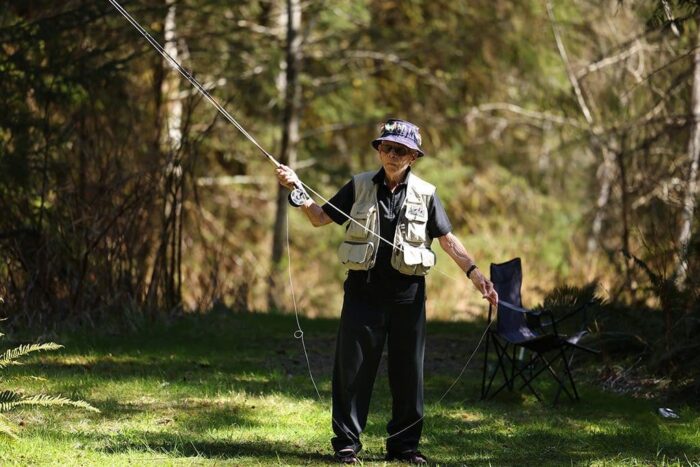 The rewards of conservation
"It's moments like this that remind you why we do what we do for conservation," says Sawchuck, who joined Edwards for the safe and socially distanced outing. "The ability and freedom to enjoy the fruits of the Earth are gifts that Stocky has given generations to come. So, it's a thrill to see him reap the rewards as well."
As for Edwards, he believes the funds raised for DUC in his name will have a real impact on the wildlife and wild places he loves.
"The work they do — you can see it," Edwards says, referring to the marshes and other wetland areas under DUC's care. "They're doing it for the good of the country and the community."
Making the parallel to his wartime experiences, Edwards recognizes that success comes from many people pulling together.
"We can't do any of these things alone, and that's why we team together. The team makes the win."
Why "Stocky" stuck: a fitting moniker for Canada's greatest living fighter ace
"Stocky" is a nickname Edwards earned during the war, which meant tough or gutsy. Stocky was the highest scoring ace (a title given for shooting down five or more enemy aircrafts during aerial combat) in the Western Desert Campaign and finished the war with a total of 373 operational sorties without being shot down.