The Ducks Unlimited Canada (DUC) team has been busy over the past year. We've announced partnerships across the agricultural landscape, a climate change resiliency initiative with 16 leading insurance organizations, and profiled biodiversity through the lens of Project Dragonfly. This may leave Conservator readers asking: What does any of this have to do with ducks? Before you cry "fowl," allow me to explain.
Actually, we've always developed innovative solutions to complex challenges facing our landscape.
The Dust Bowl of the 1930s, brought on by factors like a prolonged and severe drought, poor land-use planning and (now outdated) agricultural practices, resulted in a decade-long economic, environmental and human welfare crisis. While it might be hard to find the silver lining in crises of these proportions, it did bring about land-use policy reform and the development of sustainable agricultural practices. It also led a group of concerned conservationists and waterfowl hunters to take action against wetland habitat loss by forming Ducks Unlimited.
What's good for the ducks is good for the community
What started in 1937 as a narrowly focused mission expanded as operations grew and research led to new discoveries. We learned that to truly protect duck populations, you must protect their entire migratory path from end to end: their nesting grounds including grasslands and forests, their wintering habitats, and their food sources. This requires taking conservation action across the four North American flyways and placing focus on Canada (where over 90 per cent of the continent's waterfowl are born) while protecting the mangroves of Mexico where many ducks winter. This led to the formation of DUC in 1938 and Ducks Unlimited Mexico (DUMAC) in 1970.
We know wetland conservation is critical for sustaining waterfowl populations, but our research shows it provides a host of other benefits like improving water quality, trapping and storing carbon, mitigating floods, cooling the atmosphere and providing recreation areas for communities. Wetlands are also critical in the fight against biodiversity loss, providing habitat for up to 40 per cent of the world's species.
It takes a village to conserve a wetland
Our continental approach has resulted in more than 15 million acres conserved from the peatlands and forests of Canada's boreal region to the mangroves of Mexico. Unfortunately, Canada is still losing about 80 acres (32 hectares) of wetlands every day. This wetland loss threatens our wildlife, our communities and our future prosperity.
The demands of a growing population on housing, infrastructure and food production place challenges on our natural resources which are compounded by the crises of climate change and biodiversity loss. In fact, the same environmental stresses brought on by extreme weather and economic expansion which led to our inception 85 years ago are just as relevant today.
Fortunately, DUC works with other non-profits, academic institutes, industry, government, Indigenous Peoples, landowners, volunteers, and supporters like you to develop and implement solutions that solve the challenges of today and tomorrow.
So, what do our investments in unique partnerships and innovative solutions have to do with ducks? Everything, and more.
---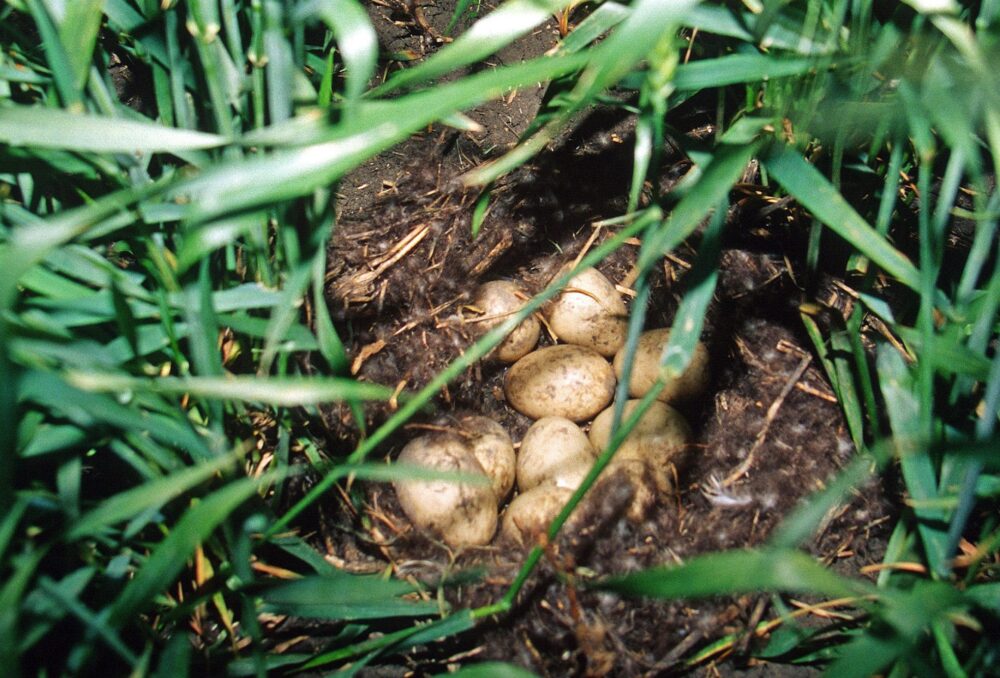 Case study: Creative solutions and partnerships at work
The problem: Species like the northern pintail, that prefer to nest in cropland areas, were declining in population due to their nesting period coinciding with wheat production schedules.
The solution: Habitat-friendly winter wheat DUC research demonstrated that ducks nesting in winter wheat fields were 24 times more successful than those in spring-sown crop fields. An ecolabel initiative working with stakeholders in the Canadian grains industry including Cereals Canada and the prairie winter wheat producer groups was formed to promote the benefits of winter wheat to farmers and consumers.
Sign up and stay informed
Get email updates on our conservation projects, research, education programs and public policy work to stop wetland loss.
Join Here