Ian Balfour is the vice-president of gas services for Pembina Pipeline Corporation. In June, Balfour and other Pembina staff joined representatives from Ducks Unlimited Canada (DUC) at DUC's Cherry Project in Alberta to pull fence and lend a hand with DUC's conservation work on the property. Here, Balfour experienced for himself the beauty and power of prairie wetlands and grasslands and learned about the incredible environmental benefits they deliver to local communities.
This site represents one of many important conservation projects that DUC will deliver thanks to Pembina's support.
The Calgary-based corporation is leading by example as it teams up with DUC in a partnership that promotes sustainable development and industry practices, acknowledges a working landscape and delivers essential environmental benefits to all who call the region home.
Pembina's $1-million investment will conserve approximately 2,000 acres (809 hectares) of important wetland and grassland habitat in key areas of Alberta and Saskatchewan.
"We look forward to witnessing this important conservation work come to life in the backyards of our family, friends and stakeholders," says Balfour.
Alberta and Saskatchewan are among DUC's top priority areas. Their expansive landscapes are home to thousands of shallow wetlands that provide critical habitat for millions of North America's migratory birds. But these wetlands aren't just for ducks, they're for everyone.
The wetlands and grasslands Pembina is helping conserve are some of the most important ecosystems on the planet. They protect our communities and our way of life by naturally filtering nutrients and pollutants from water to keep lakes and rivers clean, reducing the harmful effects of costly and devastating floods, and providing natural habitat for wildlife and opportunities for outdoor recreation year-round (to name a few of their many benefits).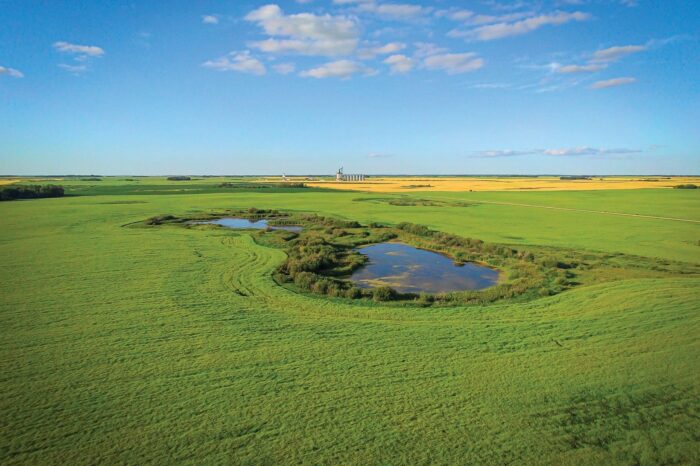 By supporting DUC's Revolving Land Conservation Program, Pembina is helping keep land in the hands of private owners. It allows agricultural interests to stay on the land, while protecting important areas for conservation, and is a great example of environmental stewardship. This is important, given high demand for land across the Prairies, says DUC CEO Karla Guyn.
"Partnerships with companies such as Pembina and initiatives like the Revolving Land Conservation Program showcase our commitment to collaboration," says Guyn. "We believe in finding solutions and working together with those who share our passion for our land, water and wildlife."
Pembina's $1-million commitment to DUC will fuel conservation on the Prairies over the next three years. Several Revolving Land Conservation projects in Alberta and Saskatchewan began this spring, kick-starting a cycle of environmental sustainability and economic success across this important region.
"The revolving model allows Pembina's support to be continually leveraged, funding conservation for years to come," says Guyn. "It's a powerful way to forge an environmental, economic and social legacy."
What goes around, comes around: DUC's Revolving Land Conservation Program
Some of the conservation activities funded by Pembina Pipeline will be delivered through DUC's Revolving Land Conservation Program. It's an innovative approach that engages landowners and other partners to fuel a perpetual cycle of conservation. Here's how it works:
• DUC purchases land with high conservation value and restores the wetlands and grasslands on the property.
• The land is then sold back to producers with a conservation easement placed on the title.
• The easement protects the natural habitat, while allowing subsequent owners of the property to use the land in their operation through haying/grazing.
• Funds from the sale of the land provide DUC with the capital to repeat the cycle.
Get Conservator Magazine
Donate $35 or more now to receive the award-winning Conservator magazine, DUC's magazine for members and supporters.
Sign Up Now