Mary Ellen King and John King are guiding their family farm toward an increasingly sustainable future. The King family has invested years into transforming low-production and erosion-prone land to environmental features that protect soil and water — for the farm itself and for Brown's Creek, which runs through it.
The King family has owned these 1,100 acres (445 hectares) in southwestern Ontario farm country since the early 19th century. More than 100 acres (40 hectares) of marginal and fragile land was retired from production and converted to settling ponds and natural habitats —including a series of restored wetlands — which hold back soil and slow down overland flow, ensuring the water leaving the fields is cleaner when it reaches the creek.
The health of Brown's Creek is more important than it may first appear. The waterway is a tributary of the Sydenham River and ultimately empties into Lake St. Clair in a region of extreme historic wetland loss. Restoring habitat here applies nature-based solutions to deliver cleaner water downstream in a hard-working agricultural landscape.
Ducks Unlimited Canada's (DUC) work with rural landowners like the King family provides a window for our scientists at our Institute for Wetland and Waterfowl Research to better understand the role of wetland restoration. Many factors can influence a specific wetland basin's ability to retain nutrients and capturing all facets is a complex process.
DUC researchers designed a study that included eight rural sites on private land set in low-lying areas that receive surface water runoff from surrounding fields. One of the eight sites was Lake Lindsay, a wetland restored by DUC and our partners on the King Farm.
Like the other landowners in the study, the Kings granted access to our scientists for two years so they could install research equipment and conduct frequent water-sample collections and other monitoring activities such as weather readings, inflow and outflow readings, and a period of monitoring trail cameras to capture wildlife attracted to the wetland.
Field research contractor Elise Gabrielli led the 2021 field study. "What most captivated me was getting to know each of the landowners on a personal level and better understanding their story," says Gabrielli.
"
"A common thread uniting them all is they are true stewards of the land. This passion and dedication was evident through their genuine commitment to the project. Frigid temperatures and heavy rains did not deter them from coming out to greet me with a warm hello and offering assistance in any way they could."
Mary Ellen King, for example, is a long-serving member of her local stewardship council. Other landowners showed Gabrielli their pollinator pathways and other rehabilitation projects, shared bird and waterfowl sightings, cleared a path for her to the monitoring sites, and offered snacks to equip her for her long sampling days in the field.
Drawn in by her interest in the nature of the study, Gabrielli says the real gift she took away was her time with the landowners. "Through countless conversations, I learned that this project was often just one of many that they are involved with. They understand their integral role to protect and preserve their land as a vital resource."
"I know I speak for the entire DUC staff when I say the success of the project would not be possible without the amazing support of the landowners."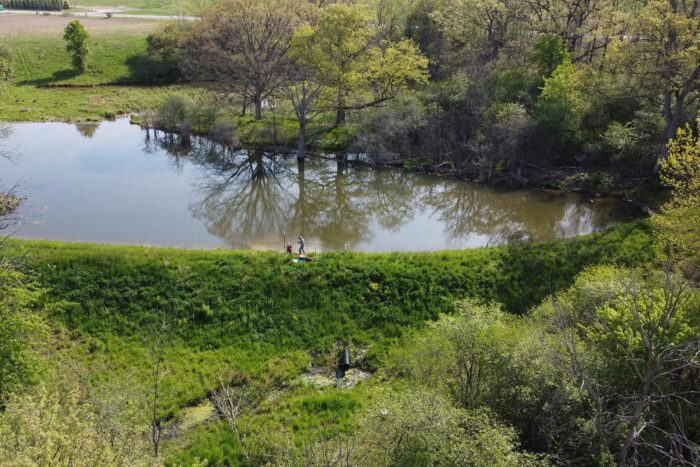 The science of small wetlands
The eight landowners, including the Kings, who allowed their wetland restoration projects to be part of DUC's two-year nutrient study, helped us measure the true power of restoring wetlands to improve water quality with cleaner water flowing into rivers and lakes.
Restored wetlands in the study are part of the watershed of the iconic Lake Erie, one of Canada's notoriously sick lakes. It's relatively shallow and warm and receives lots of nutrients that run off the land—perfect conditions for excessive growth of blue-green algae. By studying the small, restored wetlands on the north side of Lake Erie, DUC scientists gauged their ability to reduce nutrients in water before it reached the lake.
Our scientists presented their research results, fittingly, on World Water Day in March at a virtual event held with partners, researchers, participating landowners and other invited guests. The findings showed the wetlands:
Retained 46 per cent of total phosphorus
Retained 47 per cent of total nitrogen
Were effective in all four seasons and a range of weather events
Though not part of their official report, scientists involved in the study were thrilled by the many sightings of ducks, geese, other birds and wetland wildlife on trail-cam footage.
The science confirmed that wetlands are powerful for protecting the health of our lakes and our ability to enjoy them during our oh-so-short summers. And restoring wetlands can help recover the power of nature in areas where most of the habitats are already gone.
To learn more about our Lake Erie research and how we're collaborating on the landscape with communities across Canada on wetland conservation and restoration projects that deliver clean water to our lakes and rivers, visit ducks.ca/healthy-lakes.
Conservator Magazine
Conservator magazine delivers beautiful photography and incredible stories from Canada's wetlands in a stunning print edition. Annual subscription with a donation of just $35.
Join Now