Healing nature with nature
Canada's lakes are a wonderland for anyone who loves being outdoors. They're the backdrop to some of our best memories and future adventures.
Imagine your perfect summer day. Do you picture yourself wetting a line or taking a dip? Maybe cruising, paddling or towing laughing kids around a lake? Sharing a picnic on the beach with family and friends?
Inspiring as they are, Canada's lakes are also in trouble. Some are already sick, and they can make us sick too. If we do nothing, the problem will keep spreading—maybe to your own favourite lake. Perhaps it's already there.
That's why "do nothing" isn't an option, especially when science is already showing us the cause and has found an important part of the solution in nature itself. Now we need to act on it.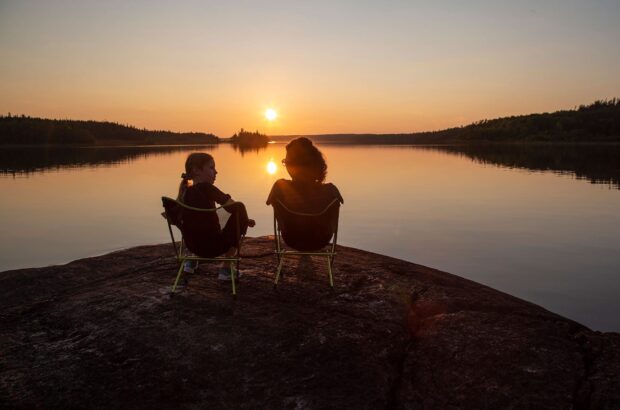 What makes a lake sick?
Scientists use the term "eutrophication" when a lake gets more nutrients than it can handle.
Those nutrients are fuel for blue-green algae, or cyanobacteria, which can be toxic and deplete oxygen in the water. And climate change is making matters worse by creating favourable conditions for blue-green algae blooms earlier and more often.
The source of the problem often begins far away. Run-off water from ditches, creeks and rivers flows downstream, carrying nutrients like phosphorus and nitrogen from an entire watershed. One big lake can receive water—and nutrients—from several provinces and states.
At its worst, the resulting blue-green algae can make an entire lake unsafe for us.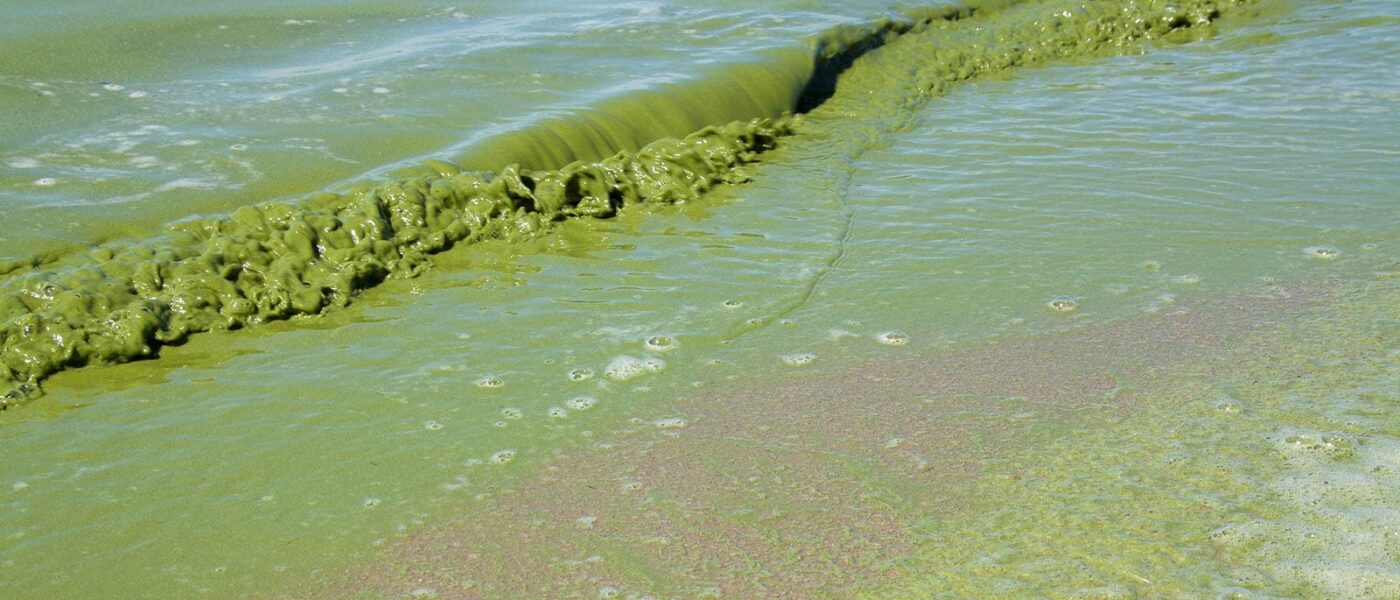 ---
What is blue-green algae?
Despite its common name, blue-green algae isn't a type of algae. It's a naturally occurring bacteria that can become a problem when there's too much.
What does blue-green algae look like?
Cyanobacteria blooms discolour the water and can move around a lake in scuzzy, floating matts. But it doesn't always look the same. Blue-green algae can:
Look soupy, scummy or foamy
Be blue-green, green, blue or even red in colour
Have an unpleasant odour (fishy, sewage, gasoline)
Because it's a bacteria, blue-green algae will not look like a plant and does not have roots.
Why is blue-green algae dangerous?
Just like it makes our lakes sick, the toxins produced by blue-green algae or cyanobacteria can make us sick, too. People, pets, livestock and wildlife who are exposed can experience sudden flu-like symptoms and neurological problems. In extreme cases, it can even be deadly.
The risk is two-fold for life underwater. Cyanobacteria blooms can also deplete oxygen and block sunlight, creating "dead zones" where fish and other aquatic species struggle to survive.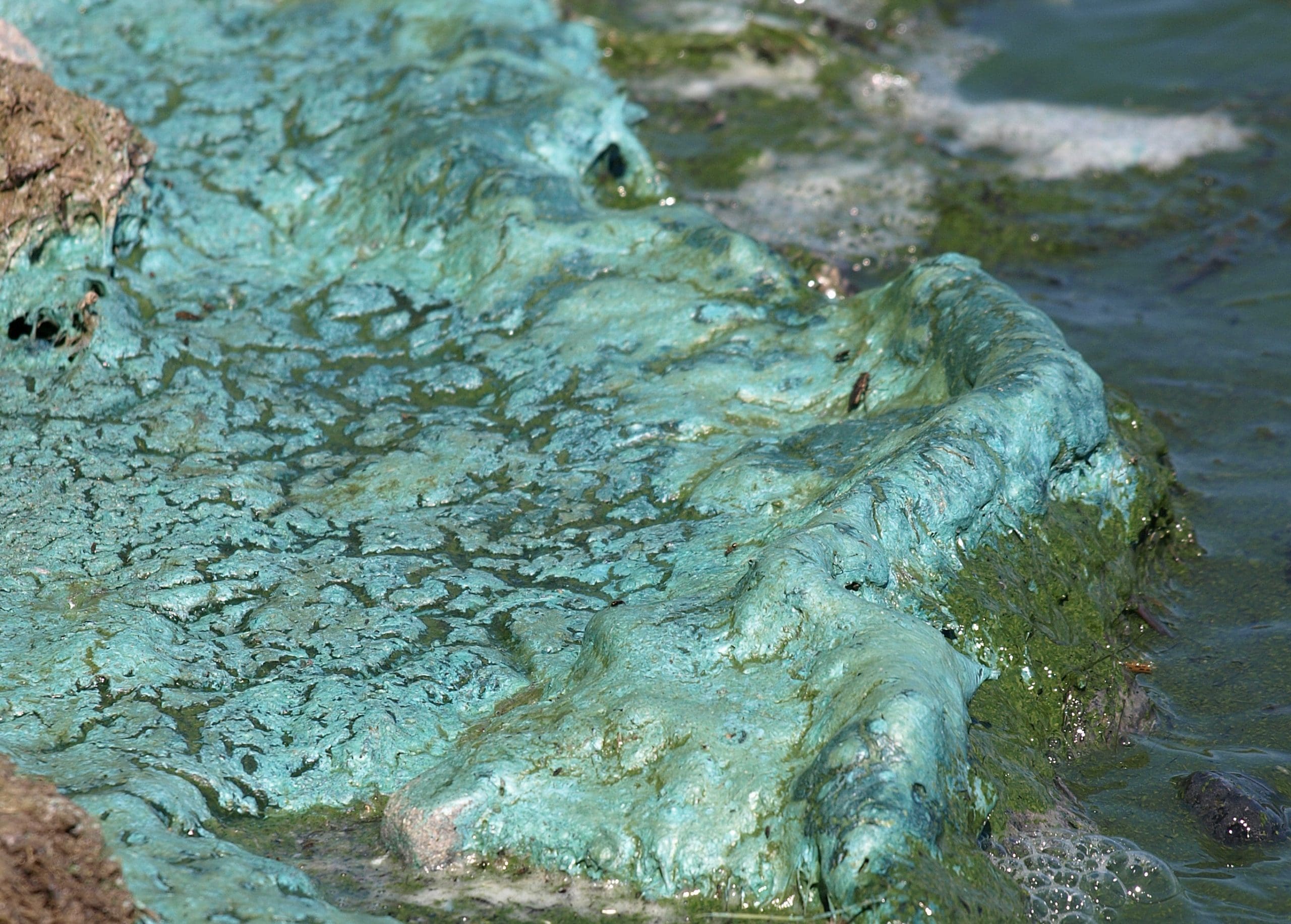 What's in your Water?
Do you think you may have spotted blue-green algae? Try our quick six-question quiz to help determine what it is and to what you can do about it.
---
Case-study: water quality in Lake Erie
Lake Erie is one of Canada's notoriously sick lakes. It's relatively shallow and warm and receives lots of nutrients—perfect conditions for blue-green algae.
The state of Lake Erie and its watershed are a serious concern. It's one of three lakes monitored annually by Environment and Climate Change Canada for blue-green algae (Lake Winnipeg and Lake of the Woods are the other two). But this sick lake also gives us the chance to study the cause and find solutions—for the health of lakes across Canada and beyond.
Recent research targets the cause of our sick lakes
If we want clean lakes instead of blue-green lakes, we need to stop overloading them with nutrients. This is simple to understand. But it's not as simple to figure out how. As our demand for food production and development increases, how can we make that change?
Science has long shown that wetlands are good at filtering out and processing nutrients. Now, recently completed research shows there's still a way for nature to do this important work, even where we've destroyed most of our wetlands.
By studying small, restored wetlands on the north side of Lake Erie, DUC scientists gauged their ability to reduce nutrients in water before it reaches a lake. Their findings showed the wetlands:
Retained 60 per cent of the most problematic form of phosphorus for blue-green algae from the water (soluble reactive phosphorus)
Retained 46 per cent of total phosphorus
Retained 47 per cent of total nitrogen
Were effective in all four seasons
The science is clear—wetlands are powerful for protecting the health of our lakes and our ability to enjoy them.
Wetlands: our most powerful and most threatened natural solution
If we value clean water, research like the Lake Erie study and our Camrose Creek watershed study build a strong case for conserving the wetlands that remain and restoring wetlands we've lost.
In addition to clean water, wetlands help us in many other ways, like:
Reducing the severity of flooding and drought by acting like giant sponges on the landscape
Helping us adapt to climate change by providing a buffer for extreme weather impacts
Helping reduce climate change by capturing and storing greenhouse gases
Supporting biodiversity, providing vital habitat for 551 wildlife species including 97 species at risk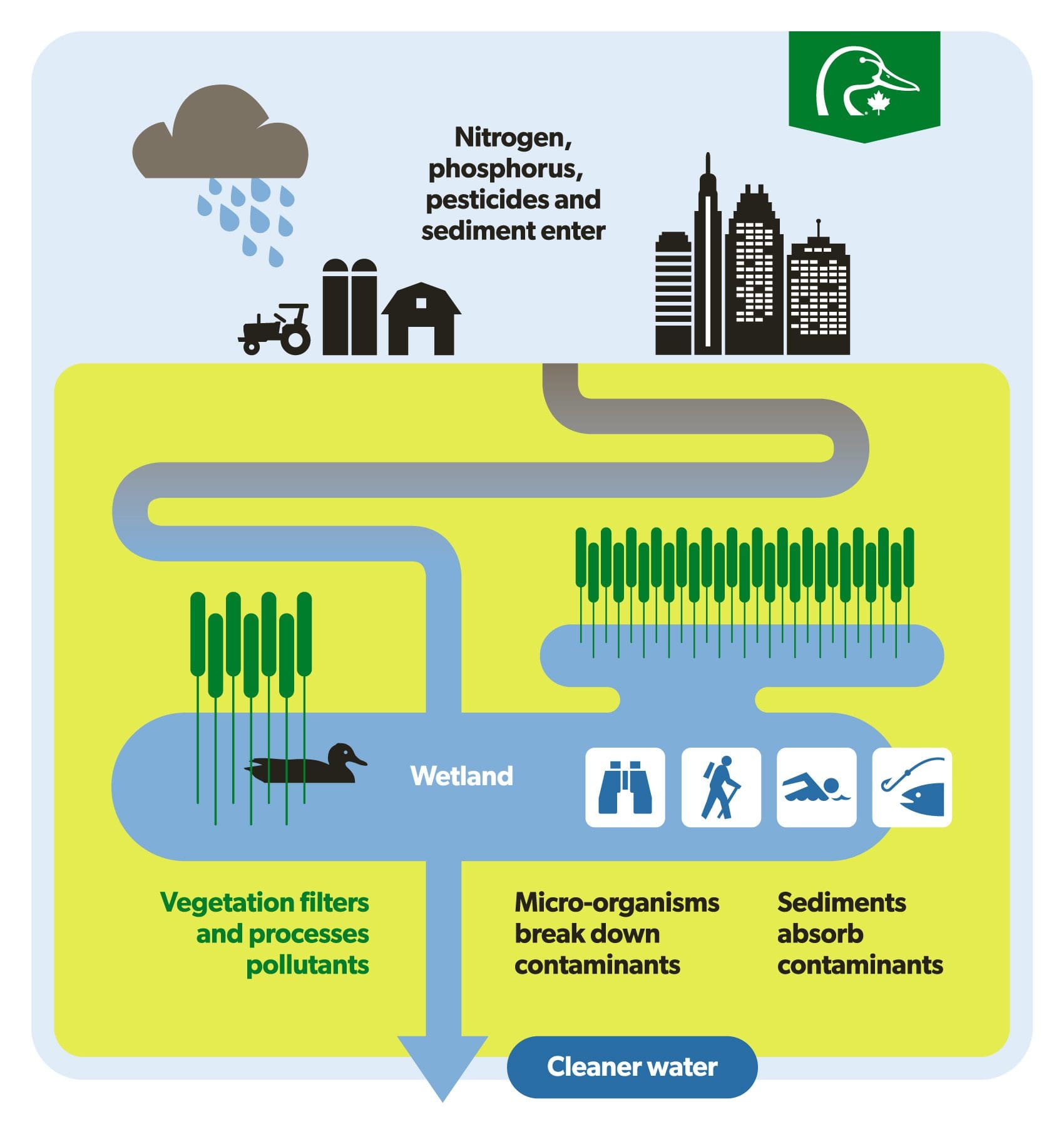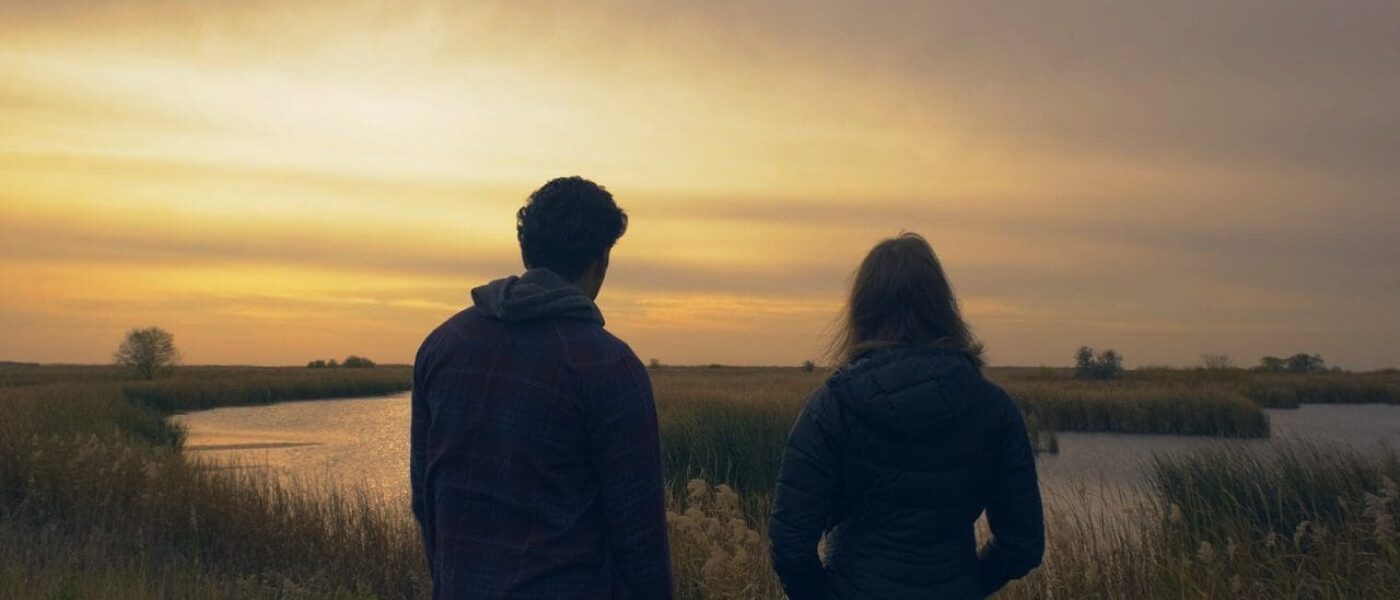 ---
It's easy to make a difference
The future health of our lakes requires all of us to appreciate the critical importance of wetlands.
By being informed and supporting conservation, you can make change for the better. Here are two easy ways you can make a difference today:
By acting now, you add strength to the conservation community that's propelling Canada's most successful wetland conservation and restoration organization. 
Learn more about research and conservation projects that are helping Canada's water
Explore more examples of our work to save habitat and safeguard our water, made possible thanks to support from people like you.