Karen McDaniel had travelled nearly 800 kilometres only to sit in her vehicle—perplexed—on a sideroad near Leross, Sask. An experienced geocacher, she knew she had the correct GPS coordinates and was certain she was in the right place.
But McDaniel could not spot the sign that would confirm she had arrived at her destination: DUC's Zibin Project.
How and why McDaniel landed here, on this rural roadside in September 2019, is part of a journey that began decades prior.
"
We were always a nature family.
Natural treasure hunts get family close to nature
As a child, McDaniel lived with her parents, Mack and Sybil Zibin, in the town of Spalding, Sask. The family's happiest moments were spent at their working farm at Quill Lake, where they enjoyed up-close-and-personal experiences with the natural world.
"We were always a nature family," says McDaniel, describing how her mother would marvel at nature's small miracles—intricately woven nests, the complex zipper-teeth of a feather, the swirl of seeds in a sunflower—and always took time to point them out.
After McDaniel moved away and had her own children, Sybil Zibin would send these "treasures" on the bus in parcels to her grandchildren, items she found beautiful and noteworthy and wanted to share.
But Sybil especially loved the area's wetlands and their birds.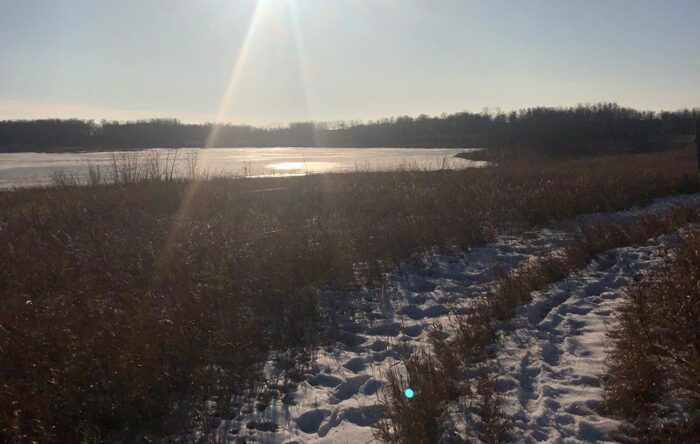 Discovering decades of nature appreciation
"There was a huge slough by the farm that was a stopping place for many ducks, geese and swans. Mother used to always call me when the swans stopped in, 'either coming or going' as she used to say!"
When McDaniel came to inherit her mother's bird book, she discovered that it contained handwritten notes in the margins on Sybil's observations over the years. More than a keepsake, this was the record of a naturalist and a testament to decades of nature study and appreciation.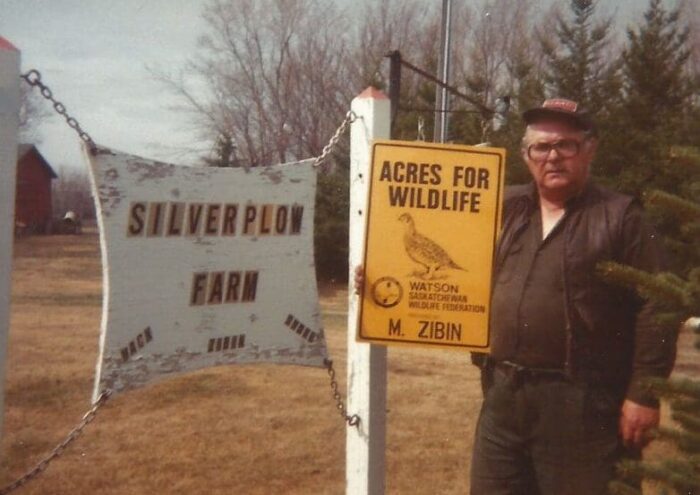 A couple's shared passion for conservation
McDaniel's father, Mack Zibin, was an outdoorsman. A hunter himself, Mack got to know the waterfowlers who travelled far and wide to hunt over the famous Quill Lakes each fall.
He was also a Keeman, one of DUC's original conservation volunteers. From 1938 to 1998, these citizen scientists reported habitat conditions and waterfowl numbers and scouted for potential DUC wetland projects. McDaniel recalls her parents' involvement in the program. "They were out all the time. Mother did all the paperwork," she laughs.
When a DUC fundraising dinner committee was struck in Wadena in the 1980s, the Zibins became dedicated members. Mack and Sybil donated over 80 auction items in their time with the committee. Both loved the volunteer work, banquets, and lasting friendships that resulted.
Mack Zibin passed away in 2006. That fall, McDaniel accompanied her mom to the annual DUC banquet, where they received the surprise of their lives. Wadena DUC staff had renamed a local wetland project after the Zibins, in honour of Mack and the contributions he and Sybil had made to DUC.
"We were so excited by that recognition and Mother was so proud of it," McDaniel beams.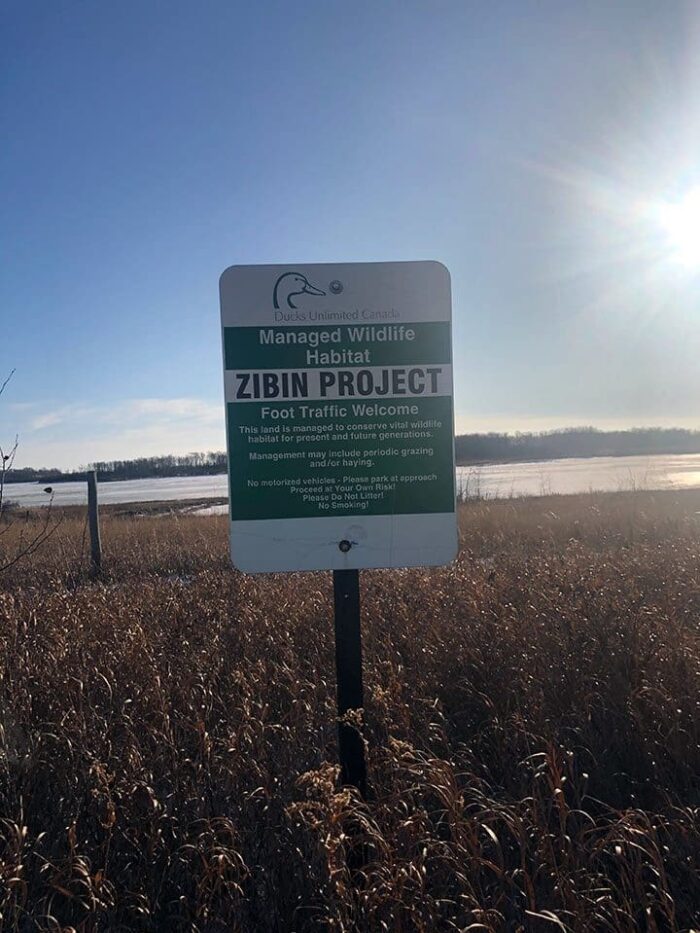 Looking for a sign
When Sybil Zibin passed away in 2019, McDaniel decided to honour her mother's life and legacy by embarking on a Saskatchewan pilgrimage. She visited locations that featured prominently in Sybil's life: the places she grew up and played as a child and teenager, the family cabin in the 1960s, and the farm by Quill Lake.
Finally, she travelled to Leross to the Zibin Project.
That was when she discovered that the project signage was missing.
As soon as McDaniel returned home to Calgary, she reached out to staff at DUC's Wadena office and asked if the missing signage could be replaced.
Staff worked quickly to remedy the situation and within weeks, sent pictures to McDaniel of the finished and installed sign, along with a handful of scenic images of the project itself.
These efforts were greeted with an emotional letter of thanks from McDaniel, "This just brought tears to my eyes. It's definitely going in my Christmas newsletter."
Margin notes
For McDaniel, the spirit of nature appreciation that began with her parents continues today.
A birdwatcher, photographer and geocacher, she's travelled to 17 countries, and treated herself to a birthday trip to the Galapagos at the age of 70.
Across the generations of this family, there are delightful instances of history repeating itself.
These days, McDaniel has the joy of sharing her love of wild things and wild places with her own grandchildren. She enjoys taking them on geocaching adventures, and for this matriarch, "Grandma's treasures" has come to mean the thrilling find at the end of each of these shared scavenger hunts.
Each time McDaniel arrives at a new destination, the first thing she does is purchase the area's bird book… and she jots down in the margins everything she sees while there.
McDaniel has promised that her first trip post-COVID will be back to Leross, Sask., to visit the project that carries her family name. Like so many others, this trip will doubtless be filled with geocaching, photography and bird watching.
And hopefully a few margin-worthy notes of its own.