"Layer up. Make it happen." 
Marcheta Jochimsen repeats these words to herself on a frigid February morning, as she gets ready for her first ice fishing excursion.
A Texas native and avid waterfowler, Marcheta is used to cold weather. "We bundle up when we're going out duck hunting at home," says Marcheta. But nothing can prepare her for the bone-chilling, minus 34 C she's about to experience on Manitoba's Red River. "I can see why the ducks don't stick around," she says.
So how did this Texan end up ice fishing in Prairie Canada during one of the coldest months of the year?
Supporting wetland conservation
Eight months earlier, Marcheta's cold weather gear was tucked away in a closet and she was at the Women's Cocktail Hour at the Ducks Unlimited Inc. (DU) National Convention, held in San Antonio.
Marcheta and her husband, Alan, have been DU supporters since they discovered waterfowl hunting more than a decade ago. The annual convention provides volunteers, supporters and DU staff (from Canada, Mexico and the United States) an opportunity to gather in support of wetland conservation.
When Marcheta arrived at the Women's Cocktail Hour, a silent auction was underway. Displayed amongst dozens of other items up for bid, was an ice fishing trip.
It was serendipitous.
A few days earlier, Alan had told her that he would like to try ice fishing. "I had never done it before either. And so when I went in and saw that item, I said, 'it was mine,'" says Marcheta.
"It wasn't until later that I realized it was going to be really cold," she adds, with a laugh.
But Alan was all in. Not only did their purchase of the trip support a cause they both believe in (wetland conservation) but it satisfied the pair's sense of adventure. "We like to try new things," says Alan.
A few months later, long after all the ducks migrated south, the pair touched down at the James Armstrong Richardson International Airport in Winnipeg and picked up by their hosts for the next five days: Pat and Megan Kehoe.
A warm welcome
Pat Kehoe is the director of international partnerships for DUC. "I've donated about six of these ice fishing packages to DU fundraisers," says Kehoe. "In Canada, we're used to ice fishing. But for many people, it's a novel experience," he says.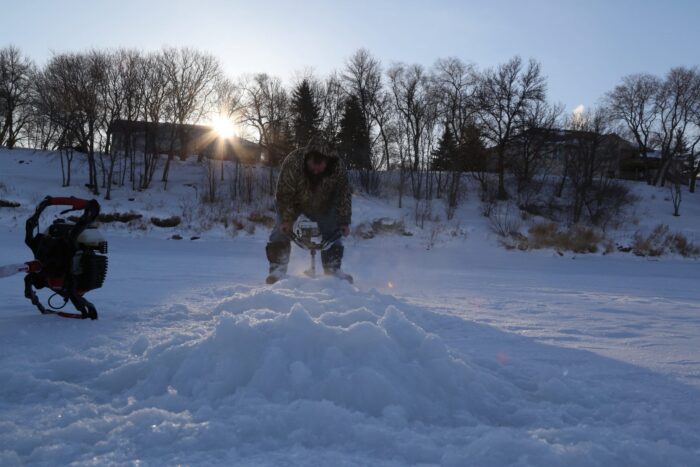 Bright and early the day after the Jochimsens' arrival, Kehoe is on the Red River drilling holes into the ice with an auger. With help from Alan, he sets up their collapsible ice fishing hut. Now, Alan and Marcheta are ready to catch some walleye and sauger, two fish species common in "The Red".
They spend the next few hours reeling in catches. Shortly before 11 a.m., the party has caught their limit for the day and the once quiet river ice is now covered with ice-fishing huts. "I've seen it in pictures before, but it's something else to see it in person," says Marcheta.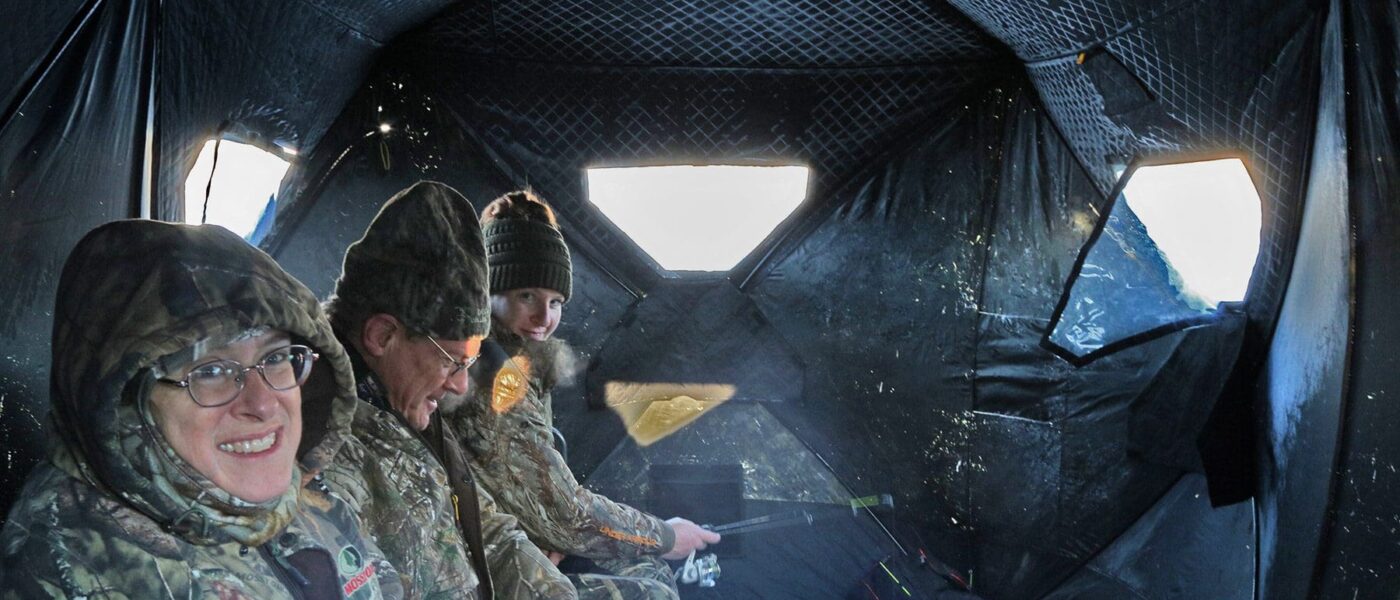 A simple recipe
Inside the Kehoe home, Alan and Marcheta warm up while Pat prepares the morning's catch. He fillets the fish, and then pan fries them with a bit of butter and lemon pepper. "It was very good," says Marcheta.
Over the next few days, Marcheta and Alan explore new lakes and continue to hone their ice fishing skills. When they board the plane to head back to Texas, their luggage is a little heavier. "We did bring fish home with us. We have cooked burbot, walleye and sauger so far and enjoyed them all," says Marcheta.
Back home, the couple reflects on their adventure north. "There was not a moment that stuck out for us. It was the entire trip of doing something new that made it special to both of us," they write in an email.
And it was all made possible because these Texas Ducks Unlimited supporters were willing to layer up and make it happen in support of wetland conservation.
The 2018 DU Convention is just around the corner. Learn more about this event.
Attend a DUC event
Celebrate Canada's wilderness and wildlife. Attend your local DUC event to support conservation in your community.
Find an event