Sea-level rise is no longer something discussed in the abstract. The science is settled. Our coasts are under threat, affecting communities and the people that live in them. Billions of dollars are at stake. Populations are threatened, transportation routes risk being cut off, and economies will struggle to adjust to a new reality.
Thankfully, west coast cities—and organizations like ours—are responding to the threats associated with sea-level rise.
Along the foreshore, west of Lulu Island, B.C., DUC has conserved one of the region's most essential habitats in the Fraser River Delta. Sturgeon Banks, Roberts Bank, and Boundary Bay form a large complex of tidal habitats. The area is a major stopover along the Pacific Coast, supporting more than one million migratory birds, from shorebirds and waterfowl to raptors. Additionally:
§ the entire Western sandpiper population will pass through this area during migration
§ Sturgeon Banks is a key wintering area for snow geese—flocks of up to 20,000 visit the marshes and nearby farm fields
§ the intertidal areas are essential habitats for fish species, including salmon. The channels provide areas of refuge for small fish, and the marsh habitat provides food and nutrients.
We partnered with the City of Richmond to restore the foreshore to stem the rising tides from sea-level rise. Thanks to a generous donation from the Grauer family and funding from the Delta Port Third Berth mitigation program, we preserved 127 acres of tidal wetlands.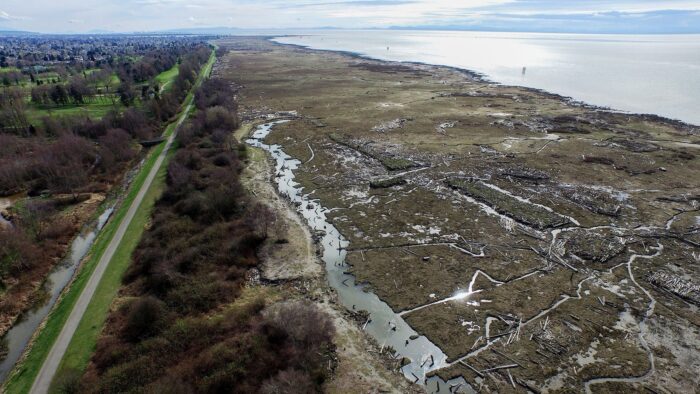 "This was one of those projects we have been pursuing since the 1990s," says Dan Buffett, manager of DUC's provincial operations in B.C. "This area presented a real opportunity to address sea-level rise using a green infrastructure solution."
Large rafts of beached logs had limited the habitat's productivity. They prevented the growth of vegetation in the tidal areas, limiting available habitat for birds, fish, and other wildlife. Dense stands of invasive cattail, which choke out native vegetation and existing tidal channels, were also abundant. Our conservation work included removing the logs, scraping out the undesirable vegetation, and creating additional tidal channels and a deeper "trench" (think pool area) for fish.
Our conservation efforts have contributed to creations of new fish channels, three acres of open water habitat—at medium tide—and approximately 500 metres of wetland trench area.
"This land is extremely significant from a local, regional and international perspective," says Chad Paulin, manager of environment for the City of Richmond. "By preserving this foreshore, we are protecting an
important part of the Pacific Flyway for migratory birds and complementing the Sturgeon Banks Provincial Wildlife Management Area."
Partners take innovative action to adapt to increasing sea level rise
Due to Richmond's unique geographical location, the city has established a sophisticated flood management system comprised of 49 kilometres of diking infrastructure, 39 pump stations, and a vast network of green infrastructure to prevent the community from increasing sea levels.
The conservation actions we've taken will have critical implications going forward for the survival of the Pacific Flyway—and for the waterfowl and wildlife habitats DUC conserves. Buffett says the project is a learning tool for staff, showcasing how innovative techniques are implemented. Because our conservation staff were able to track and measure how large wood debris changes in the tidal zone, and how structures and islands created with soil and logs help stabilize the area, we also helped to better inform and evaluate different ideas in coastal management.
Every inch matters of restoration matters when it comes to estuaries and adapting to sea-level rise.