On July 26, 2022, Ducks Unlimited Canada hosted a panel of pollinator and ecosystem researchers in a one-hour webinar. Missed the webinar or want to watch it again? You can view the recording anytime at crowdcast.io/e/wild-pollinators. The following are 10 of our favourite facts from the talk.
1. Bees evolved from wasps! One of the most significant differences is that bees are vegetarian. They have branching hairs, specially adapted to help them collect pollen.
2. About 70 per cent of native bee species nest in the ground, and 30 per cent nest in wood materials like logs and stems.
3. Honeybees, which are considered livestock, can fly long distances (around three kilometres) to access food. Most native bee species can only fly short distances, many traveling only 50 to 200 metres from their nest. Bumblebees can go further, some travelling up to 800 metres.
4. Have you seen it? Some native bees will sleep on flowers and huddled in groups.
5. Most native bee species are active for only a short period of time each year. Bumblebee species are an exception and that makes them especially important pollinators for crops and other plants. Bumblebees are active all season long, have large colonies and will visit a wide variety of flowers.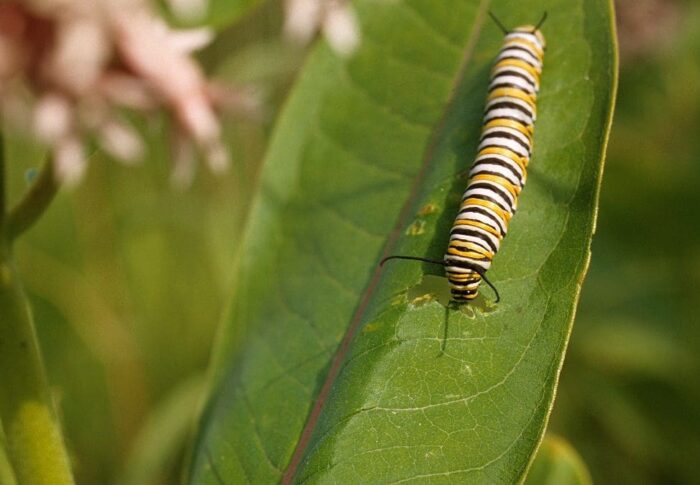 6. A monarch's vibrant orange colour tells predators that they taste bad or can make them sick. When monarchs are developing as caterpillars on milkweed plants, they ingest a heart toxin from eating the leaves and incorporate that toxin into their tissues. Because viceroy butterflies look similar to monarchs, they also benefit from the monarch's predator-deterrent colouration.
7. Eastern migratory monarchs travel about 4,000 kilometres from Canada to their wintering grounds in Mexico. This migration can take up to two months.
8. Most of Canada's monarch butterflies migrate to a small area of high-elevation forests in Mexico, where they cluster together in large groups to keep warm. They choose this cool location to keep their metabolism low and can live off their fat stores all winter.
9. Because monarchs over-winter in a small geographic area, their population can be vulnerable to storms. In 2002, a winter storm killed approximately 80 per cent of the wintering eastern monarch population. To endure these kinds of set-backs, researchers estimate we need enough monarchs to cover six hectares of forest in their Mexican winter range—and to help achieve that, Canada needs to increase its milkweed stems by 1.67 times.
10. Wetland edges are important for pollinators, providing a water source, nesting sites and 15 per cent of common milkweed plants in Canada. This is just one reason wetlands are valuable in agricultural landscapes.
Discover Project Dragonfly
Learn fascinating facts about dragonflies—another group of important ecosystem species—and what their populations are telling us about the future of wildlife.
Go to Project Dragonfly