Cancelled.
It's a word (and a reality) we've come to accept with growing frequency over the past several months. For millions of hunters and birders across North America, the release of the annual Waterfowl Breeding Population and Habitat Survey is met with excitement and anticipation akin to opening day or the arrival of a long-awaited package at your doorstep. And while the COVID-19 pandemic precluded this year's survey efforts, we'll all be keeping our eyes on the skies for our favourite species this season.
"These surveys provide a sound, scientific foundation for conservation planning," says Stuart Slattery, national manager of DUC's Institute for Wetland and Waterfowl Research. "Although we'll miss seeing this year's results, we're fortunate to have a deep well of historical monitoring data and decades of experience to draw from."
It's the first time in the survey's 65-year history that representatives from the United States Fish and Wildlife Service (USFWS) and the Canadian Wildlife Service (CWS) have missed out on their May field work. Typically, they'd climb into airplanes and helicopters or gather in crews on the ground to examine waterfowl breeding habitat and populations over millions of square kilometres in Canada and the northern United States.
Cancellation of the 2020 survey will create a one-year gap in the record of waterfowl population estimates. However, this will not affect this year's hunting season.
Harvest limits to remain unchanged
The annual survey is used to inform harvest management decisions for most species of ducks and geese. Proposed hunting regulations for the 2020-21 season will now be based on population and habitat conditions from the 2019 survey. As a result, changes are not anticipated for most species.
Last year's survey reported 38.9 million breeding ducks in North America. This is six per cent lower than the 2018 estimate, but still 10 per cent above the long-term average. Read a summary of the species estimates from the 2019.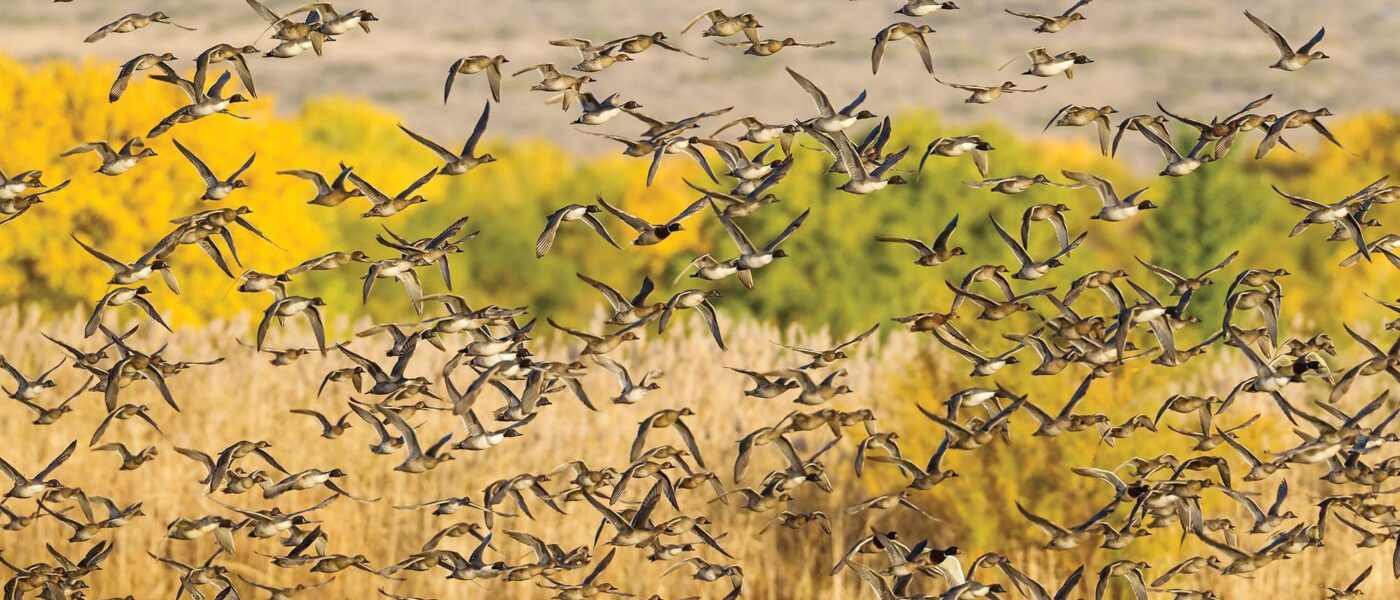 Healthy, abundant habitat is key
Scientists have long recognized that the ultimate factor in waterfowl population success is access to healthy, abundant habitat. And, recent research conducted as part of DUC's International Conservation Plan confirmed that breeding areas have the greatest effect.
"In Canada, the core waterfowl breeding habitat is found in the Prairie Pothole Region and the boreal forest," says Slattery. "Our goal is to ensure areas like these remain capable of meeting the needs of breeding ducks."
Unfortunately, much of Canada's valuable waterfowl breeding habitat is under extensive pressure. Competing land uses can often lead to wetland drainage or upland destruction. DUC works with landowners, industry groups and other stakeholders to conserve and restore habitats that birds need to raise their young, while still supporting the human needs of working landscapes.
Visit a DUC project to take in this fall's flight
Looking for a place to hunt or watch the spectacle of fall migration? Check out our Duck Navigator map to find a list of DUC properties near you that are open to the public.
Join today
Support DUC's conservation efforts to keep duck populations flying strong. Become a member today and choose to receive a camo DUC Gear™ duffle bag, cap or neck gator.
Join now