Longstanding DUC partner, Toronto and Region Conservation Authority (TRCA), and municipal neighbours the Town of Ajax and Region of Durham collaborated to restore wetland habitats in the Carruthers Creek and Duffins Creek watersheds in Ajax and Pickering respectively. The partnership is part of municipal urban growth plans to make local communities more resilient to the effects of climate change in a high-growth region.
The partners made space for nature with two recent conservation projects that protect and restore more than 10 hectares of wetlands in both watersheds. About nine hectares of wetland and associated upland habitats were restored on land neighbouring Casino Ajax in a mixed industrial and residential neighbourhood on Kerrison Road in Ajax. Existing farm ponds were decommissioned and converted to wetland habitat near a popular, newly revamped public trail.
The new wetlands will delight the many people who use the local trail for healthy (and free) outdoor activities while providing significant habitat for the local wildlife. Nearby, a hectare of wetland and associated upland habitats have also been created on TRCA-owned land in Brock North, near Highway 7 in Pickering.
"DUC started out restoring wetland habitats to save waterfowl populations many years ago. As we learned about the critical role of wetlands in the lives of waterfowl, we also learned about their many benefits to human lives," said David McLachlin, DUC's senior biologist in Ontario. "Everyone wins in a healthy urban watershed, enjoying cleaner water, reduced risk of flooding and—my personal favourite—opportunities to get outside and enjoy nature close to home."
"Our innovative partnership with Ducks Unlimited Canada facilitates a forward-thinking, action-oriented approach to urban planning that involves working with wetlands and not against them," said Clifton Coppolino, TRCA's senior project manager for restoration projects. "Development with nature in mind provides endless long-term benefits—mitigating flood impacts, providing wildlife habitat and restoring watershed connectivity. We need wetlands to keep ecosystems in balance."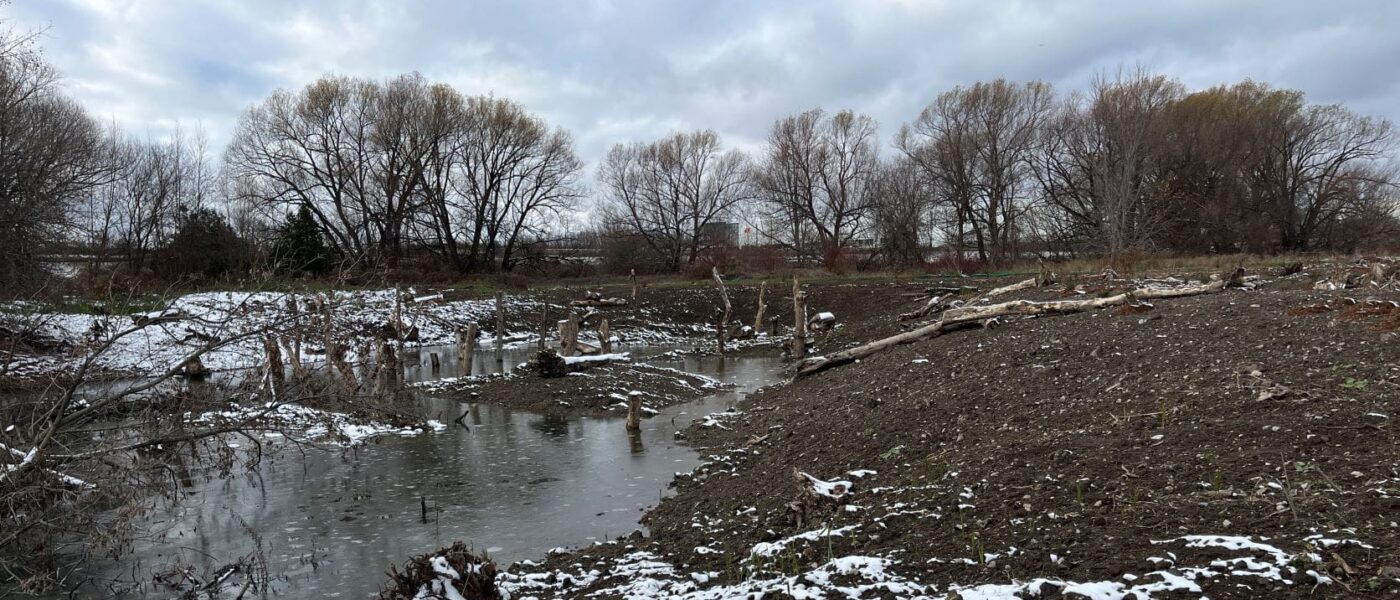 The shift to integrating wetlands into urban development
Once seen as impediments, wetlands are now integral to the sustainable design and growth of communities. Urban planning models are reflecting a shift by recognizing the fundamental role that wetlands play as natural infrastructure features in healthy and hardy ecosystems. Wetlands collect and store rainfall and runoff, which reduces flooding downstream, as well as providing numerous other benefits including improved water quality, water and carbon storage, and an abundance of habitat for many wildlife species.
When wetland conservation is a priority in urban planning, it's possible to take a proactive approach to sustainability in and around towns and cities.
The projects were implemented by TRCA and the Town of Ajax with support from DUC and the Region of Durham. DUC supported engineering design and logistics for both projects.
The wetland restoration was made possible with financial support from the Investing in Canada Infrastructure Program as well as the Ontario Wetlands Conservation Partner Program, a $30 million, five-year program focused on enhancing and restoring wetlands in the Great Lakes watersheds, supporting municipal stormwater management and building climate change resiliency.
---
About DUC's wetland restoration program in Ontario
DUC implements a wetland restoration program in collaboration with private and public landowners and local conservation partners. These restored wetlands provide optimal breeding habitat for waterfowl, other birds and hundreds of other wild species. At the same time, they contribute to the natural infrastructure of landscapes by supporting phosphorus reduction, biodiversity, climate readiness, flood mitigation, clean water and overall watershed health which protects, ultimately in this case, Lake Ontario. 
More than one million acres conserved in Ontario
Projects, people and policy
Learn more