From droughts to floods to fires, Canada has experienced a surge of extreme weather throughout 2023 that's impacted waterfowl habitats. This has left many hunters and birders wondering about the current status of populations of their favourite species and whether they'll see an abundance of birds in the sky during fall migration.
The annual Waterfowl Breeding Population and Habitat Survey (WBPHS; often referred to as BPOP) provides the best insight and, according to the 2023 report, we can expect to see a slight decline. Total populations were estimated at 32.3 million breeding ducks in the traditional survey area, seven per cent lower than 2022's estimate of 34.2 million and nine per cent below the long-term average (since 1955).
"Despite this year's decrease, populations of most waterfowl species remain healthy and near long-term averages," says Matt Dyson, waterfowl research scientist with DUC. "However, the results are an important reminder that continued investments in habitat conservation and restoration are needed. As an organization that's been studying the drivers of waterfowl population dynamics for 85 years, Ducks Unlimited Canada remains vigilant in our efforts to work with our many partners on the landscape and take conservation action."
While all habitat is important to the life cycles of waterfowl, science shows that breeding areas have the greatest effect on waterfowl populations. These areas are found mostly in Canada and the northern United States, in landscapes such as the Prairie Pothole Region and the boreal forest.
Population estimates of your favourite species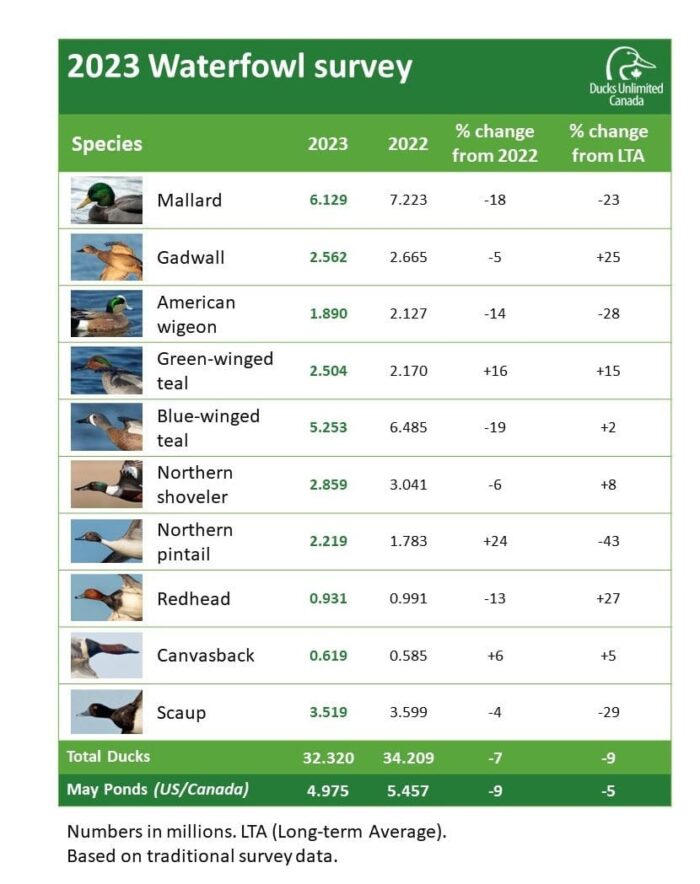 View the full 2023 Waterfowl Population Status report from the U.S. Fish and Wildlife Service.
Species spotlight: mallards, American wigeons and pintails
The drop in mallard and American wigeon populations were noted by DUC's waterfowl scientists and are likely a result of ongoing drought conditions in the Canadian Prairies. Dyson says, "We will be watching the estimates in next year's survey to help determine if this decrease goes beyond what could be expected as natural fluctuations."
Pintails are a bright spot in the 2023 report, with a 24 per cent increase from last year. While pintails are widespread and abundant, surveys have suggested a significant decline since the 1960s. This year's population numbers are showing some recovery.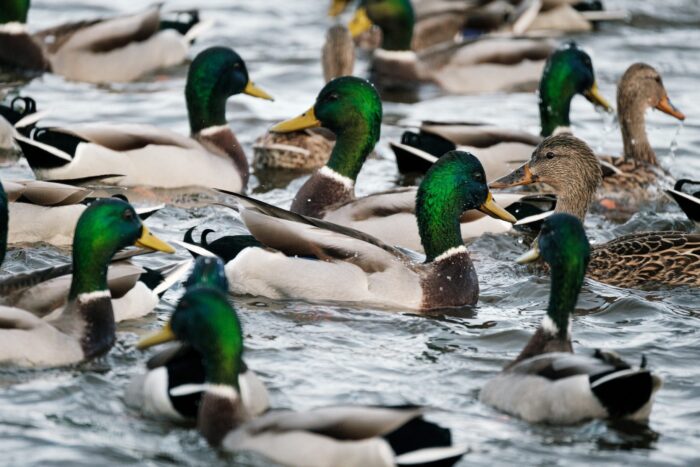 What is the Waterfowl Breeding Population and Habitat Survey and how is it compiled?
The Waterfowl Breeding Population and Habitat Survey was started in 1955 and is the largest and longest running wildlife survey in the world. Its results have guided waterfowl harvest and habitat management continentally by shedding light on the large-scale dynamics of migratory species.
The survey, also referred to as the Breeding Population Survey (BPOP) or the May Survey, is run jointly by the United States Fish and Wildlife Service (USFWS) and Environment and Climate Change Canada's Canadian Wildlife Service (CWS) with support provided by other groups like DUC. From mid- to late May, the USFWS teams up with the CWS as well as state and provincial agencies to conduct the survey. Using airplanes, helicopters and keen-eyed ground crews, the organizations examine breeding habitat and populations over more than 3.6 million square kilometres of Canada and the northern United States. DUC biologists are part of the crews that count ducks from the ground, which provide important verification and corrections for counts done by air. 
Healthy, abundant habitat is key factor in duck populations
Waterfowl's migratory nature demands that quality habitats exist at every point throughout their journeys. Canadian landscapes, particularly the key breeding grounds of the Prairies and the boreal forest, play a critical role in maintaining these strong populations.
Thousands of shallow wetlands are scattered across the Canadian Prairies and shallow wetlands represent some of the most productive waterfowl habitat in North America. The boreal forest is a vast area covered with rivers, lakes and wetlands that attract millions of ducks, geese and swans every year to breed.
Vigilant conservation is a must to keep waterfowl populations thriving
DUC continues to monitor how climate change and habitat loss impact waterfowl. While populations of many ducks and geese are doing well compared to other migratory birds, the re-emergence of drought conditions, changes in land use, and continued wetland drainage and grassland habitat loss compromise both breeding and survival rates.
"We know that environmental and social factors can change quickly, which can alter the outlook for waterfowl," says Dyson. "Ongoing investments in habitat conservation, scientific research, land-use planning, and educational programming are needed to address emerging challenges to ducks and their habitat."
For 85 years, DUC has been a leader in science-based conservation, delivering wetland conservation across the country in response to various ecological challenges affecting waterfowl.
Free Online Event: 2023 Waterfowl Season Outlook
Tune in on August 21, as experts from Ducks Unlimited in Canada and the USA team up with special guests from MeatEater, Higdon Outdoors and U.S. Fish and Wildlife to discuss duck populations and the results of the 2023 Waterfowl Breeding Population and Habitat Survey.
Learn more