Helping habitat on Amherst Island
Conservation projects provide TLC for a coastal wetland near the prettiest town in Canada
If you've ever lived in or visited the Kingston, Ont. area, chances are you've heard of Amherst Island – or at least caught a glimpse of it. Located on the north-eastern shore of Lake Ontario, a quick ferry ride from Millhaven on the mainland to Stella will land you in one of the "prettiest towns in Canada".
At just 20 km long and 5 km wide, Amherst Island is known for its friendly people, tree-lined roads, breathtaking lake shore views and perhaps most importantly, as a sacred haven for wildlife. These important natural benefits have been the driving force behind a critical restoration project, set to begin this summer on the island's large coastal wetland.
The wetland is located along the southwestern shore of Amherst Island. It was historically regulated by Lake Ontario water levels, which changed with the construction of the Moses Saunders dam near Cornwall in the late 1950's. That change lead to an extreme overgrowth of aquatic vegetation throughout the basin, greatly restricting the diversity of waterfowl and wildlife species that called the marsh home.
In 1997, DUC added an earthen berm and water control structure to mimic the lake's natural fluctuations. This helped restore the biodiversity of the wetland, including providing brood rearing and staging opportunities for an array of dabbling and diving waterfowl.
Since then, additional work has been completed to repair portions of the earthen berm damaged by burrowing muskrats. DUC conservation specialist Jennifer Lavigne says that when a series of ponds were added into the overgrowth of cattail in 2003, it became even more optimal habitat for waterfowl.
"By creating more open spaces among the vegetation (interspersion), we're creating more favourable habitat for waterfowl," says Lavigne. "Protection of coastal marshes along the lower Great Lakes and the St. Lawrence River is one of DUC's top conservation priorities in Southern Ontario. Some of North America's most important waterfowl migration habitats are located along their shores. In spite of wetland loss, this area still sees good numbers of waterfowl during the spring and fall migrations."
Almost 20 years since the initial earthen berm and water control structure projects were completed, the Amherst Island wetland infrastructure is fast approaching the end of its normal lifespan. In order to maintain its structural integrity, this summer, with financial assistance from the U.S. Fish and Wildlife Service through the North American Wetland Conservation Act (NAWCA), Wildlife Habitat Canada and Ontario's Ministry of Natural Resources and Forestry, DUC is re-coring the earthen berm with locally sourced clay material. A beaver baffler and new debris screens will also be installed to ensure the water control structure continues to function properly and maintain optimum water levels.
The work at Amherst Island will be finished up in early 2017 – just in time to greet the millions of migrating birds as they return to their precious northern habitat.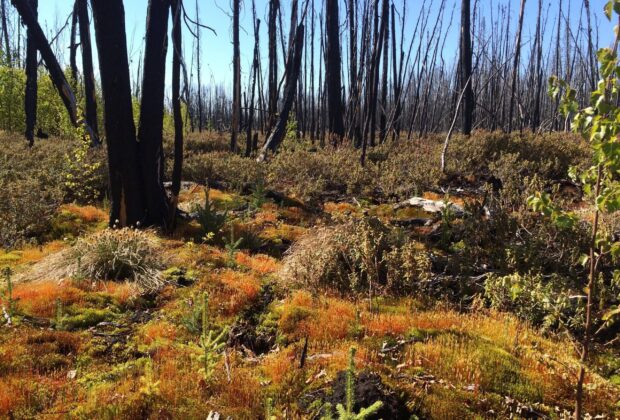 Boreal, Boreal Forest, Wetlands
trueWetland ecosystems found throughout Canada's boreal region can help mitigate the impacts of wildfire.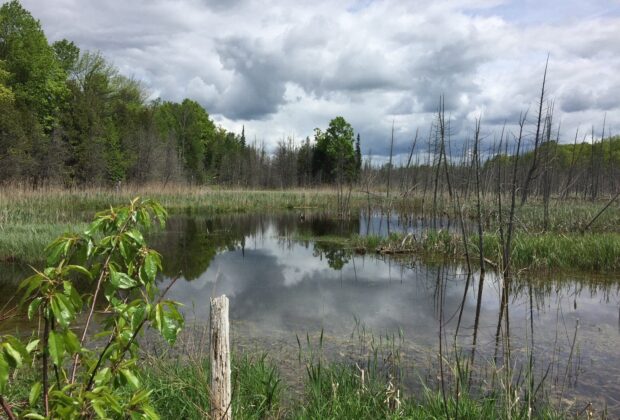 Landowners, Wetland restoration
trueHow a DUC project in Ontario's Trent River Watershed became a protected family treasure.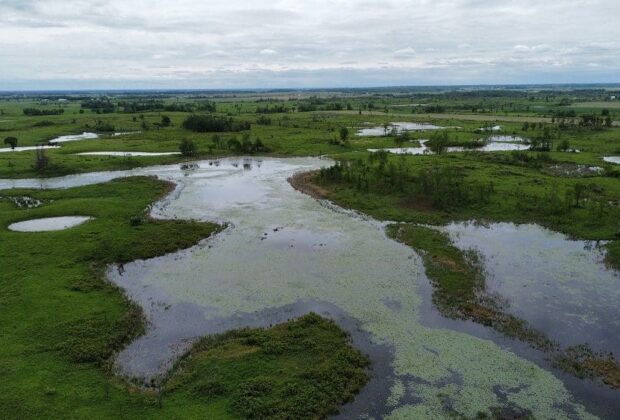 85 Years of Conservation, Wetlands
trueThe Atocas Bay project highlights the benefits of restored wetlands and how agricultural stewardship can sustain both farming and wildlife.