From the Lower Fraser River Valley of British Columbia to the Minesing Wetlands of Ontario—Canada's watersheds provide critical habitat for some of the most threatened species of dragonflies. Because of their rarity, these creatures can be challenging to track. But thanks to everyday citizens, who are documenting their rare sightings on free citizen science platforms like iNaturalist, these species and their habitat are being documented and can be conserved.
Grappletail dragonflies rediscovered
A few years ago, the first documented sighting of a grappletail dragonfly in 40 years occurred in the Fraser Valley as a result of a BC Parks iNaturalist project—initiatives that invite people to go outdoors and document their wildlife sightings. This imperiled 'red-list' dragonfly's only known habitat in Canada consists of seven streams in the Lower Fraser River valley, extending over 514 square kilometres.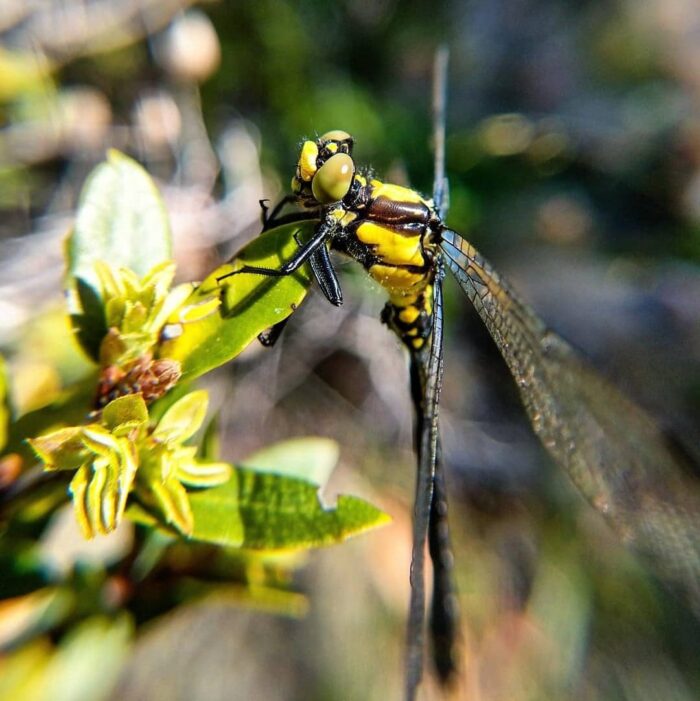 First finding of the Hine's emerald dragonfly
While this newsworthy discovery may seem like a lucky break, it is not unprecedented for naturalists to discover amazing finds while exploring wetlands. Another such discovery has occurred at the Minesing Wetlands, located just west of Barrie. Known as the "Everglades of the North" and covering nearly 15,000 acres (6,000 hectares), these wetlands are so unique that they were designated a RAMSAR site of international importance more than 25 years ago. DUC is proud to be a partner in conservation for this critical ecosystem, which is also home to more than 200 species of birds and more than 400 species of plants, some of which are considered provincially rare.
While a chance to spot a rare prothonotary warbler or white-fringed prairie orchid have been attracting naturalists for a long time, this area also hosts the endangered Hine's emerald dragonfly. In fact, it is the only known habitat in Canada supporting this shimmering green species, and its presence in the area was only discovered in 2007.
Indicator species for wetland habitat
Dragonflies are a highly sensitive indicator of wetland health, requiring clean, undisturbed water systems to thrive. In addition to habitat loss and degradation, invasive species like European common reed and glossy buckthorn can threaten the future of species like the Hine's emerald. Conservation management is critical to the health of wetlands and the hundreds of wild species they support. It's even critical for us, providing valuable services like flood attenuation, water quality improvement and carbon sequestration.
Hine's emerald dragonfly image used under license without changes.
Sign up for Project Dragonfly on iNaturalist
Log your dragonfly observations to help grow support and awareness for conservation through citizen science.
Sign up now