Ed Poropat is a retired elementary school teacher and a lifelong field naturalist. He's been interested in all things natural since he was a young child. Ed began birding when he was 12, and quickly expanded his interests to include reptiles, amphibians, mammals and plants. He worked for several summers as a park naturalist before becoming a teacher. Today, he works part-time as an environmental consultant/ecologist while continuing to attempt to quench his thirst for knowledge.
Ed recently caught up with DUC to share why he's wild for these winged insects and what he's learned while observing moths in his own backyard.
How did you become interested in moths?
I've had the good fortune of meeting many incredibly knowledgeable people over the years, many of whom have influenced my interests and continued learning. I participated in a butterfly count in the late 1990s and soon started my own count here in the Haliburton Highlands. Several years later, I became passionate about dragonflies and damselflies. In 2015, I finally began dabbling in the world of moths. It didn't take long before that, too, became an obsession! You can read more about the experiences that ignited my passion for moths in this article, originally published in the Thickson's Woods Land Trust newsletter.
What fascinates you most about moths?
I think what draws me most to moths is the stunning diversity—the many patterns, colours, shapes and textures they exhibit. Opening a light trap in the early morning and seeing hundreds of different moths fluttering inside is truly awesome. People who witness that rarely forget their first experience.
What is your favourite moth or what has been your most exciting moth discovery?
Tough question…I have many moths that I am always thrilled to see. Of course, the large silk moths are always a treat to find: Lunas, Cecropias and Columbia Silk Moths. But I also love some of the smaller moths. The Lettered Habrosyne is one of those. Although not particularly colourful, its subtle, graduated shades of browns, and grays among a dazzling array of zigzag lines produces a stunningly beautiful pattern. Another is the tiny Chinquapin Leaf Miner. I almost missed seeing this minute moth in my light trap because of its size. But, once photographed with a macro lens, its golden scales topped with blue spots took my breath away. What a tiny gem!


Probably my most exciting moth discovery was an exceptionally small leaf blotch miner called Parornix spiraeifoliella. I could not figure out what it was and there were no photos on the web that I could find. I posted it on iNaturalist and tagged an expert who recognized it immediately. At that time, it was the only iNaturalist record of the species in the world! Several more observations have been added since then, but that was an exciting moment for sure.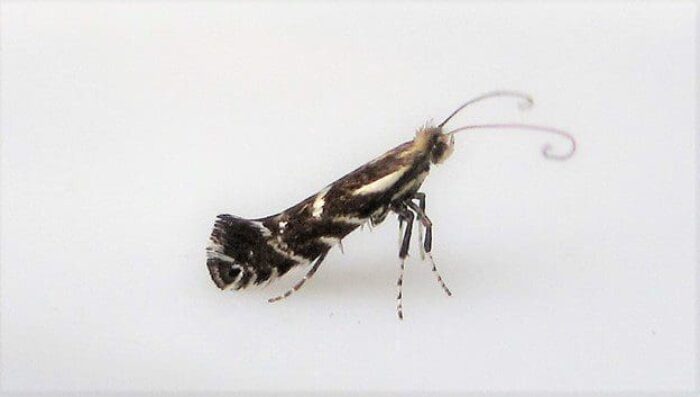 What is your favourite moth fact?
My favorite moth fact has to be the strategies employed by some tiger moths to avoid predation by bats. Their ability to produce ultrasonic clicks to confuse or "jam" echolocation abilities in moth-hunting bats is truly astounding.
Do you have any concerns or observations about moth populations or any advice for how community members can help in their conservation?
Insects can be highly cyclical in their abundance year to year, so long-term monitoring is vital to understanding population dynamics, distribution, etc. That's where citizen science platforms such as iNaturalist can be invaluable. Anyone can contribute in some manner to our overall knowledge with a simple app and a smartphone. Entomologists have been writing about declines in moth populations for years, especially larger moths such as the silk moths. Although I have witnessed some "good years," I have also noticed some very poor years where large moths have been almost non-existent. 2023 seems to be one of those years.
As far as conservation goes, I hope people might be a little more thoughtful when it comes to the role of insects in general. The use of "bug zappers" is one example. Yes, mosquitoes can be a nuisance, but these machines do not discriminate between biting insects and beneficial nocturnal pollinators such as moths. Reducing any uses of pesticides and herbicides is also helpful.
Learn more about moths with these interesting facts
These ecologically important and fascinating creatures play an important role in conservation.
Read more