Moth Facts:
Moths live in almost every habitat – wetlands, grasslands, forests, even the tundra.
The largest moth in Canada is the cecropia, a member of the giant silk moth family with a wingspan of up to 18 centimetres.
Some species of moths migrate in the fall, others survive winter in a cocoon. There are a few species referred to as "winter moths," which can survive winters in southern Canada in their adult form.
Many moths are impressive mimics. For example, there are approximately 40 species of clearwing moths in Canada, many of which mimic bees, wasps, and even hummingbirds.
There are micro moths that have wing spans of less than three millimetres. Canada has dozens of species of pygmy leafminer moths, which are so small their presence is often only known because of the distinctive tracks they make on leaves.
Moths are masters at evading predators. While some have amazing camouflage, others have developed features to intimidate predators like eye marks. Tiger and hawk moths seem to have developed skills to dodge being eaten by bats, specifically by emitting ultrasonic clicks that throw off the echolocation system of bats.
Photo: Spragueia Leo (Common Spragueia)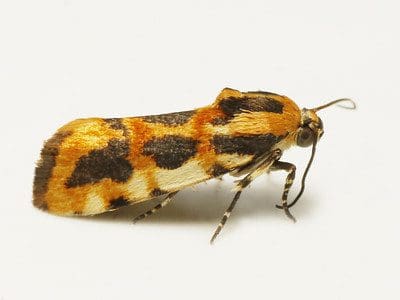 Myth busting moth facts:
Some moths do not eat in their adult state and don't even have a mouth – like the beautiful luna moth.
Adult moths do not eat fabrics. Out of the approximately 5,000 species in Canada, only two have caterpillars which feed on fabric.
Not all moths are attracted to the light, some are repelled by it (this is considered "positive" or "negative" phototaxis).
Photo: Actias luna