What's the difference between dragonflies and damselflies? How can I tell them apart?
Both types of insects belong to the order Odonata. Dragonflies belong to the Anisoptera suborder and damselflies belong to the Zygoptera suborder. They share many common features but also have observable differences. For example, damselfly species are often smaller than dragonfly species; damselfly larvae have gills attached to the tip of their abdomen, while dragonflies have gills inside their abdomen; and a dragonfly's rear wings are larger than its front wings, while a damselfly's wings are all similar in shape.
One of the easiest ways to distinguish a dragonfly from a damselfly is to look at how it holds its wings. At rest, most damselflies hold their wings closed (except for those belonging to a group known as spreadwing damselflies, which hold their wings at a 45-degree angle to the body). Dragonflies at rest hold their wings completely out to the side, perpendicular to the body.
Are there different species in different regions or many species in all regions? How many dragonfly species are in Canada?
More than 200 species of dragonfly and damselfly are native to Canada, and the eastern provinces have the highest diversity of species. Some species are exclusive in Canada to certain regions, like the treeline emerald, which is only found in the territories. Species at risk and endangered species may be concentrated to a small area, like the Hine's emerald dragonfly, which has only been recorded at Ontario's Minesing Wetlands. Other species are widely distributed across most of the country, like the river jewelwing damselfly and the Canada darner dragonfly.
Are there shifts in dragonfly distribution or range due to climate change?
Climate change is shifting and expanding the ranges of some of the world's dragonfly species, while creating less favourable conditions and restricting the ranges of species that prefer cooler conditions. Increases in flooding, drought and extreme weather also threaten dragonfly habitat and can impact their life cycle.
Another possible consequence of climate change has been seen in warmer climates, where wing pigmentation (or colouration) has declined in male dragonflies. Scientists believe this evolution helps the dragonflies stay cooler but may also make it more difficult to find a mate.
What are the natural enemies of dragonflies?
Common predators of dragonflies are frogs and fish, when dragonflies are in their larval stage, and birds and spiders, when dragonflies are in their adult stage. They will even eat each other.
The biggest enemy of dragonfly populations overall is habitat destruction, which is shown to be the leading cause of global dragonfly population declines.
Are dragonflies as fearsome as their name suggests? Are dragonflies carnivorous? What do dragonflies eat?
Dragonflies are carnivorous and voracious predators in both their larval and adult forms.
Dragonfly larva are ambush predators. When prey gets close, they thrust out their long lower lip to snag their prey, then pull it back into their mouthparts. They eat many things, including other insect larvae, tadpoles and small fish.
Dragonfly adults typically catch their prey while flying by grasping them with their legs. Various flies make up much of their diet, and they'll eat each other, too. They are also capable of eating species larger than themselves. There is even evidence of a dragonfly eating a hummingbird. But they are not dangerous to humans and only rarely bite us out of self-defence.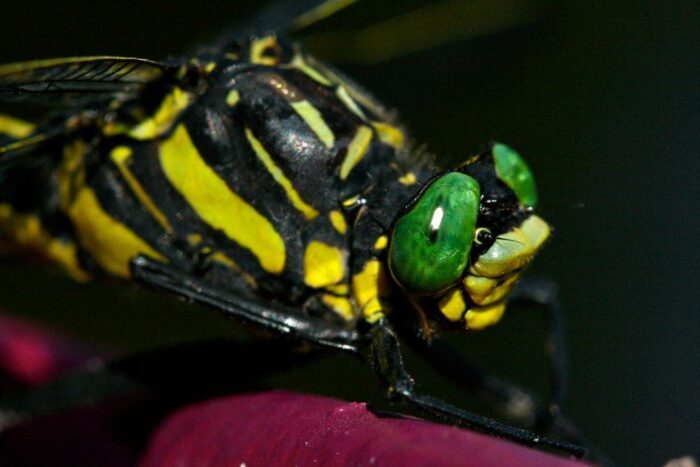 Can you recommend any resources to learn more about, and help identify, dragonflies?
There are many quality field guides available for dragonflies in North America, including:
iNaturalist also provides identification help, including suggestions from other community members.
Can you recommend any resources to learn more about wetland ecosystems?
DUC scientists recommend Wetlands by William J. Mitsch and James G. Gosselink as the "definitive book" on wetland ecosystems.
Why are dragonflies important to an ecosystem? What do their populations tell us about an ecosystem's health?
Dragonflies play an important role in the food web, both as predators and prey, and help keep populations of other insects balanced. Because all dragonfly and damselfly species depend on aquatic habitat for their pre-adult stages, which can span from a few months to several years, they are also useful indicator species for ecosystem health. Their population trends can be impacted by factors such as habitat availability, climate change, water quality and food availability. They are also relatively easy to observe and compare to existing global distribution records.
What should we look for to help identify dragonflies?
Physical characteristics can help you identify a dragonfly. So can binoculars, a good field guide and even the iNaturalist community (when contributing your observations to Project Dragonfly).
Learning the different families of dragonfly and where they live can help you narrow down your possibilities. Then watch for characteristics like size, eye position, pattern (on the wings, thorax and/or abdomen) and colour to help pinpoint the species.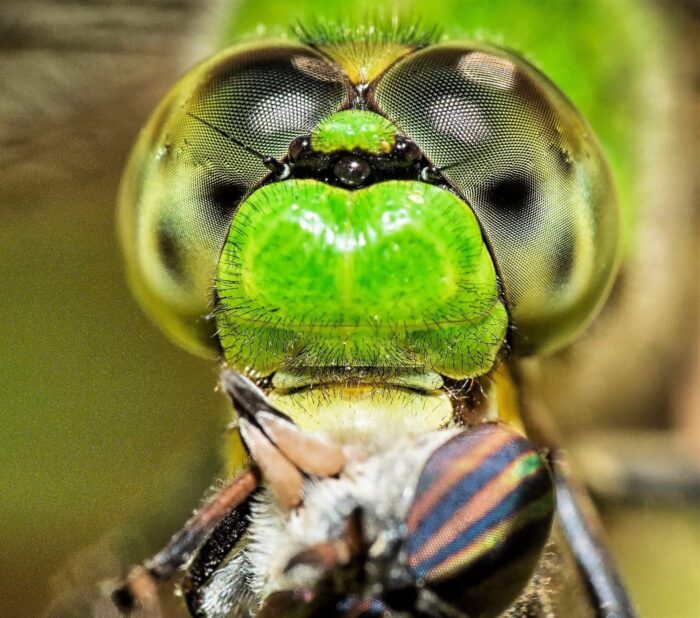 Can dragonflies fly with wet wings?
Research shows that dragonfly wings are hydrophobic, or able to repel water. This means they can fly in some rain and may recover from getting wet if they haven't been injured.
How can a classroom or school support dragonflies?
The most important thing to do is to support dragonflies' habitat so they can thrive! Here are some activities and resources to get you started:
Visit our education program pages for more information.
How long does a darner stay in nymph form before emerging as an adult? How long do they live after emerging?
Most of Canada's dragonfly and damselfly species will be in the larval stage for at least a year. However, there are some that can develop and emerge in a few months, and others, like darners, can stay as larvae for up to six years and beyond.
How does dragonfly flight work? How can they hover, maneuver and take off quickly?
A dragonfly's four wings move independently. This allows it to hover, dart side to side, and even fly backwards—precise maneuvers that help it catch its prey.
How do dragonflies help control mosquitoes?
Dragonflies can be effective at controlling mosquitos at two stages—in the air, when an adult dragonfly can prey on up to 100 adult mosquitoes per day, and in the water, when dragonfly larvae prey on mosquito larvae with even greater effect.
Are dragonflies endangered?
Sixteen percent of the world's dragonfly and damselfly species are at risk of extinction. Science has shown that wetland loss is directly related to their declines—while wetland conservation and restoration can support stable and recovering populations.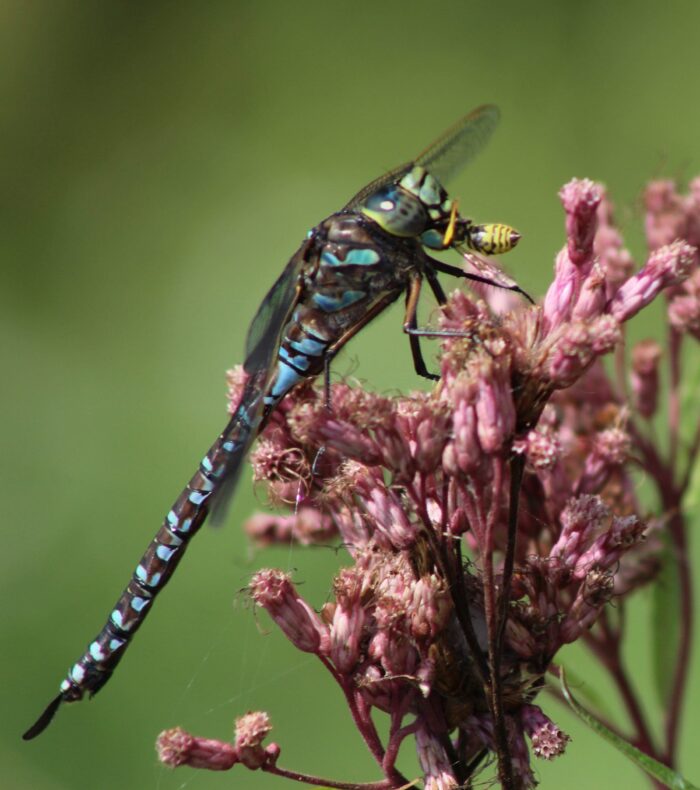 Are there Ducks Unlimited Canada sites where I can observe dragonflies?
Dragonflies live, breed and feed in and around wetlands and waterbodies. Therefore, many of DUC's nearly 12,000 wetland projects—or any healthy freshwater wetland—can provide an opportunity to observe and log your observations in Project Dragonfly on iNaturalist. Wetland interpretive centres are a great place to start, like the Harry J. Enns Wetland Discovery Centre near Stonewall, Man., or the Ducks Unlimited Conservation Centre in Fredericton, N.B.
How can I attract dragonflies to my yard or pond?
The best way to attract dragonflies is to provide inviting habitat for them—namely wetlands and waterbodies. If you have the space, you can restore or construct a wetland or pond on your property. Choosing a variety of native vegetation will attract other species that will help make up a dragonfly's ecosystem, and emergent vegetation, like rushes, provide a place for larvae to climb up when it's time to emerge as adults. You can also increase your chances of attracting dragonflies by choosing a sunny area with shelter from the wind and with elevated areas or tall plants nearby for perching.
Because dragonflies are carnivorous, they won't be attracted to flowering plants the way butterflies and bees will. However, they are attracted to the insects that feed and live on plants. Therefore, a yard with ample and diverse vegetation, even without a water feature, will naturally attract a variety of wildlife, which in turn can help attract dragonflies and give them plenty of places to feed and rest.
Can we submit dragonfly observations in iNaturalist even if we don't know the species?
Yes! You can upload your observations to iNaturalist and include the best information you're sure off—even if it's just to label a species as "dragonfly" or "damselfly." Other users are encouraged to add their identification suggestions, which may help you learn more and accurately identify the species.
Ready to learn more? Visit the Project Dragonfly page or watch the recording of the Project Dragonfly webinar. 
Sign up for Project Dragonfly on iNaturalist
Log your dragonfly observations to help grow support and awareness for conservation through citizen science.
Sign up now