Deep in its archives, Ducks Unlimited Canada (DUC) houses a 1938 black-and-white film, "A Dam Site" about its very first attempts to save wetlands for nesting and migratory waterfowl. In it, heavy horses cut deep water channels in dry earth to turn marshlands into "duck factories." The intention was to, as the understated film's captioning states, "put two ducks in the air where only one had flown before."
The first of those "duck factories" was Big Grass Marsh. At the time of the filming, the marsh really was more wasteland than wetland.
Decades before, it had been a vital and verdant 104,000-acre stopover for North American waterfowl. But since the late 1800s humans and nature had taken a toll on Big Grass Marsh.
Big Grass Marsh suffers setbacks
Beavers that once dammed the creeks and streams of the wetland, were hunted to near extinction. The Canadian government encouraged immigration to the area. The farmers who arrived found the fluctuating water levels of the marsh too capricious to corral. "The deal was, they had to cultivate the land and prove that they could establish a crop in order to get the ownership," says Scott Stephens, DUC's director of conservation strategy and support.
And then, starting in 1916, a series of prolonged droughts dried the already-struggling marsh to caked and cracked pans of inhospitable earth.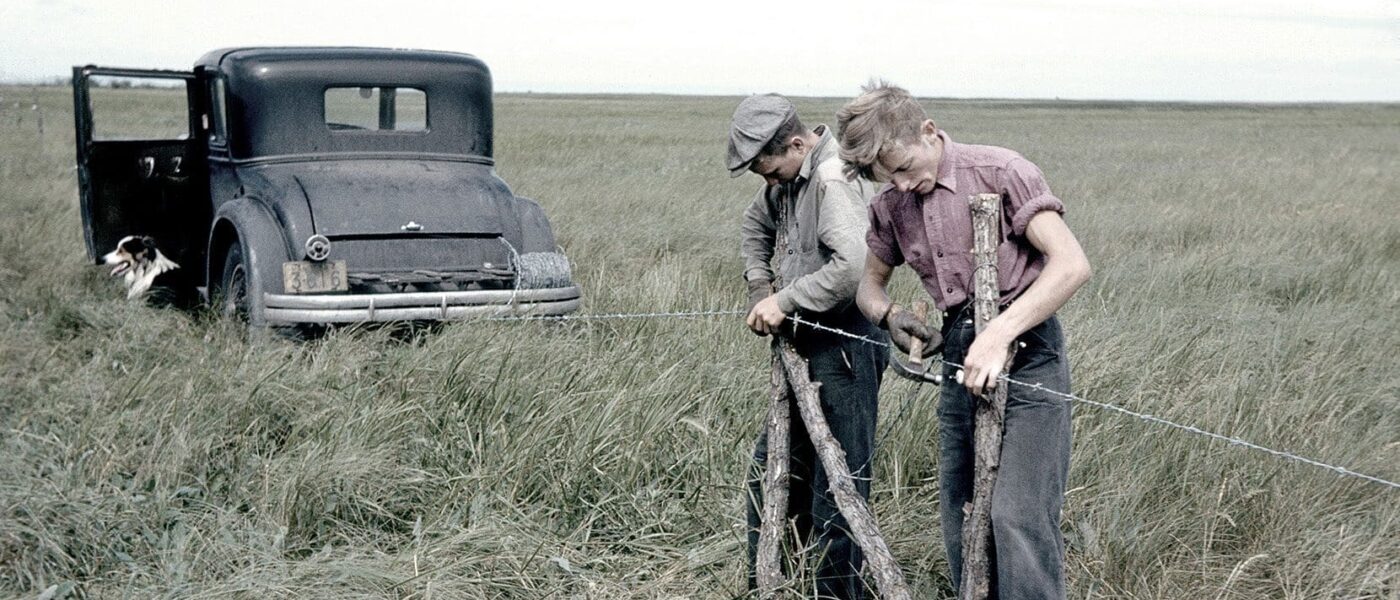 Rising to the challenge: North America's early waterfowl and wetland conservation efforts take root
By the 1930s, the concern of hunters and other worried citizens about the fate of the continent's waterfowl became a clarion call to action.
Governments in Canada and the U.S., then dealing with the economic shock of The Great Depression, were urged to protect waterfowl and their habitats. Some action was taken. But private conservation organizations—like the Audubon Society, the Boone and Crocket Club, the Sierra Club and the More Game Birds in America Foundation—which had sprung up around the turn of the century, decided they needed to take matters into their own hands.
One of those endeavours, More Game Birds, founded in 1930, was the antecedent to DUC. It focused its efforts on saving waterfowl habitats. The organization encouraged waterfowl hunters to pony up for wetland restoration, which they did. And, in 1935, More Game Birds put data behind its call to action by conducting a groundbreaking wild duck census. "That study," says Stephens, "which was done on horseback with binoculars, was the precursor to what is now the longest standing wildlife survey in the world – the spring Waterfowl Breeding, Habitat and Population Survey."
By 1936, with the concerning survey results in hand and the fall migration flights of waterfowl down to 30 per cent of previous years, things were getting desperate. In 1937 More Game Birds morphed into Ducks Unlimited, Inc. in the U.S., with DUC forming in 1938. DUC's first restoration project? Duck Factory #1, Big Grass Marsh. Remarkably, the fledgling organization started the project within three months of the first DUC board meeting.
Big Grass Marsh restored back to life
Fortunately for DUC, the dormant seed bank of wetland plants in the marsh was just waiting for the right conditions to burst back into life. So, not long after DUC built its first dam and horse-ploughed its first trenches, and after some setbacks due to continued drought, it reached its post-recovery size of 11,500 acres jubilant with biodiversity.
Like most DUC wetland restorations, the size of the marsh varies season to season. "We try to keep conditions to what we call a hemi-marsh," says Mark Francis, DUC's manager of provincial operations for Manitoba. "That's about half open water, half emergent vegetation, which is optimal for waterfowl. That first dam was made of timbers that could be easily removed to control the water level. It's called a variable control structure."
Even though drainage and vandalism have occurred at Big Grass Marsh since its heyday development of the 1940s, at 7,500 acres, it's still a remarkable wetland. And although it continues to be a vital staging area for the continent's waterfowl, the breeding grounds of the prairie pothole regions to the south and west of it are now seen an important area of DUC's focus. 
But for DUC, Big Grass Marsh is an important symbol and touchstone that represents the best of the organization's mission.
"It's the historic start of DUC and 85 years of conservation," says Stephens.  "I'd like to think the folks that did that project would be blown away at the scale and scope of impact that we now have on the landscape."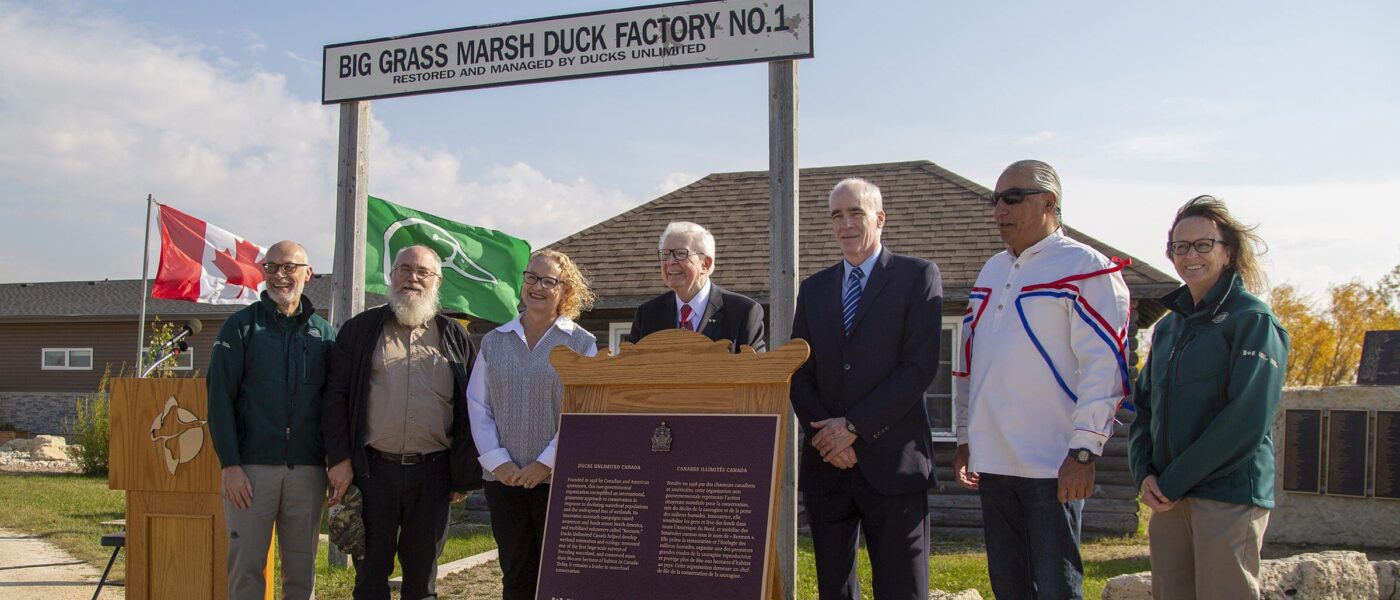 National historic designation celebrated at Oak Hammock Marsh
In October 2022, DUC was honoured at a Parks Canada ceremony to mark the founding of the organization in 1938 as an event of national historic significance. Oak Hammock Marsh provided a spectacular backdrop, with the sights and sounds of fall migration showcasing exactly what our founders envisioned: healthy wetlands and abundant waterfowl for people to enjoy. As the only national conservation organization to be recognized with this designation, DUC was proud to receive this honour commemorating our long history in the conservation and management of more than 2.5 million hectares of waterfowl habitat, creating an impact that's supporting wildlife, advancing sustainability and contributing to climate resiliency.
DUC's Film Archive Project
View rare footage from DUC's early years of wetland conservation.
Visit the film archives