We interrupt the world's mounting environmental crises with this urgent message: It's not too late. We can undo some of the damage. We can restore degraded habitat. We can rewild Canada's wetlands and other life-sustaining natural spaces.
For years, climate change and the rapid loss of biodiversity have been on an environmental collision course, promising catastrophic effects. According to a United Nations emissions report, the planet is projected to warm by three degrees Celsius by the end of this century. Adding to this is the sobering reality that one million species are at risk of extinction.
Although we can't turn back time, there is still much we can do.
Rewilding: It's more than romantic. It's science.
In the fight to safeguard our natural areas, much focus is placed on saving the intact places that remain. What's often forgotten is our ability to restore what's been lost. To rewild.
Rewilding refers to activities aimed at restoring and protecting natural processes and ecosystems. And while the term may sound a bit romantic (cue time-lapsed imagery of plants pushing up through barren soil and the sound of running water returning to a parched landscape), the concept and its ability to positively impact the world around us are real and firmly rooted in science.
In fall 2020, the journal Nature (widely considered the most influential scientific journal focussed on ecology) published a study showing that restoring natural landscapes can be one of the most effective ways to address the climate crisis while also boosting wildlife populations.
Lots of restoration opportunities in Canada
Notably, one of the best opportunities to do so exists here in Canada. It's our wetlands.
The study grouped global ecosystems into five major types: forests, grasslands, shrublands, wetlands and arid ecosystems. Of these, wetlands were identified as being among the highest in relative importance for biodiversity conservation and the mitigation of climate change.
"We know that wetlands are biodiversity hotspots," says Dave Howerter, DUC's chief conservation officer. "There are approximately 1,450 species of wildlife found in Canada and more than 550 of them depend on wetlands. We also know that wetlands have an incredible ability to sequester and lock away carbon. So, wetlands, by their nature, can help us tackle these issues simultaneously."
Canada is home to approximately one quarter of the world's remaining wetlands, but losses continue at a rate of up to 80 acres per day. This makes the race to stop — and reverse—this trend more important than ever.
Fortunately, DUC knows what it takes to return these valuable ecosystems to the landscape.
A running start on restoration
DUC is leading Canada's charge to restore wetlands that have been lost. Whether that involves fighting invasive species or working alongside our partners in agriculture, industry and government to incorporate nature-based solutions into their operations, restoration has been part of DUC's strategy to make the world a better place since day one.
Our results speak for themselves. Throughout DUC's 83-year history, more than 6.5 million acres have been conserved. Of these, an impressive 3.4 million have been restored from a previously degraded state.
"Because our conservation efforts are largely directed on working landscapes where people rely on the land to make a living, we invest a lot of energy and resources into restoring areas in ways that contribute to a balanced and sustainable environment," says Howerter. "When areas are restored, we see an amazing ripple effect. Our birds come back. Our pollinators come back. And so do the land's natural abilities to defend against things like floods and droughts."
Restoration is equal parts hope and progress. Because, as our work for wetlands has shown, nature can rebound —when given the chance.
"
When areas are restored, we see an amazing ripple effect. Our birds come back. Our pollinators come back. And so do the land's natural abilities to defend against things like floods and droughts.
Restoring wetlands, restoring hope
The following is a cross-country snapshot of some of the restoration activities that are improving the health of our water, providing habitat for wildlife and opportunities for people.
Buttertubs Marsh Conservation Area
Location: Nanaimo, B.C.
Restored to: provide recreational opportunities, improve resiliency against climate change and flooding
Once a shallow lake drained and used as pasture and dairy production, the Buttertubs Marsh Conservation Area has seen many upgrades thanks to DUC and local groups over the years. The 136-acre (55-hectare) conservation area provides a tranquil setting for walks, as well as natural green infrastructure.
The wetland cleans water from storm systems and stores excess water to lessen potential flood damage to the community. It's estimated that it would cost from $4.7 million to $8.3 million for the city to replicate what the marsh provides for water filtration.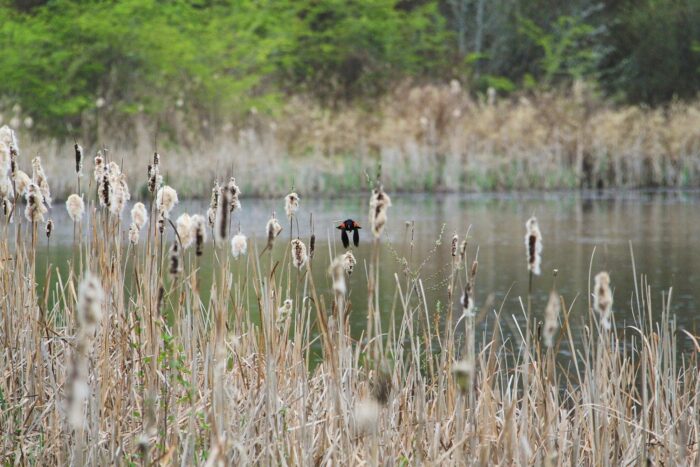 Winters property
Location: South Okanagan, B.C.
Restored to: provide habitat for species at risk (spadefoot toad, tiger salamander) and waterfowl
In spring 2021, DUC excavated nine new small wetlands to provide habitat primarily for Great Basin spadefoot toads, as well as for tiger salamanders, both listed as species at risk in B.C. DUC targeted old oxbow depressions to ensure that some water will remain throughout the amphibians' yearly cycle.
The new ponds will also benefit waterfowl and other wildlife. More than 25 waterfowl species have been documented in the South Okanagan. These include mallard, wood duck, cinnamon teal, redhead, hooded merganser, Canada goose and trumpeter swan. Painted turtles, another at-risk species, also inhabit the property.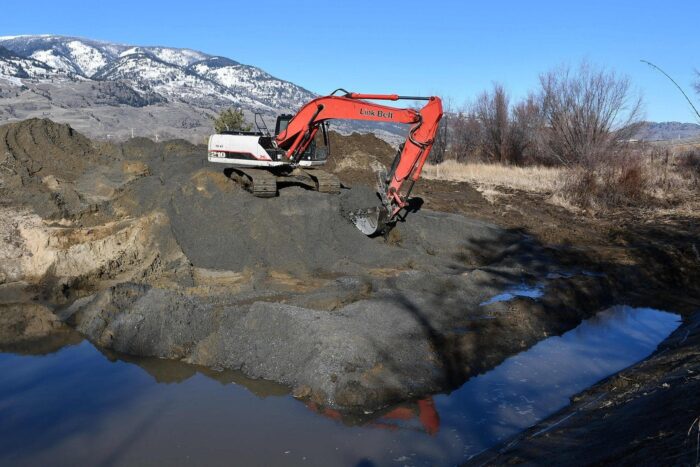 Feldberg project
Location: Wetaskawin, Alberta
Restored to: better control of spring flooding, increased wildlife habitat and financial compensation enabled through the Alberta Wetland Policy*
In 2019, using satellite imagery and other tools, DUC conservation program specialist Ryan Pocza determined that a wetland basin on Leroy and Mary Feldberg's land had been partially drained years ago. Pocza approached the Feldbergs to see if they might be interested in a project to restore that wetland to its pre-drainage level.
Leroy, who has lived on this farm all his life, told Pocza that as kids they used to canoe in the marsh and watch the cranes, ducks and geese. He signed a 10-year agreement under DUC's Wetland Restoration Lease Program.
To control the marsh's water level, DUC built a rock chute and dam, which can withstand a one-in-a-100-year flood. This project doesn't change how the Feldbergs manage their land; the only change is that they now have controlled water flow and a new area for wildlife and waterfowl. Perfect for avid birdwatchers like the Feldbergs.
* The Alberta Wetland Policy offers a mechanism by which landowners can be paid for ecosystem services provided by wetlands restored on their properties. Monies collected through the provincial regulatory system when wetlands are drained and filled in are held in a dedicated wetland replacement fund. DUC can access those monies to compensate landowners like the Feldbergs for voluntary wetland restoration.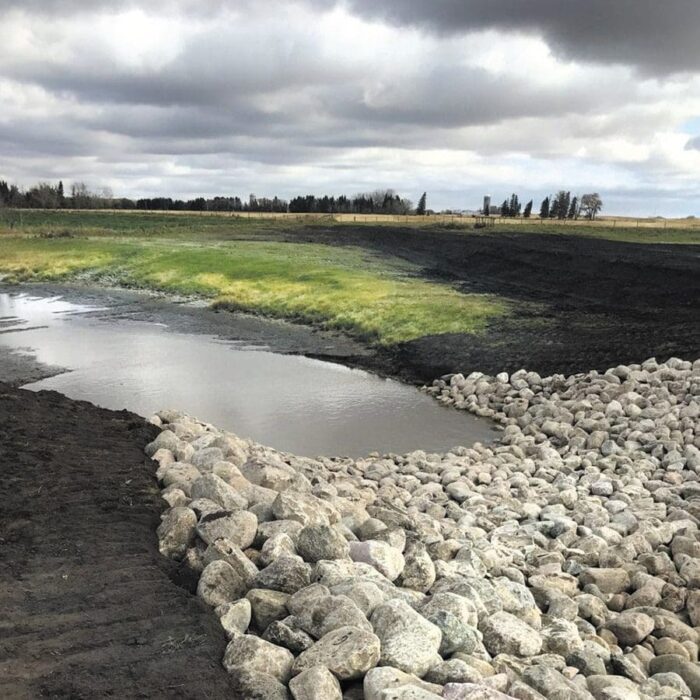 Bringing wetlands back to life on the farm
Location: Across the prairies
Restored to: lessen impacts of drought, provide healthy water areas for livestock, improve biodiversity
Our restoration programs across the prairies focus on restoring naturally occurring water levels of drained or altered wetlands. Landowner partners receive expert technical assistance, and in some regions, project funding and compensation is also available. Our new ag.ducks.ca website is a go-to resource for wetland restoration and other sustainable solutions that are compatible with agriculture.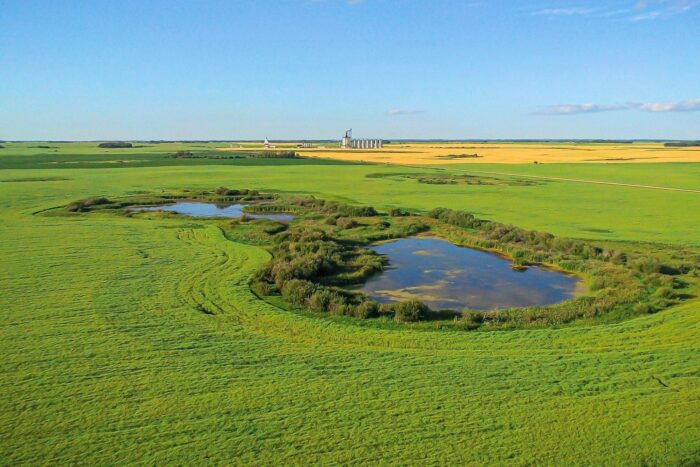 Wetlands at work
Location: Southern Ontario
Restored to: improve water quality, support climate resiliency, mitigate flood risk and generate local economic activity
The Province of Ontario's Wetlands Conservation Partner Program committed $30 million over five years (2020-2025) to create and restore wetlands in priority regions. This year, DUC is receiving $6 million for wetland projects that will make swift and significant impact in one of the most important waterfowl breeding and migrating areas on the continent— and an area under growing population pressure.
The investment will fast-track our wetland restoration program in the watersheds of Lake Ontario, Lake Erie and their connecting waterways with nearly 2,500 acres (1,000 hectares) of restored natural infrastructure. We couldn't meet this challenge without our network of trusted delivery partners including conservation authorities, stewardship groups and local suppliers and businesses.
We're moving forward with plans in 2021 to construct 20 small, newly restored wetlands and restore and improve habitat on 40 large, permanent wetlands that require habitat improvements. Track our progress.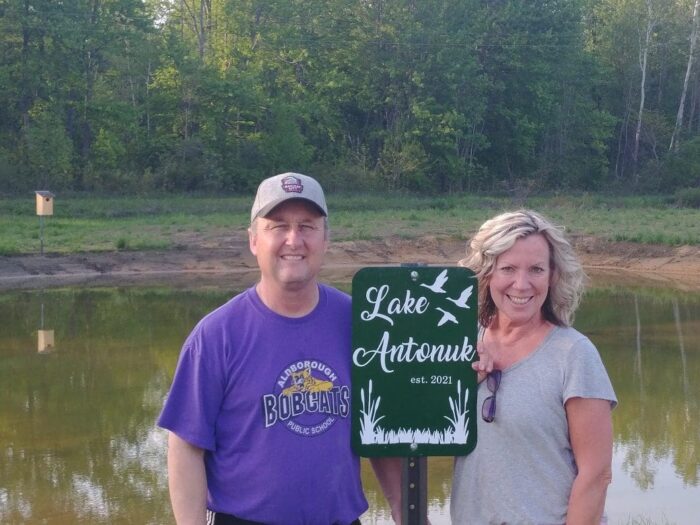 Lac Saint-Pierre
Location: Quebec
Restored to: improve habitat for yellow perch, improve water quality, increase biodiversity
The habitats surrounding Lac Saint-Pierre form a unique ecosystem critically important for migratory birds, fish and other wildlife. DUC has been working in this UNESCO-designated Biosphere Reserve since the 1980s alongside the provincial government, as well as local farmers who utilize the lake's floodplains to plant crops. But in recent years, declining populations of yellow perch have sent a strong signal that the health of Lac Saint-Pierre is deteriorating. A new approach to managing this important region is needed — and DUC is part of the community that's working to find solutions.
Our recovery efforts in this area will address the conservation work we delivered here in the past. We will be removing some dikes that we previously installed to allow water to enter the floodplain in the spring to support breeding waterfowl. Later in the season, following the natural withdrawal of water, agricultural activity can continue. This is a story of adaptive management in action, and we continue to work closely with partners at Lac Saint-Pierre to find the right balance between production and conservation.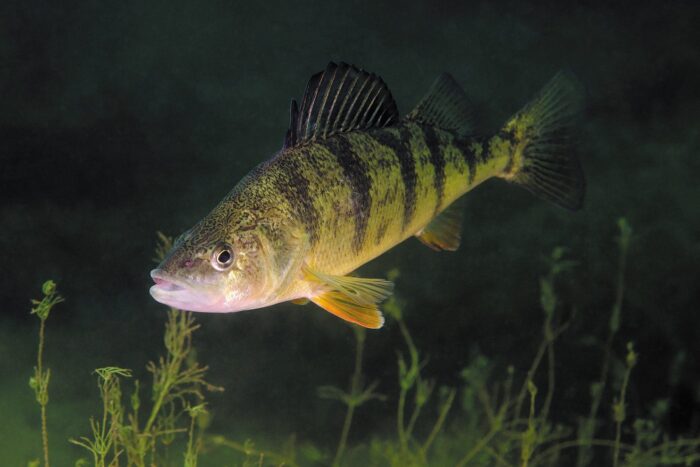 Wolastoq (Saint John River) floodplain
Location: New Brunswick
Restored to: help control spring flooding, increase biodiversity, support traditional uses by local First Nations, enhance recreation opportunities
The 55,900-square-kilometre Wolastoq (Saint John River) basin includes 49,400 acres (20,000 hectares) of floodplain wetlands. After spring thaw, the area fills with nutrient-rich snowmelt from up-river, luring a diverse array of wildlife, waterfowl, and songbirds to breed, nest and feed. The basin supports hundreds of species of birds and many species at risk, including Atlantic salmon, wood turtles and plants like Anticosti aster.
When waterfowl populations were declining in the region during the 1970s, DUC restored 19,769 acres (8,000 hectares) of freshwater marsh throughout the floodplain. DUC wants to make sure these important, biodiverse and beautiful wetlands — and the species, people and traditions they support — remain for generations to come. In 2020, we embarked on a 10-year, $3-million conservation project to renew and restore 4,900 acres (2,000 hectares) of freshwater habitat along the Wolastoq.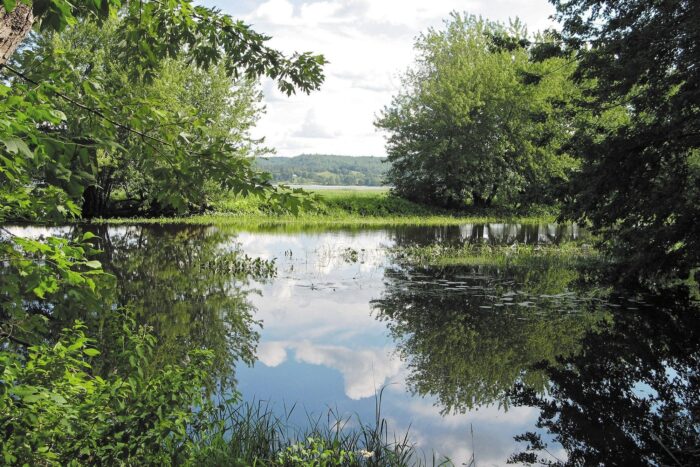 "
It felt almost like nostalgia. Here we were doing something of the past. It's something old and almost forgotten about. And here we were bringing it back to life.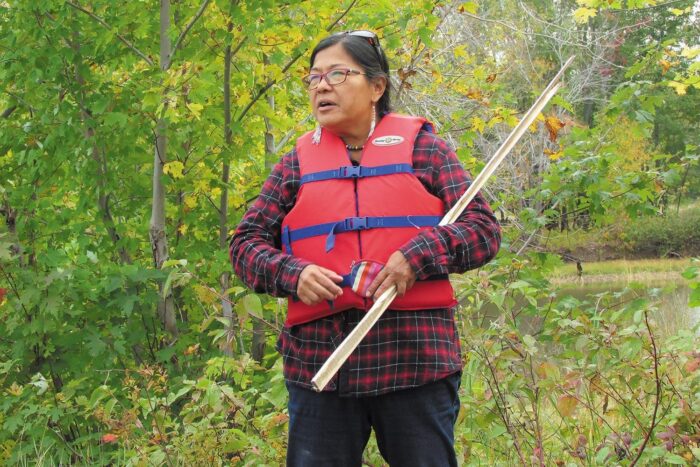 Restoring salt marshes
Locations: Fullerton's Marsh, P.E.I. and Wallace Bay, N.S.
Restored to: act as coastal buffers against sea-level rise, support climate resiliency, mitigate flood risk
As we look to manage coastal infrastructure, coastal erosion and beat back effects of sea-level rise, often the best solutions are to return sites that were previously managed as freshwater wetlands back to their natural states as salt marshes.
In fall of 2020, DUC conservation specialists breached the dikes of several freshwater marshes at older DUC-managed project sites in Atlantic Canada. At Fullerton's Marsh, P.E.I., they removed an old water control structure and ensured the new channel could support a full tidal exchange for the first time in 70 years. And at Wallace Bay, N.S., they breached the dike to allow the natural force of the tide to flow salt water from the sea back into the area. We've partnered with the Confederacy of Mainland Mi'kmaq (CMM) for the next three years to monitor both the Wallace Bay site and a control salt marsh located nearby. CMM is hoping to see a resurgence of sweetgrass, a common salt marsh plant, and one that's particularly important to the Mi'kmaq for ceremonial purposes.
As these wetlands revert to their natural saltwater state, the freshwater plants will be replaced by sturdier salt grasses, like spartina or cordgrass. Tall and reedy, these plants buffer coastal erosion by lessening the impact of waves before they hit the shoreline. And as sea levels rise, so will the marshes. Over time, they will accumulate and sequester layers of sediment, which are rich in carbon. These dynamic ecosystems will host a diversity of wildlife, from fish to ducks.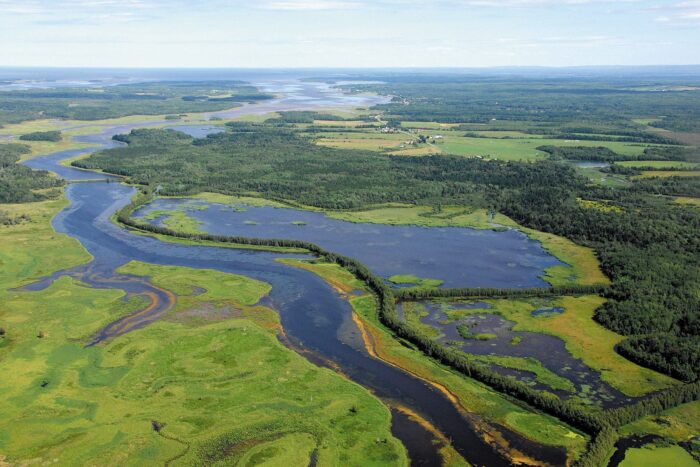 Join Generation Restoration
Whether you identify as a baby boomer, gen-Xer or millennial, if you're living on the planet at this critical moment in history, you can be part of the most influential and impactful generation of our time. It's called Generation Restoration.
The global movement, which urges people of all ages and backgrounds to prevent, halt and reverse the degradation of ecosystems worldwide, is being championed by the United Nations as it launches its Decade on Ecosystem Restoration. The campaign runs from 2021 to 2030, which also marks the deadline scientists have given to prevent catastrophic climate change. Canada is one of 70 countries to have signed on, making the commitment to ramp up restoration efforts and conserve 30 per cent of the world's lands and oceans by 2030.
DUC is uniquely positioned to help contribute to this important goal. You, as Canada's Generation Restoration, can be the catalyst for transformational change. Together, we can support nature's great comeback.