Around the turn of the last century, being a beautiful bird in North America could be like a death sentence. Their feathers were highly sought for fashion, some species were also harvested for meat, and the concept of conservation didn't yet have a place in mainstream attitudes and policy making.
This was the unfortunate reality for arguably our continent's most beautiful duck: the wood duck. Decades of over-exploitation for market hunting, alongside vast habitat loss, nearly sealed its fate, leaving this waterfowl species on the brink of extinction.
Fortunately, this story of species over-exploitation was not the end for the wood duck.
What is species over-exploitation?
Simply put, species over-exploitation is the removal of a resource in greater abundance than its supply, or population, can withstand.
"When we look at the example of wood ducks, they were likely the most abundant duck species east of the Mississippi River before the late 1800s," says Matt Dyson, research scientist at Ducks Unlimited Canada's (DUC) Institute for Wetland and Waterfowl Research. "Unregulated and extensive harvest was taking place at all times of the year, including the breeding season. This led to the wood duck's near-extinction in some regions."
The wood duck is just one example of human-driven over-exploitation. Others include:
Whooping crane. Post-settlement, excessive hunting and habitat loss nearly put an end to North America's tallest bird. By 1941, only 21 whooping cranes could be accounted for worldwide and about 800 exist today.
Bison: Colonization of Indigenous peoples involved the decimation of bison populations as bison were an important cultural food source. This resulted in famine, unsustainable hunting livelihoods and adoption of European lifestyles. By the 19th century, bison populations that once numbered in the millions were down in the hundreds.
Salmon. Almost half of southern B.C.'s Chinook salmon populations are in decline, and their challenges spill over to another struggling species. These salmon are a critical food source for B.C.'s southern resident killer whales.
Trees. According to the 2021 State of the World's Trees report, 30 per cent of tree species are threatened with extinction. A history of unsustainable forestry practices and land clearing is compounded today by threats of disease, invasive species and climate change—affecting not only trees, but entire ecosystems.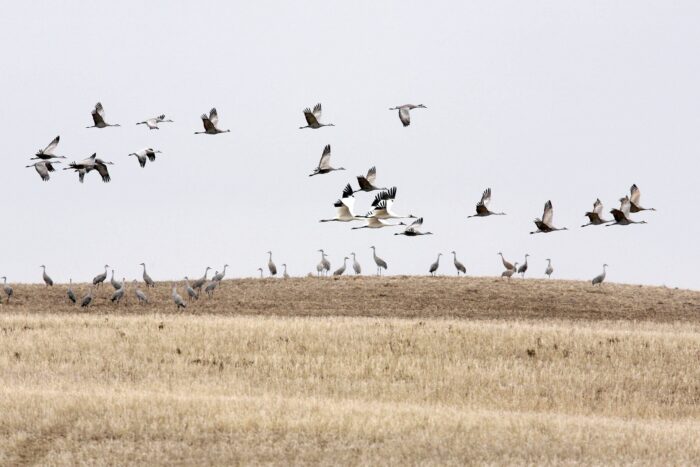 Ecosystems in balance
The loss of a species may not be the result of a single issue like over-exploitation, and the broader challenge of biodiversity loss is complex. But in some cases, we know where to start.
A recent United Nations (UN) report ranks the five direct drivers of change in nature with the largest relative global impacts so far. The top reason named is "changes in land and sea use." These changes include habitat loss and degradation—and unfortunately, wetlands are often on the receiving end. Another UN report tells us that "wetlands remain undervalued by policy and decision-makers in national plans" and are disappearing three times faster than the world's forests.
Where habitat loss meets over-exploitation, hope may feel hard to come by. The human population is growing and so are our resource demands. But here's where the story of the wood duck shows what's possible.
"In 1913, the Weeks-McLean Bill came into effect, prohibiting spring hunting, marketing and wild bird feather imports. The Migratory Bird Treaty Act followed in 1918, with a nationwide ban on wood duck hunting," says Dyson. Not long after, hunters and other stakeholders rallied to save threatened waterfowl breeding habitat and enhance nesting opportunities with structures like nest boxes, employing community science, building international partnerships and forming science-based organizations like DUC.
The reduced pressure, along with habitat initiatives, allowed populations to somewhat rebound and the closure was lifted in 1941. Dyson says that thanks to habitat and harvest management, the wood duck is once again one of the most abundant waterfowl species in the Mississippi flyway. This represents a stable population that supports sustainable harvest—and a North American conservation success story.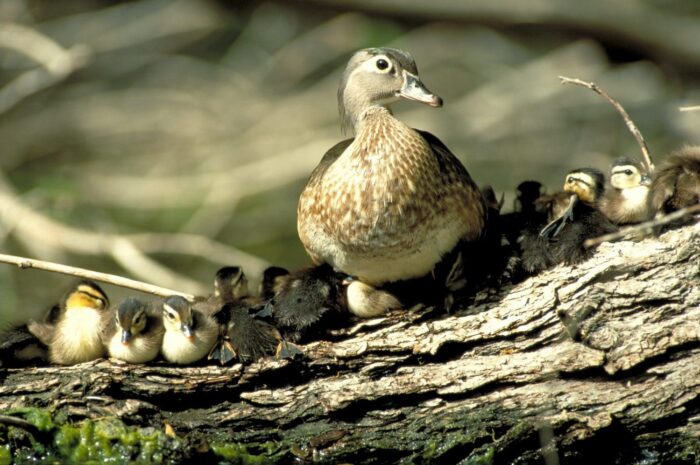 We all have the power to make change for the better
Everyone who benefits from the use of natural resources—which is, literally, everyone—can help sway the balance toward sustainability. Consider how you can:
Make sustainable choices. As a consumer, when you purchase products like sustainably-harvested seafood, timber from sources that are sustainably managed, and products made with bird-friendly winter wheat, you're telling retailers and industry that it matters. As an angler, hunter or forager, take pride in the conservationist mindset, taking only what you need and honouring harvest and possession limits.
Support science-driven decision making. Expertise in biodiversity, natural infrastructure, climate change and ecosystems—along with accurate inventories of our remaining habitats—show us where to invest in conservation for the biggest impacts.
Value and learn from traditional knowledge. Indigenous teachings passed down from millennia of living in balance with nature offer unique insights based in relevant lived experiences.
Challenge decision makers like government to promote green economies and to dedicate sufficient space for nature in Canada.
Contribute your information. Everyone can participate in community science, adding observations to platforms like iNaturalist that feed up into research. If you're a hunter, complete government surveys and submit samples every time they're requested.
Be an active partner in protecting the land and water we all take from. Invest in conservation as a donor, volunteer or advocate. Even small actions contribute to positive change.
And what about us? At DUC, it's about so much more than ducks. We're proud to lead the effort to conserve and restore Canada's wetlands, which support 97 wildlife species at risk and hundreds of others. Our research provides insights into species populations and helps inform harvest regulations. Our partnerships promote conservation initiatives driven by species' ranges and migration routes rather than political borders. And with the backing of thousands of supporters from across Canada, we're more determined than ever to make sure the future is filled with wildlife and nature.