Naturalist Brian Keating remembers Frank Lake as the place he witnessed his first American avocet mating dance and quickie. Keating is a nature videographer, speaker and tireless champion of ecosystems and their power to heal a troubled world.
He's travelled that world in search of rare birds, mammals and insect life, many of which he's captured on video for shows that have aired online and on the Discovery and National Geographic television channels. But he calls Calgary home. And, since Frank Lake is less than an hour from his home, each spring he and his wife, Dee, head to the wetland to check out the myriad of birds that drop by on their migrations. This past spring, they arrived just in time to see about 400 American avocets landing, feeding and mating all around them.
"The majority of the entire prairie population must have been moving through on that particular day," recalls Keating.
Some of them were engaged in courtship dances, as elegant as any in a Jane Austen ballroom.
"I'd never seen it before," he says, "I didn't know they engaged in such an elaborate dance."
And the avian choreography? The female stood stock still while the male preened and dipped his bill in the water from side to side. Then the male sidled to the back and mounted the female in a brief cloacal kiss. The deed none, the pair walked together through the water, their bills crossed, as though holding hands. "It was magic," says Keating. "We were blown away."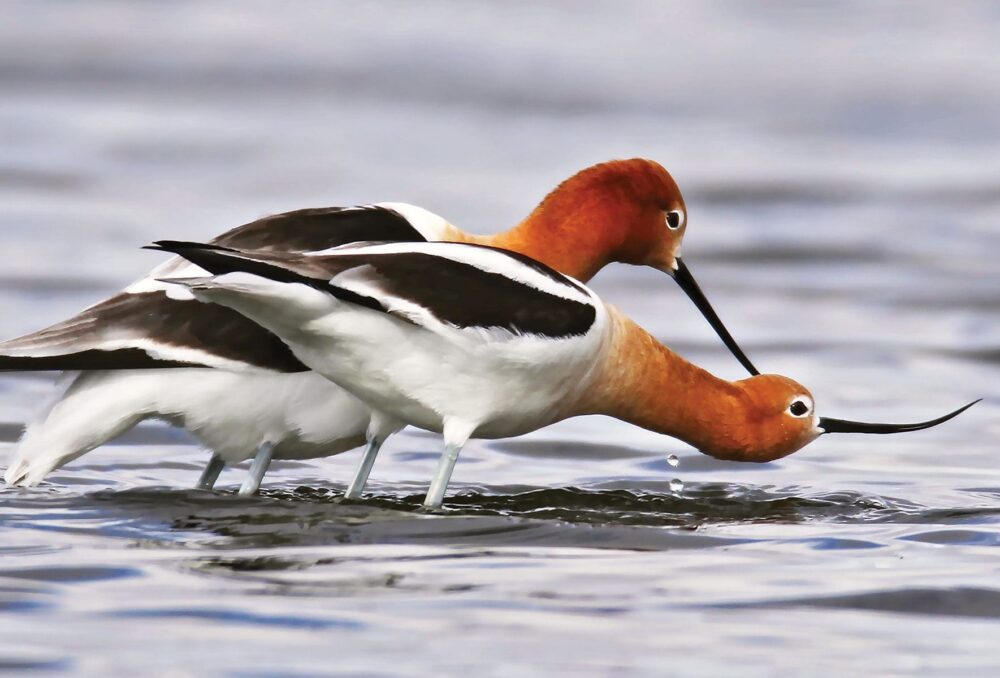 Birds drawn to Alberta's wetlands
The naturalist credits DUC for saving the duck-rich wetland. "The lake used to dry up every year and had irregular water levels. DUC stabilized the lake in the late 1980s, and as a result it's become one of the most productive waterfowl areas around Calgary."
These days, when Keating isn't training his spotting scope on frisky avocets, he's canoeing the Nahanni, visiting Zimbabwe's remarkably recovered Gonarezhou National Park or exploring elsewhere in his beloved Africa.
Look for Brian Keating's Great Big Nature video series, a partnership with DUC and many other supporters to connect people with nature and motivate them to embrace conservation..