There's a palpable sense of anticipation when you step through the front doors of Saskatoon's Colette Bourgonje School (CBS). Through the initial quiet, you can just barely hear the happy murmur of teachers and students in shared learning and discovery.
Glancing around, you get the distinct feeling that there's something special going on here. Silhouettes of geese mingling with tufts of cattails on the window to the school office bring their own cheerful greeting. Nearby, paper crafts of wetland animals wriggle, hop and fly across a wall.
A sign near the entrance proclaims CBS as the home of the Saskatoon Wetland Centre of Excellence (WCE). One of two in Saskatchewan, the Saskatoon WCE was officially launched in June 2022.
WCEs are one of Ducks Unlimited Canada's (DUC) main approaches to environmental education. A network of schools and community partners extending from Torbay, N.L. to Vernon, B.C., there are now 27 WCEs across the country, each its own unique site of wetland learning, environmental stewardship and community building.
With a supportive school administration team and teacher and WCE leader, Samantha Fulton, the students at CBS have already done extraordinary things. Grade 7 and 8 students have become environmental leaders, undertaking action projects at the wetland only blocks away from their school. Through science classes and a WCE Club, older students are bringing what they learn to younger ones, and to the broader community.
Being involved in the WCE program has opened up other opportunities too, like connecting with Diana Roelens, a Saskatoon visual artist and passionate advocate for wetlands and water.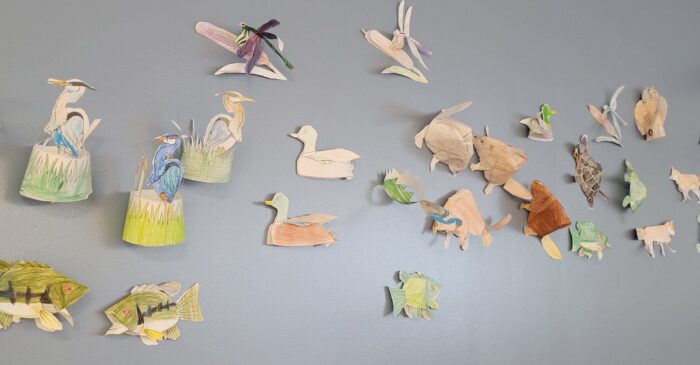 Advocacy through the visual arts
Originally from South Africa, Roelens' life experience has taught her first-hand what water scarcity looks like.
"Living with extreme drought has formed a lifelong awareness of the possibility of not having water. When every drop you use daily is measured by exactly how much each household member is rationed, drinking water and recycled grey water become liquid gold," Roelens says.
When she emigrated to Saskatchewan in 2004, Roelens' first impression of the Prairie Pothole Region (PPR) was one of abundance. She soon discovered the fragility of water resources here too, particularly when those resources are taken for granted. And this realization has called her to use her work as an artist to elevate others' awareness of this ecologically important region.
"When I mention the word 'pothole', people think I'm talking about the state of Saskatchewan roads," Roelens jokes. "Very few people are aware of the PPR. Once they realize that I am referring to an area that spans about 800,000 square kilometres from Iowa to Alberta, they are fascinated, and start to understand the importance of the wetland legacy left behind by retreating glaciers."
Roelens was in search of opportunities to collaborate with others to document—and advocate for—prairie pothole wetlands when she became aware of the Saskatoon WCE.
Following conversations with the staff at CBS and DUC in 2022, Roelens connected with the WCE as artist-in-residence; she worked with Grade 8 students during several art classes to produce an exhibit that became the showpiece for their launch celebration.
"In the first project, we looked at how important the PPR and wetlands are for bird life and waterfowl and tried to capture the iconic sight of migrating Canada Geese. We also depicted flying ducks that are seen around each body of water on the prairies, especially in spring!" Roelens shares.
In addition to these silhouettes of waterfowl flapping and soaring their way across school windows, a second installation filled an entire wall with a paper collage of farm fields, wetlands, and waterfowl, together depicting a bird's eye view of the Prairies.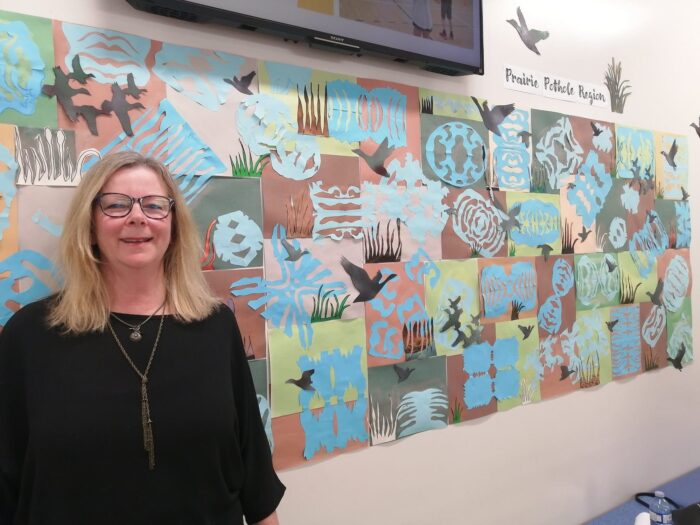 Water: Sustaining bird life
When it came time to plan this year's exhibit, CBS staff and Roelens agreed to limit the project to a single school day period of roughly one hour. But in effect, the scope of the project was increased; now every single student in the school would be involved—all 680 of them.
The Stop, Drop and Art period was planned for mid-May, leading up to 2023 World Migratory Bird Day (WMBD) on May 13. During the action-packed hour, each student would create paper art of one of ten bird species featured in this year's WMBD campaign, with its fitting theme "Water: Sustaining bird life".
At the end of April and two weeks ahead of the big day, the excitement around the Stop, Drop and Art activity began. Posters went up on classroom doors featuring each of the 10 birds so students could familiarize themselves with their species—and those of the other classes. Members of the WCE club devised a scavenger hunt based on posters that prompted students to explore the different species. Some students read fun scripts during the morning announcements that introduced each bird and indicated which classrooms to visit to learn more.
Roelens was visiting CBS when she overheard the kids asking each other which bird they'd be working on.
"We really got a buzz going," she says, "Walking through the school, you could hear everyone talking about birds."
On May 9, the day to Stop, Drop and Art finally arrived. Roelens demonstrated the project to every student simultaneously; while she was in the art room showing a class of Grade 7s the patterning technique used to decorate the birds, the lesson was being broadcast throughout the entire school.
One hour later, roughly 700 paper birds were ready to fly.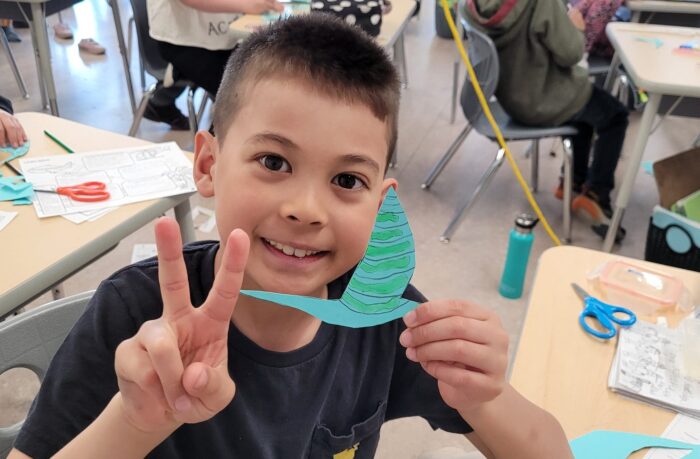 The future is in their hands
Roelens worked swiftly to complete the final installation ahead of WMBD, adding each bird to a large sphere depicting our planet, its swirling water cast by the blue handprints of CBS kindergarten students. This itself became part of the exhibit's teaching, and its impact. Our world, and the creatures residing here, will one day fall to the hands of these young people.
In fact, awareness projects like this are recognized as an important way for WCE students to use their collective voice to teach others about habitats and species, and to share their own care and concern. And for many, the arts possess a unique capacity to move and inspire us in ways that other disciplines may not.
Roelens describes how, as an artist, she observes and documents the environment around her, and then invites her audience to contemplate—with compassion—this natural heritage that we all inhabit.
Through her work with the Saskatoon WCE, 680 future caretakers of our planet are learning how they can do the very same.