Saskatchewan ranch families are known for putting conservation first on the Canadian Prairies, but some go that extra mile to make sustainable practices the cornerstone of their operation. That's certainly the case with the Hicks family of the Coteau, a region of rolling hills and potholes located southwest of Regina.
Here, they operate Bluestone Stock Farms, rotationally grazing up to 1,500 head of cattle on land that has been in their family for five generations.
Jason Hicks' great-grandfather purchased the homestead from the Hudson's Bay Company in 1917. Several generations of ranchers later, Jason and his new bride Karla took on a major stake in the family operation in the 1990s. Early adopters of DUC's landowner programs of the era, their strong ranching and conservation ethic was clear from the outset, along with a deeply-rooted appreciation for Saskatchewan's wildlife and natural habitats.
Over the next two decades, the Hicks family and DUC staff developed a working relationship that saw the ranch conserve over 1,500 acres (607 hectares) of native grassland and wetlands (and seed hundreds of additional acres to wildlife-friendly perennial cover under DUC's forage conversion program).
"
We're doing the best to look after what we have. If the land's not good, we're not good.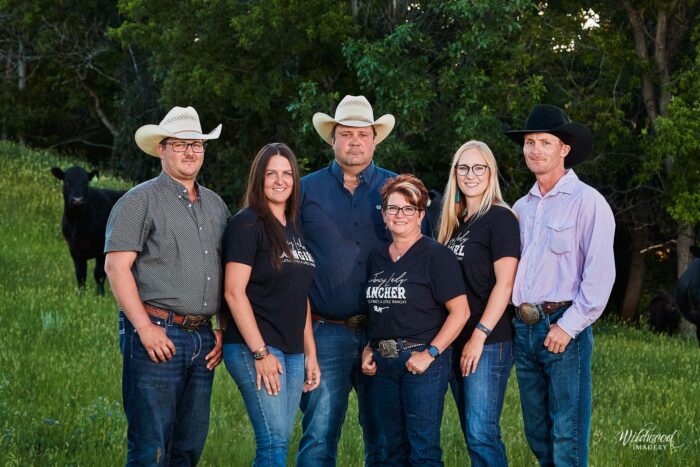 "We're doing the best to look after what we have," Karla Hicks explains. "If the land's not good, we're not good."
The historic drought of 2021 was a true test of family mettle, and of the conservation ethic that had served them for over 100 years. While riding out a cattle industry equally besieged by weather and market forces, the Hicks had an opportunity to purchase additional land and expand their operation; financial incentives paid through DUC's conservation program were a welcome source of required funds. In a year that shattered records in record ways, the family protected close to 3,000 new acres (1,215 hectares) of critical wildlife habitat.
All told, the generations of this ranching family have conserved an area of grassland and wetlands half the size of the city of Moose Jaw. And that's just the beginning.
Thanks to the long view the family has taken to managing land, they've helped chart the course for the next generation, Jason and Karla's grown children, Tyrell and Lexi and their partners. Together, these young ranchers are following in the tradition of family members before them and they're carrying the conservation values, trust, and working relationships with DUC right along with them.
A sustainable beef industry is a win for wildlife
"If there's no rain, there's no grass, no water, and no cattle," explains Karla Hicks. "No one understands climate change better than a rancher."
For those making a living off the land, caring for the health, biodiversity and productivity of the environment just makes sense.
Thankfully, certification programs like the Canadian Roundtable for Sustainable Beef's Certified Sustainable Beef and Verified Beef Production Plus (VBP+) help consumers and retailers make this connection, allowing peace of mind when enjoying a serving of sustainably-raised Canadian beef. Bluestone Stock Farms, and other ranches certified under these programs, have demonstrated that they take food safety, animal care and environmental stewardship seriously.
And for the diverse species that make use of the same grassland and wetland habitats on which cattle rely, that's great news.