DUC continues to look for ways to protect native habitats from the loss of biodiversity brought by invasive phragmites. The problem is widespread in nature but also specific to our own conservation projects in Ontario which regularly include the added time, costs and disturbance of removing invasive phragmites from the immediate area. Some removal projects yield local success but still the plant's local expansion and overall range have grown, year after year.
Faced with this reality, DUC has joined with other conservation leaders to collaborate on ways to protect Ontario's aquatic environments. We're seeking strategic and effective management so we can reduce the ecological damage caused by this relentless survivor.
Update on progress in Ontario
Collaborative innovation with Invasive Species Centre
DUC is a member of Green Shovels Collaborative, a group of conservation leaders coordinated by the Invasive Species Centre with innovative projects for strategic invasive species management in Ontario. All the projects seek to achieve economic, environmental and social benefits.
Examples of projects for phragmites control:
A Strategic Framework for Coordinated Management in Ontario
Cost-Benefit Analysis for Treatment and Control of Phragmites in Ontario
Building Capacity at the Community Level for a More Effective Phragmites Response using the Invasive Phragmites Control Fund
Free DNA Screening Program to Protect Native Phragmites
Partners: Ducks Unlimited Canada, Nature Conservancy of Canada, Invasive Species Centre, Federation of Ontario Cottagers' Associations, Ontario Federation of Anglers and Hunters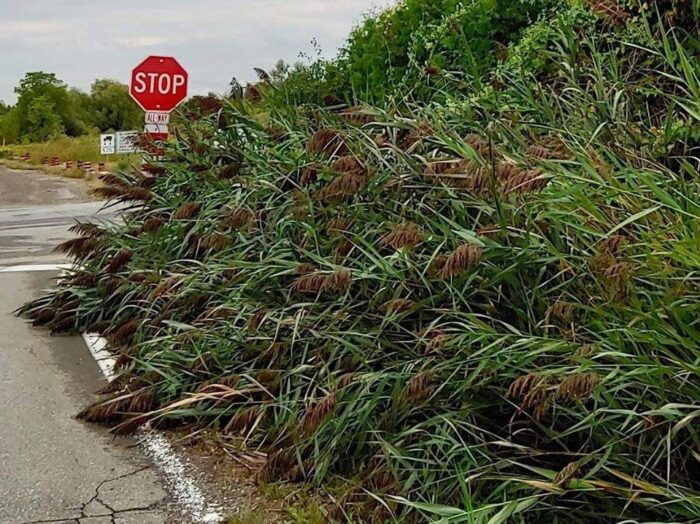 ---
Searching for a nature-based solution
Phragmites management is an intrusive and often repetitive activity that disturbs wetland habitats. DUC is working with Agriculture and Agri-Food Canada and research institutions on a nature-based solution that has been two decades in the making.
The promising work builds on research at Cornell University in the United States where extensive investigations identified two European moths in the noctuid family, also known as owlet moths, whose stem-boring larvae feed solely on phragmites. The moth larvae mine the shoots of phragmites, causing wilt and mortality to the stems, which slows the growth of phragmites populations.
Researchers at University of Toronto have cultivated the moths and secured approval from federal regulators to conduct controlled field experiments. In 2019, the first biocontrol releases took place in carefully selected wetland ecosystems. The research emphasis at this time is on understanding the results of release methods and timings, and post-release observation of the insects and their activities.
Early monitoring has detected some emergence holes and boreholes, as well as stem wilt damage to the test plants. The field study will continue in spring of 2022 with assessment of the moths' overwintering success and an expanded moth release program.
Advantages of biocontrol
Reunites pest with "natural enemy" to manage population
Specific to host with low environmental impact
Cost effective and self-sustaining year to year
Partners: Ducks Unlimited Canada, Agriculture and Agri-Food Canada, Invasive Species Centre, Mitacs, Northern Development, Mines, Natural Resources and Forestry, University of Toronto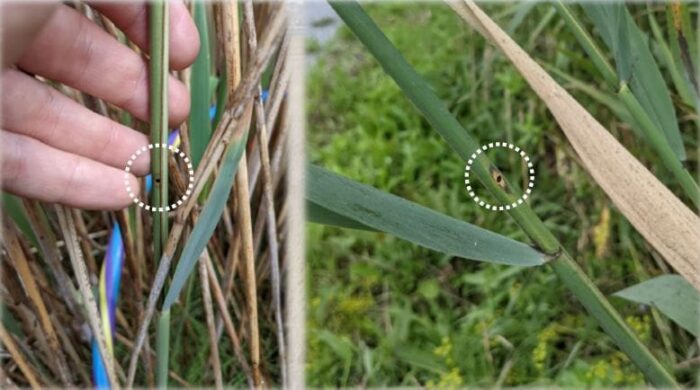 ---
Drone technology accelerates site-specific wetland knowledge
DUC is mapping and monitoring phragmites with drones that identify the invasive plant and its distribution at DUC wetland projects. The value of surveying for phragmites with drone photography is in the dramatic increases in speed, accuracy and efficiency. In addition, the imagery helps us better understand overall vegetation communities in the habitat.
An important aspect of effective phragmites management is to differentiate between native, introduced and possibly hybrid lineages of phragmites within sites and across regions. To make these identifications, orthomosaics are created from the multi-spectral drone survey flights using analysis techniques for vegetation classification. An orthomosaic is an extremely high quality and accurate site representation that is actually made up of a collection of aerial images processed with specialty software.
Drones substantially reduce the need for habitat disturbance by vehicle or foot because surveys can be conducted from beside or just inside the habitat. Surveying at this granular level would an excessively time-intensive pursuit without aerial support. The immediate need for these surveys is phragmites management but there are many anticipated benefits of using aerial drones in wetland science.
Partners: Ducks Unlimited Canada, Agriculture and Agri-Food Canada, Invasive Species Centre, Mitacs, Northern Development, Mines, Natural Resources and Forestry, University of Toronto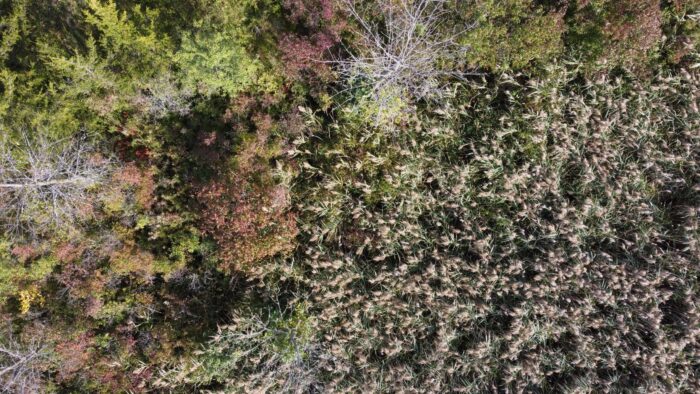 ---
Protection for threatened coastal wetland ecosystems
Long Point Biosphere Region (Lake Erie)
Rondeau Provincial Park (Lake Erie)
Lambton Shores (Lake Huron)
DUC has provided support for collaborative, large-scale phragmites removal in coastal wetland ecosystems in the Great Lakes. Removal efforts of large-scale infiltrations of phragmites can be frustrated by ongoing reintroduction of new stands that migrate from nearby aquatic environments.
Supporting Lambton Shores
DUC has provided support to the Lambton Shores Phragmites Community Group led by chair, Nancy Vidler, and made up of a core group of retired professionals working with landowners and community partners to protect local beaches and waterways from infiltration.
---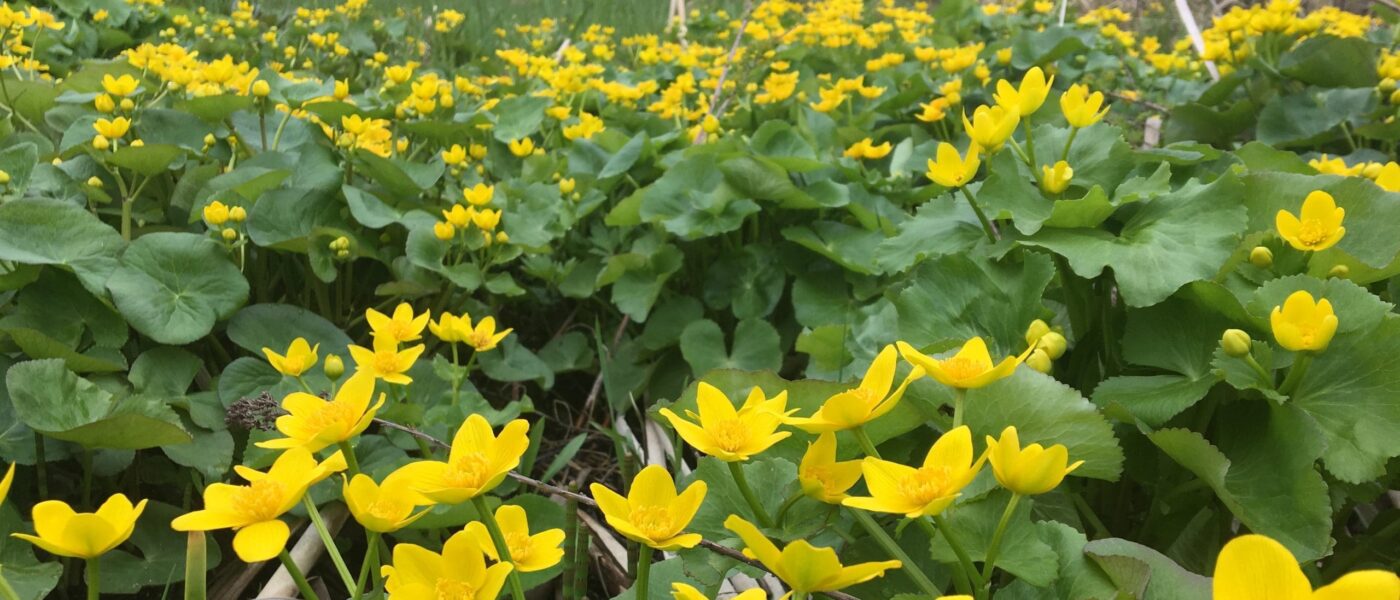 Protect habitats with smart decisions:
Power wash heavy equipment before moving to the next job
Clean your ATV when moving between trails
Clean your boat and engine before you leave the landing
Check your boots for seeds and plants when you hike
Report sightings in Ontario right from your smartphone
We make smart decisions at work and play, and we hope you will too.
---