It's mid-August. Bruce Batt, along with good friends and fellow biologists Michael Anderson, Henry Murkin and Pat Caldwell, is spending a weekend fishing near Batt's summer home on Lake of the Woods in northwest Ontario.
At a point while relaxing on the deck overlooking the lake, Batt's friends surprise him with a special award. It's not an award celebrating Batt's angling skills. It's much bigger than that: it's an international recognition of his contributions to continental waterfowl conservation. Against the rugged backdrop of the Canadian Shield, the trio of friends have presented Batt with the 2017 International Canvasback Award.
The North American Waterfowl Management Plan's (NAWMP) International Canvasback Award is an annual award presented to an exceptional individual, corporation, or organization that has made significant long­-term contributions to the implementation and continuation of Plan conservation activities throughout North America. It celebrates those who've had wide and enduring influence over waterfowl or wetland conservation with ramifications that are international in scope.
"Bruce's decades of service to waterfowl conservation, and his many contributions to waterfowl management and research in Canada, the United States, and Mexico in support of the North American Waterfowl Management Plan, made him a strong candidate for this honour," says Anderson, DUC emeritus scientist and one of Batt's nominators.  "We're glad the NAWMP awards committee concurred."
For nearly 50 years, Batt has been a major contributor to waterfowl research and conservation across North America.  His resume includes work on prairie breeding ducks, Arctic nesting geese, wintering waterfowl, wetland ecology and management and more.
"There are few others who have contributed so much to the success of the North American Waterfowl Management Plan, and in particular its Joint Ventures, in more diverse ways," says Anderson.
Batt grew up in Brandon, Man. where he developed an attachment to waterfowl in the prairie pothole country.  A summer experience as a technician at the Delta Waterfowl and Wetlands Research Station in 1966 started him on his professional path. After he earned two graduate degrees on research based at Delta, he became the scientific director in 1976.
The Delta Station flourished for 12 years under his leadership, which included undertaking an enormous experimental marsh ecology research program (MERP), inaugurating research on the wintering grounds, and providing guidance and funding to launch scores of waterfowl professionals on their careers.
One of these professionals was DUC CEO Karla Guyn.  "Dr. Bruce Batt was an important mentor for young waterfowl biologists like myself who found themselves wading through the iconic waters of Delta Marsh," says Guyn.
Batt became involved directly with the NAWMP in 1985, when he invited the U.S./Canada negotiating team to Delta for one of their planning retreats. Batt was part of the team that developed the Prairie Habitat Joint Venture evaluation plan in 1988/89, the first such Joint Venture science plan for the breeding grounds.
Batt moved to Ducks Unlimited (DU) in 1989 and worked in Winnipeg, Chicago, and Memphis where he helped plan and develop DU's new Institute for Wetland and Waterfowl Research (IWWR). He became the IWWR's first director in 1991 until becoming DU's chief biologist in 2001.  In the early 1990s, Batt was a vital advocate for funding the massive PHJV Assessment Study, the most ambitious program evaluation for breeding duck management ever undertaken.
Batt's most visible contribution to the NAWMP emerged with the work of the Arctic Goose Joint Venture where he represented DU on the Management Board.  Batt was chosen to chair the Arctic Goose Joint Venture task force exploring the nature and implications of burgeoning numbers of white geese on Arctic ecosystems.
Batt also served as a founding board member of the Sea Duck Joint Venture until his retirement in 2007.
In retirement, Batt wrote The Marsh Keepers Journey: the story of Ducks Unlimited Canada, for DUC's 75th anniversary in 2013. And in 2016, Batt was inducted into the North American Waterfowl Conservation Honour Roll in recognition of his contributions to the success of the NAWMP in Canada.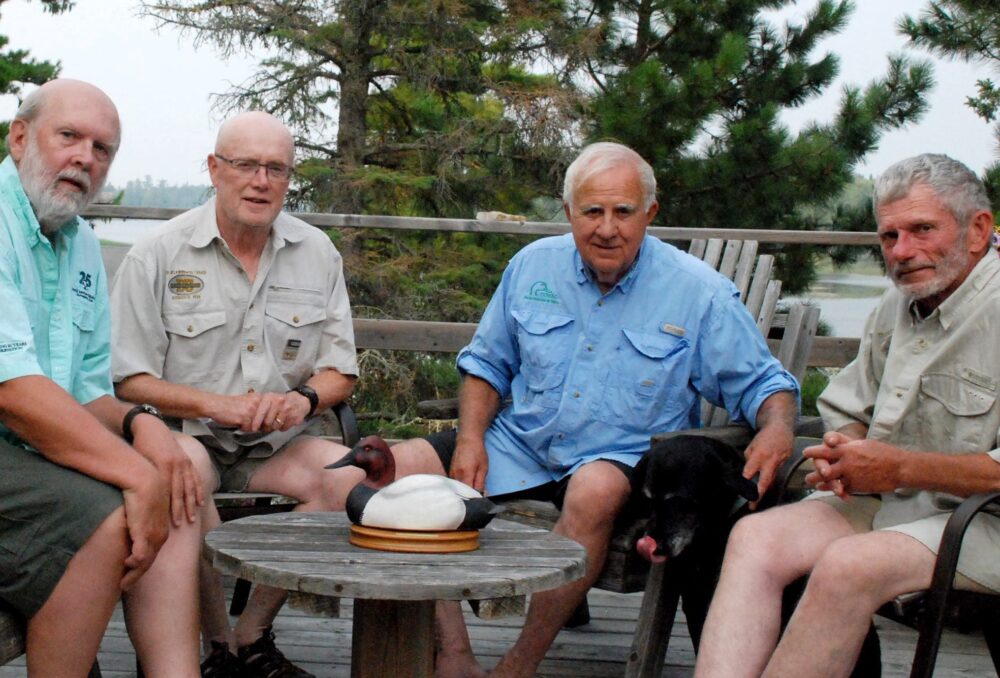 Batt lives with his wife Liz in Memphis, Tenn. He visits his second home in Canada, at Lake of the Woods, to enjoy his favourite outdoor pursuits with family and friends, like the ones who gathered with him in August to celebrate his newest award.
Friends Batt has known for more than 45 years.
All four former colleagues worked together at the Delta Station in the 1970s. Batt, Murkin and Anderson joined the Ducks Unlimited organization in the late 1980s and early 90s. Caldwell was the head of the research group in DUC that co-sponsored MERP and morphed into the Institute for Wetland and Waterfowl Research in 1991.
"We were honoured to have the opportunity to share this moment with Bruce, as was 'Belle,' the black dog from Memphis," says Anderson. "And despite the long stretch of time from award decision to presentation, I'm happy to report he had no clue this was coming."