A new small wetland helps connect a natural waterway in rapidly urbanizing Ajax, just east of Toronto.
Located near the Bayly & Church intersection, the new wetland enhances nearly a hectare of lightly treed floodplain along Lower Duffins Creek. The newly created habitat preserves natural space in a high-growth area near Lake Ontario where people can explore the creek and enjoy its many wild visitors.
The habitat is linked to the lake by two coastal wetlands that are part of a large restoration initiative led by Toronto and Region Conservation Authority (TRCA). The carefully designed, variable-depth basins will attract a range of wildlife, from deer to ducks, traveling up and down Duffins Creek. As well, the engineered overflow dam and spillway will help protect downstream habitat from extreme storm events.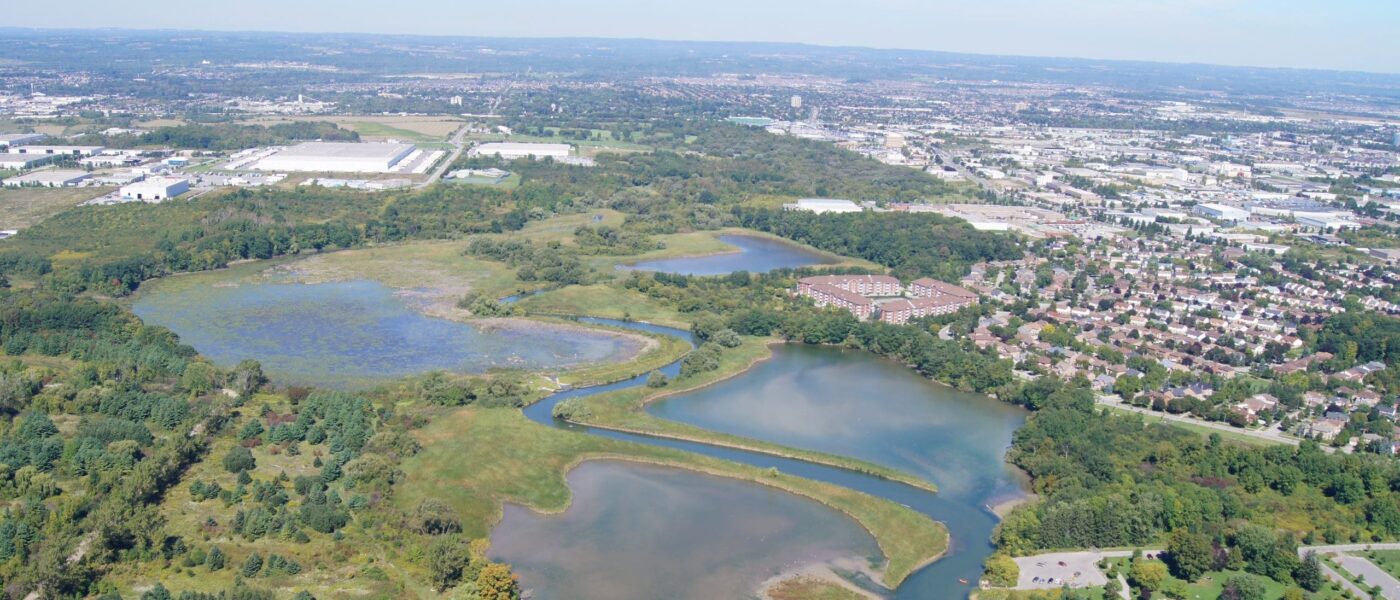 ---
TRCA, with support from DUC, the Town of Ajax and the Region of Durham, led the implementation of the new wetland, which will help protect the health of the provincially significant wetland complex. Like many urban-based plans, the project was subject to environmental studies and an on-site archaeological investigation before it went ahead. In the process, a small stand of the invasive reed, phragmites australis, was identified and removed to protect the micro-watershed.
The new wetland is a small buffer between the growing city and the lake, a new blue space that fills a habitat gap for birds and other wildlife while bringing joy to the human visitors too.
Filling in habitat gaps
The new small wetland is connecting a natural waterway that provides space for wetland-dependent wildlife, strengthens forest and wetland cover, and helps reduce flooding in in the complex urban environment of Lower Duffins Creek. The project was implemented by the landowner, Toronto and Region Conservation Authority, with support from DUC, the Town of Ajax and the Region of Durham.
The wetland restoration was funded by the Ontario Wetlands Conservation Partner Program, a $30 million, five-year program focusing on enhancing and restoring wetlands in the Great Lakes watersheds, supporting municipal stormwater management and building climate change resiliency. There are 60 wetland projects in the program, all helping to replenish lost blue spaces on the landscape that create natural connectivity for water and wildlife in Ontario.
Small wetlands pay back big dividends
New wetland restoration projects support the natural infrastructure of the landscape because they capture phosphorus and other nutrients before they enter waterways and, ultimately, lakes like Lake Erie and Lake Ontario.
Small wetlands provide optimal breeding habitat for waterfowl, other birds and hundreds of other wild species. And they contribute to biodiversity, climate readiness, flood mitigation, clean water and overall watershed health.
New wetland restoration projects also create jobs for local conservation partners and contractors hired for construction. These projects generally involve sculpting small wetland cells or building small berms that hold back surface water as it travels across a property. New wetland projects are delivered in coordination with the landowner and local stewardship, municipalities, conservation authorities and other organizations.
Learn more about the high-value benefits of wetlands
---