Over the past year, despite a global pandemic and unprecedented drought across the province, DUC's Alberta conservation team has continued to deliver critical on-the-ground habitat conservation projects throughout the province.
"Between April 2020 and April 2021, the DUC Alberta team restored and protected a combined 21,882 acres of habitat lands across Alberta, including 1,074 acres of restored wetlands," says Thorsten Hebben, manager of provincial operations for DUC in Alberta.
"To put this in perspective, our team worked with landowners, industry, government, and non-profit organizations across the province to implement a suite of conservation programs that positively impacted the equivalent of 16,577 football fields in prime habitat, most of which is now perpetually secured for the long-term delivery of critical ecosystem services," Hebben continues.
Alberta is home to DUC's largest concentration of habitat projects. Over the course of our 80-year history, Alberta Conservation has undertaken 2,500 projects across 2.4 million acres (971,245 hectares) throughout the province.
"The foundation of DUC's conservation approach is partnering with landowners to assist them in conserving wetland and upland habitats through voluntary conservation agreements, easements, and land donations," explains Hebben.
"
Between April 2020 and April 2021, the DUC Alberta team restored and protected a combined 21,882 acres of habitat lands across Alberta, including 1,074 acres of restored wetlands.
Wetland restoration at Lochend Lake
Located west of Calgary, the Lochend Lake project was a notable milestone for conservation in Alberta in 2021. Lochend Lake was drained in the 1960s and the restoration of this critical habitat site has been on DUC's radar for more than three decades. Through a partnership with six dedicated landowners and Alberta Environment and Parks, DUC was able to restore 276 acres (112 hectares) at this site, which will now begin to see a host of ecological benefits return.
"In addition to providing essential habitat for waterfowl and other wildlife, wetlands deliver a host of other critical benefits," explains Darwin Chambers, head of conservation programming for DUC in Alberta. "Wetlands act like giant sponges that hold water during wet periods, and slowly release it during dry periods. This provides important protection against floods and droughts. Wetlands also act as natural filters that trap and hold pollutants, keeping water that flows into lakes and rivers clean."
On top of this, wetlands mitigate the effects of climate change by storing huge amounts of carbon. They also provide habitat for species at risk and serve as the setting for all kinds of outdoor recreation.
One of the many conservation tools used to facilitate the project was DUC's Lease-Based Restoration Program, which sees a partnership formed between a landowner and DUC. The landowner receives fair market value payments in exchange for allowing DUC to restore the wetlands on their land. The lease agreements are typically held for 10 years with the landowner receiving 50 per cent of the payment right away and annual compensation for the remaining 50 per cent over the lifetime of the lease.
In the restoration process, all construction and maintenance costs are covered by DUC, and haying and grazing are permitted on the uplands, while the wetlands are kept intact.
"Not only was the Lochend Lake project significant because of the size and location of land conserved, but also because of the level of collaboration it required, both internally at DUC and with external partners," says Hebben.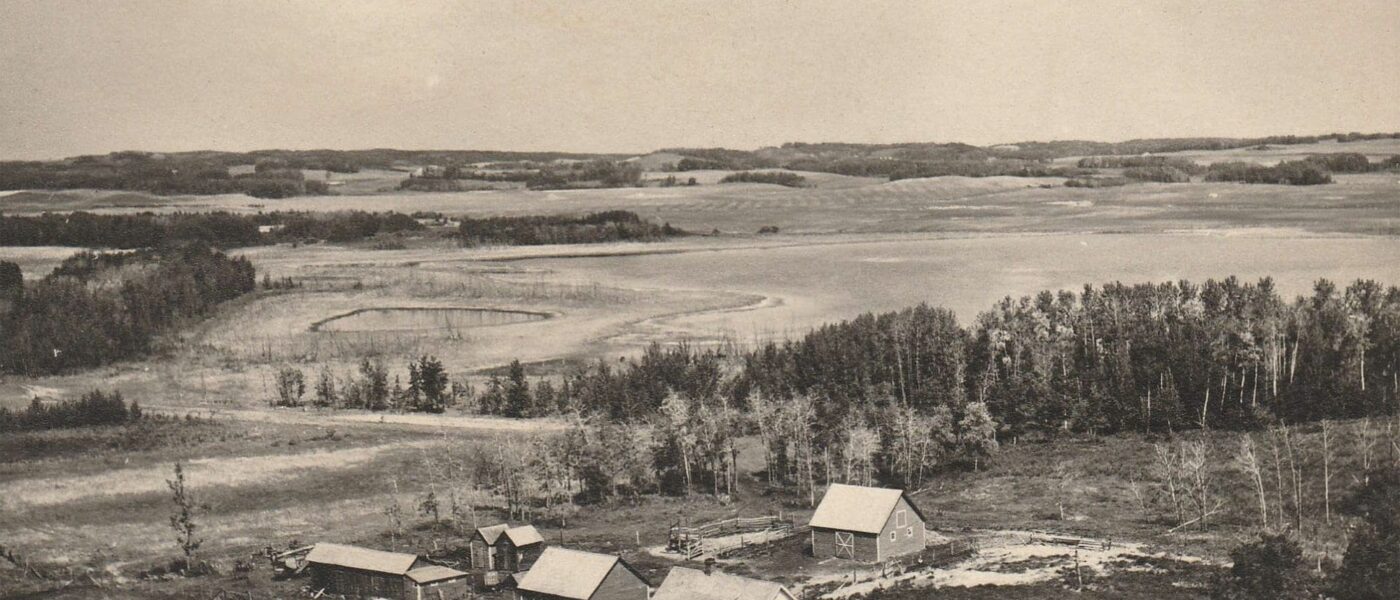 Arnold donation
The past year brought another unique project to DUC: the Arnold Land Donation. The Arnold Land Donation is a 106-acre (43-hectare) parcel of native parkland and cultivated land located west of Bashaw in the Buffalo Lake area.
"The landowner, Ms. Arnold, and her family have lived on the property for generations. After careful consideration, she decided to work with DUC to ensure the land will remain in the natural state her family had worked so hard to establish," says Chambers.
Through DUC's planned giving program, Ms. Arnold was able to work with DUC staff to customize her land donation, ensuring the property would be restored and maintained according to her wishes for years to come.
In the spring of 2021, with the transfer of land complete, DUC began the process of restoring the natural hydrology to eight basins of wetland habitat on the parcel. Fifty acres (20 hectares) of upland habitat that was in a cropland rotation was then seeded to a perennial cover stand. DUC also constructed 2.4 kilometres of fencing to accommodate future livestock grazing. As part of the overall restoration plan for the parcel, the existing yard site in the corner of the property was removed and the area reclaimed.
"This property was unique for the Alberta team as most of the land where our restoration work takes place is privately owned. But, in the case of Ms. Arnold's land, DUC utilized the Long-Term Hold Program for the purchase of the property," explains Hebben.
Across Alberta, landowners like Ms. Arnold are choosing to work with DUC to conserve and protect critical wetland and upland habitats, while preserving generations of hard work and dedication that previous land stewards invested.
Pressing forward
In the coming year DUC's Alberta conservation team will be well positioned to continue our restoration work on the ground, thanks in part to the Nature Smart Climate Solutions Fund that was announced by the federal government in July.
The Nature Smart Climate Solutions Fund will see the Government of Canada invest $4 billion over the next 10 years to support projects that aim to restore, enhance, and conserve inland and coastal wetlands, peatlands, grasslands, and forests to capture and store carbon. Through the fund, DUC's Alberta conservation program will be receiving $4.1 million over three years.
"The funding will be directed toward our initiatives that work to conserve critical wetlands and grasslands in Alberta, mainly through our Conservation Easement program," Hebben adds. "We look forward to scaling up and making the program available to more producers and other landowners."
DUC will also be establishing a Wetland Centre of Excellence at the John E. Poole site within the Lois Hole Centennial Provincial Park near St. Albert. The Wetland Centre of Excellence program is a national network of schools and community partners engaging students in wetland conservation through action projects, student-to-student mentored field trips, and outreach in their communities. More details will be coming on this exciting project in the spring of 2022.
---
Across Canada, our conservation community of 60,000 supporters, including 4,294  volunteers, are helping conserve wetlands. Of these, 7,012 supporters and 986 volunteers live in Alberta. So, as we celebrate our success over the past year, we also acknowledge that we did not do it alone. Our success is dependent on collaboration with Albertans who share our vision of supporting a prosperous and healthy landscape.