There are many triggers that can conjure up memories from our past. The smell of fresh-cut grass can bring a rush of childhood memories flooding into our senses. The call of a loon far off in the distance or the sound of crickets as night depends often brings us back to a time of peace and tranquillity. For Tosh Sutherland, the whirl of his fishing line racing out of the spool as a salmon takes the bait is a memory etched deep in his psyche.
Whether it was fishing on the mighty Fraser River in Mission, finding the perfect rocky coves and bays at Prince Rupert, or casting a line alongside his dad on the Sunshine Coast in Gibsons, Sutherland has been reeling in memories his whole life.
"I've been an avid fisher since I was a little kid,' says Sutherland. "It was one of the first skills I could master and make myself independent.  I could enjoy it by myself and be able to catch the shiners, catch the bigger fish to put in the crab traps, so I just fell in love with fishing as a kid."
Salmon fishing industry decline spurs change
But one of the things he loved most was in rapid decline. Sutherland was struck by declining Fraser salmon stocks and witnessing fewer and fewer openings for recreational and commercial fishing as he was getting older. He started researching species of concern in an attempt better understand the cause. He also wanted to find a cure.
With a background in the performing arts as an accomplished tap dancer, Sutherland decided to leave that part of his professional behind and enrolled in the Fish, Wildlife and Recreation diploma program at BCIT.
It was there that Sutherland made a connection with Ducks Unlimited Canada. Former DUC conservation staff member Megan Winand led his class on a field trip.  This included a full range of DUC's work, including its salmon habitat restoration projects through its Coastal Restoration Fund (CRF) program, a partnership funded by Fisheries and Oceans Canada.
"She told us how Ducks does more than ducks," notes Sutherland. "Salmon and vegetation surveys that can be impacting the juvenile salmon certainly caught my interest."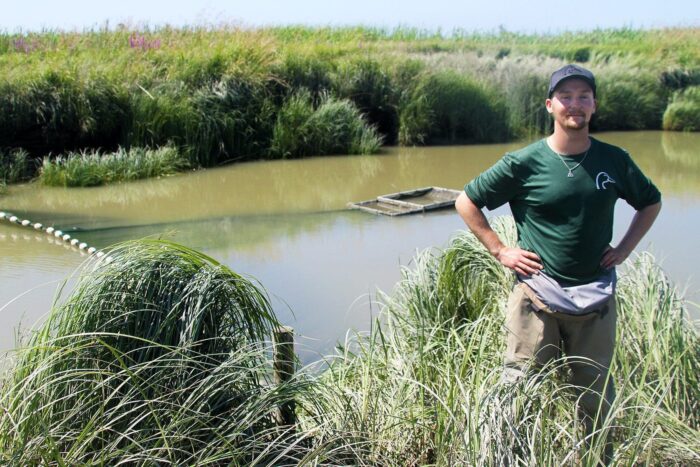 A student of more than just Ducks
After completing the diploma program, Sutherland continued his studies at BCIT, where he's currently enrolled in the Ecological Restoration degree program. He said that one field trip set his career goal path on course.
"What surprised me was the fact that she was talking about wetland restoration that focused on amphibians, fish, other wildlife besides ducks."
Growing up, he was aware of DUC and was familiar with their work on farmland and the restoration of wetlands for waterfowl.
"Realizing there was this whole other avenue got me excited," he says.
For the past two months, Sutherland has been part of the DUC salmon monitoring crew working in the Alkasen National Wildlife Area and the  South Arm Marshes Wildlife Management Area as part of its Coastal Restoration Fund project.  The work is expected to increase marine survival rates for juvenile salmon by facilitating increased growth and better condition upon marine entry.
Being a force for change
DUC has received a grant from the CRF to improve salmonid habitat within the South Arm Marshes,  Westham Island at the Alaksen NWA, and the Grauer property on Sturgeon Banks. The program involves monitoring the use of existing habitats by juvenile salmon and other fish species before and after restoration projects. This includes the collection of habitat data such as vegetation cover, salinity, temperature, shade, presence of woody debris and channel morphology.  There is also design and data analysis to assess the association between habitat characteristics and salmon abundance.
All of this drives Sutherland's passion.
"I know I wanted to do something to help, whether it was to restore the populations or restore the environment salmon live in so that these species can continue. They are one of the most important keystone species in the Lower Mainland," he says.
They are also one of the most at risk. According to Fisheries and Oceans Canada, almost 60 per cent of B.C.'s commercial salmon fisheries will shutter in 2021. For an industry that used to be a staple of economic activity in the province, the decline is staggering.
In 2020, 12 of 13 wild Fraser River chinook salmon populations assessed by the Committee on the Status of Endangered Wildlife in Canada are considered at risk, according to Fisheries and Oceans Canada. The federal agency says Pacific salmon are in a long-term decline, with many runs verging on collapse. Climate change, habitat destruction and overfishing are all factors.
Adding insult to injury, salmon stocks were dealt a devastating blow when a rockslide blocked the river near Big Bar, north of Lillooet. While recovery efforts eventually saw the passage reopened, the slide resulted in an almost complete loss of the 2019 early salmon run in the upper Fraser. Officials with Fisheries and Oceans Canada told a Commons committee last year they estimate as many as 89 per cent of chinook salmon died as a result.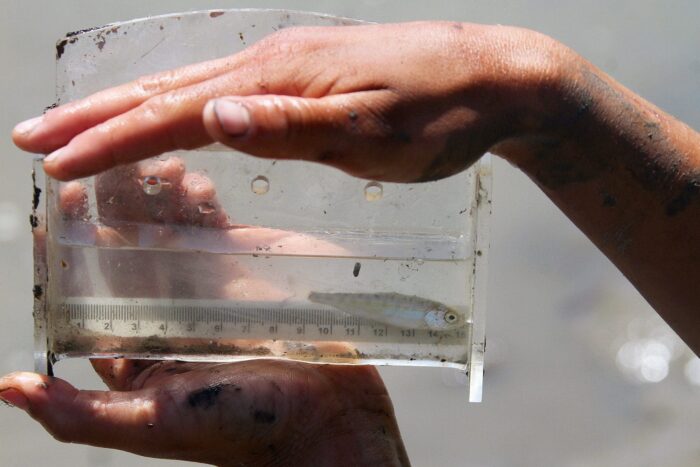 Paving a new path
Sutherland says he is hoping he can build a career to help bring back the once-thriving industry. He says the decline of chinook populations has a devastating effect on wildlife for the many First Nations and the commercial and recreational communities who rely on Fraser chinook for their livelihood.
"I want to be part of a positive change. Salmon is such an important species for nature and the people of British Columbia," says Sutherland.
He says the work done by NGOs like DUC and Raincoast Conservation Foundation, and First Nations will pave a path to pivot away from the traditional approach to sustainability. He is hopeful he can help bring solutions that will make the industry more sustainable and harmonize with what's going on in the environment.
"I think decisions were made in the past with the thought that nature will find a way. We now realize that nature does find a way, but only if you give it space and resources to do it."
Ducks Unlimited Canada would like to thank the Healthy Watersheds Initiative. Projects across B.C. are supported through a $27-million investment from StrongerBC, the Province's $10-billion COVID-19 economic recovery plan. The Province has partnered with the Real Estate Foundation of BC (REFBC) to administer the funding and is working with Watersheds BC to support project implementation.