There's a community commitment to nature underway at Gonder's Flats, a formerly degraded site on the Niagara River near Fort Erie. Donated to Niagara Parks in the 1930s, the shoreline property is now being transformed. Wetland restoration and other habitat enhancements are benefitting reptiles, amphibians and birds.
Niagara Parks and its local partners are establishing a four-acre (1.5-hectare) wetland at Gonder's Flats, where the habitats also bring multiple benefits beyond wildlife such as better water quality, and less erosion and flooding. DUC joins local partners who have already undertaken active restoration at Gonder's Flats since 2014. The naturalizations at the site include shoreline rehabilitation, hundreds of native plantings, a pollinator garden and trails for people to enjoy the rejuvenated riverside setting.
"Ducks Unlimited Canada applauds the multi-year commitment to nature made by Niagara Parks at Gonder's Flats," said Lynette Mader, manager of provincial operations in Ontario. "Increasingly, we are seeing communities carry out innovative projects like this one that restore pockets of lost natural infrastructure to shorelines and floodplains."
The project partners include DUC and the landowner, Niagara Parks, as well as Niagara Peninsula Conservation Authority, Land Care Niagara and Niagara Community Foundation. Supporters also include the Town of Fort Erie, Birds Canada, Bert Miller Nature Club and Niagara Falls Nature Club.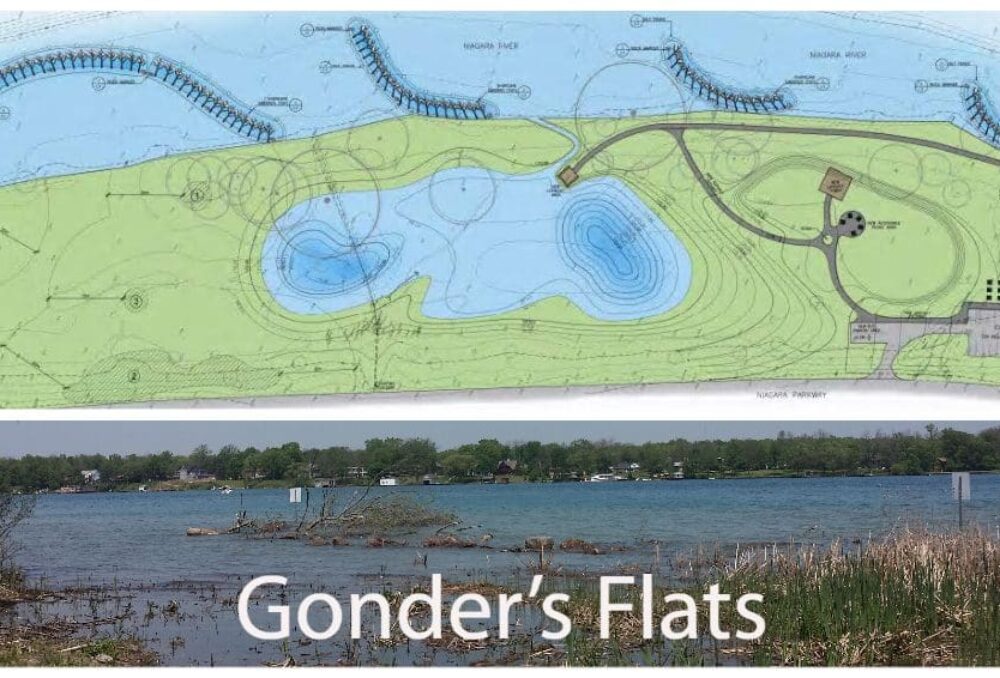 Shoreline restoration for a healthy river ecosystem
Gonder's Flats was prioritized for critical environmental restoration work through the Niagara River Remedial Action Plan program. The environmental project, led by the Niagara Peninsula Conservation Authority with local partners, is part of a larger focussed effort to enhance the Niagara River ecosystem. Three decades ago, the river was named a Great Lakes Area of Concern due to water quality problems and habitat loss. Today, significant action has enhanced the entire ecosystem.
The newly restored coastal wetland site will continue to naturalize over time and support biodiversity and species at risk. Visitors will enjoy learning about the increasingly rare Great Lakes ecosystem, which is under restoration at Gonder's Flats, with the addition of interpretive signage later this year.