Improvements in technology have led to a better understanding of the environment and the threats posed by pollution and climate change. The same advances in technology also help conservation groups like DUC better understand where and how to best tackle the growing threats. 
The recently released Pacific Estuary Conservation Program (PECP) Estuary Ranking Report is one such resource.
The PECP is a partnership of government and non-government conservation agencies which coordinates efforts to protect and enhance estuary habitats with high ecological value along the B.C. coast. The PECP released its original Estuary Ranking Report in 2007.
In their latest study, the PECP ranked 436 estuaries across the province. Estuaries are identified, mapped, and ranked from Class 1 (most important) to Class 5 (least important). Those in Classes 1, 2, and 3 tend to be large in area, with significant intertidal deltas or adjacent salt marshes and abundant intertidal vegetation and mussels. 
Rankings help guide conservation decisions
DUC biologist Bruce Harrison says this latest report is a way for DUC and other organizations to decide where to best focus their conservation work. 
"In a world of limited resources, we have to find where we get the most bang for your conservation dollars," explains Harrison. 
He also points to both the federal and provincial governments, who can use the report when making decisions on regulatory issues like risk management.
Harrison says better technology has led to more robust data, vastly improving the ranking system.
"When you compare the original report from 2007 to the latest edition, we see more estuaries with a higher ranking, simply because we had better remote sensing information," says Harrison. "We were able to feed our modelling system more nutritious raw material, so to speak, so we think it's a better reflection of the estuaries on the coast of B.C."
Harrison says some of the lower-ranked estuaries in the study should still not be discounted, though, since technology will continue to improve and critical data on these estuaries may be available in the future.
"
In a world of limited resources, we have to find where we get the most bang for your conservation dollars.
Estuaries play a critical role in B.C.'s ecosystem
While comprising less than three per cent of B.C.'s coastline, estuaries in B.C. are critical for fish, migratory birds and other wildlife, providing a vibrant ecosystem in which they can thrive. An estimated 80 per cent of all waterbirds and other coastal wildlife depend on estuaries for their survival. 
They are also vital to many communities across the province, providing natural ecological services like pollution filtration, detritus breakdown and nutrient recycling. Threats posed by development in urban areas, particularly the diking of estuaries for agriculture, have resulted in habitat loss as well, and freshwater diversion and invasive species also present challenges.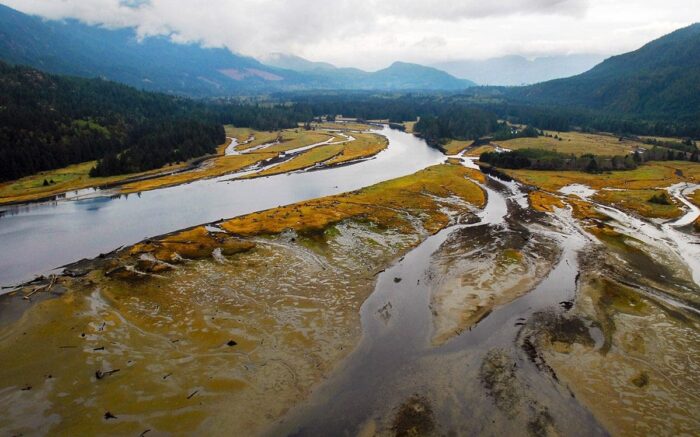 Fraser River Estuary tops list
In total, 315 estuaries ranked in the top three Classes. These are dispersed throughout the coast. Northern and Central Mainland has the most Class 1-3 estuaries. Northern and Western Vancouver Island has the highest density of Class 1-3 estuaries, but the largest Class 1 estuary by far is the Fraser River estuary. At 53,612 acres, it contains 36 per cent of all the estuarine area in B.C., and is a Ramsar Wetland of International Importance, an Important Bird Area (IBA), and a Key Biodiversity Area. The Fraser River estuary is also one of the most threatened and modified estuaries in the province. Harrison says the Fraser River Estuary is the only IBA in Canada designated as "in danger" by BirdLife International.
DUC biologist Eric Balke and UBC's Tara Martin joined 21 other conservation colleagues across the province to author a paper calling for immediate action to save the Fraser River estuary. The report, called Priority Threat Management analysis, calls on federal, provincial, municipal governments to join NGOs and First Nations to form a co-governance structure to manage the estuary better. The price tag for the plan comes in at $381 million over 25 years. Without the investment, the Fraser River estuary faces the loss of 102 species over the same timeframe.