When it comes to protecting endangered species, DUC's conservation teams believe "above and beyond" is the only way to go. That's why, when preparing for the restoration of a large dike system at the Big Creek National Wildlife Area (NWA), in February, the team did all they could to ensure no harm would come to the species on site.
Big Creek NWA is at the base of the Long Point peninsula near Port Rowan, Ont. The 1,900-acre (770-hectare) natural area includes intact coastal wetlands on the north shore of Lake Erie at the mouth of Big Creek. The marshes provide a critical staging area for migrating waterfowl and other birds. More than 200 bird species and many other wildlife species have been recorded at the site, including species at risk.
Since the area is home to two threatened species of snake, the team decided additional due diligence was required before even one shovel went into the ground. The project lead, Nick Krete, purchased a plumbing tool that would normally be used to investigate drainpipes. He and the team suspected the technology used in plumbing could provide the answers they were searching for prior to construction taking place—and they were right!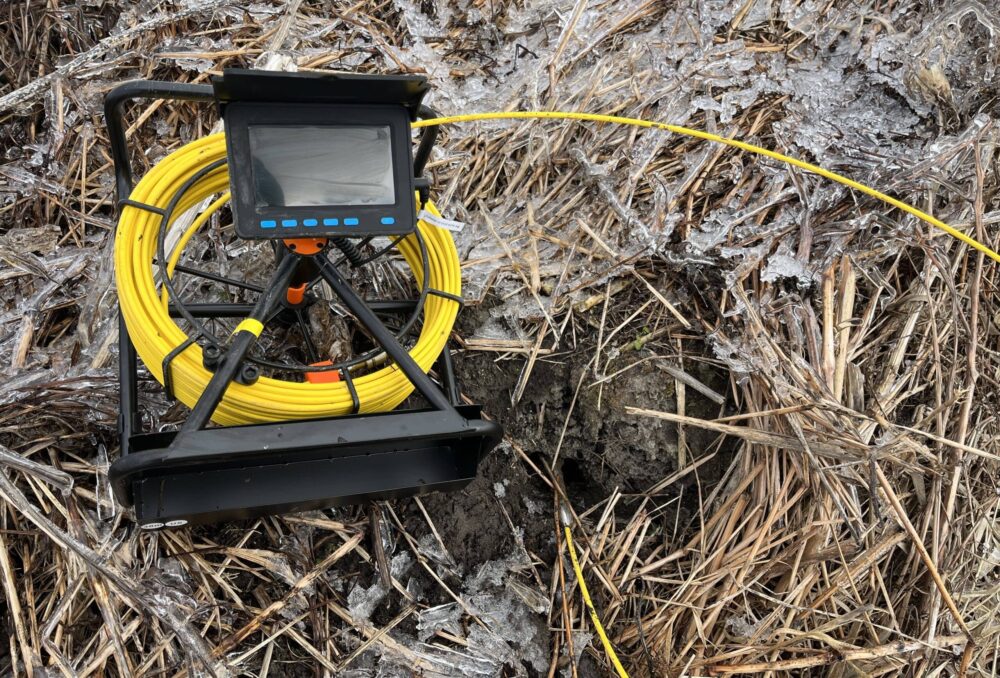 "All possible steps were taken to prevent wildlife losses"
"I wanted to show as much care to the area as possible," says Krete. "The articulated camera allowed us to explore the many twists and turns of the holes in the dike system. Muskrats and other rodents had done real damage to it and there were holes everywhere. Since snakes are opportunists, using existing holes to hibernate in, I thought chances were good this exploration would ensure all the possible steps were taken to prevent any wildlife losses."
The restoration project was carried out by the Canadian Wildlife Service, on behalf of the Government of Canada, in collaboration with DUC. The work had to be done while wildlife was overwintering and work focused on the dike's southern loop Part of the work involved the maintenance of existing dike infrastructure for structural stability. The holes make perfect hibernacula for snakes and the team wanted to do all they could to rule out their presence prior to the work being carried out.
The Big Creek NWA shelters many threatened species, including eastern fox snake, eastern hog-nosed snake, least bittern, Blanding's turtle and Fowler's toad. The wetland and adjacent habitats are bustling with activity from spring to late fall with waterfowl migration, turtle nesting and the monarch butterfly migration in August and September.
In the span of four hours one afternoon, Krete inspected more than 40 holes. He says the camera has now become part of DUC's fleet of equipment, and with its ability to record both video and still photos, the opportunities for its future use are limitless.
"Protecting species at risk is a very big deal," Krete says. "And something we at DUC take seriously. It may seem like tedious work, but it gives us the confidence that we're using the latest technology available to protect wildlife. I can see us using the camera in many future applications, including to investigate existing DUC infrastructure, such as culverts and water control systems. It's another tool in our toolbox."