We love a fluffy chickadee or a baleful owl, too. But ducks have our hearts. So, we've compiled a list of Five Small Ducks You Can See in Winter, and you can decide for yourself.
Some of the cutest ducks are also the toughest ducks
Not all ducks leave the country when cold weather comes to Canada's forests, rivers, lakes and wetlands. Many ducks simply migrate to their winter homes—often along the ocean coasts or the shorelines of big lakes. Sometimes, small flocks gather in ice-free openings where industrial or power-generator processes are releasing warm water in winter.
1. Buffleheads
Buffleheads weigh about a pound 🧈* They're small but mighty divers and they like to eat their fish and invertebrates underwater.
In winter, you can see them bobbing in the waves on the Pacific and Atlantic coasts, and the open waters of Lake Ontario.
* That's 450 grams.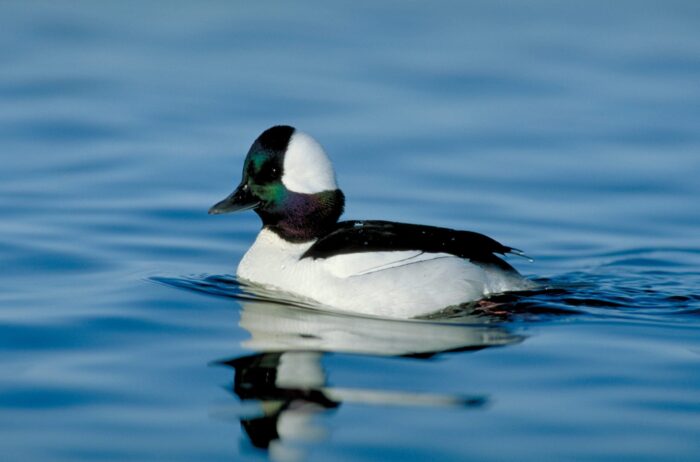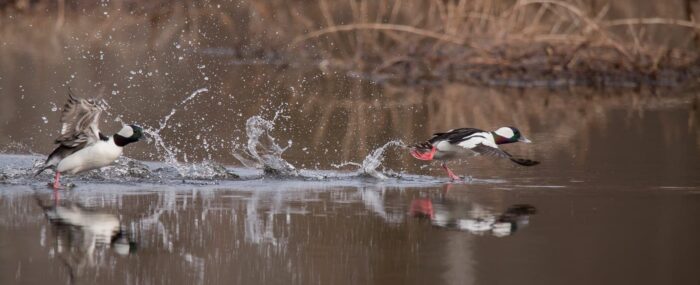 ---
2. Common goldeneyes
Goldeneye ducklings weigh about an ounce* when they hatch but they soon leap from the nest cavity 🏋🏽‍♀️ to follow mama to water.
In winter, you can see them eating mollusks and crustaceans on the Atlantic and Pacific coasts, and the Great Lakes and St. Lawrence River.
* That's 30 grams.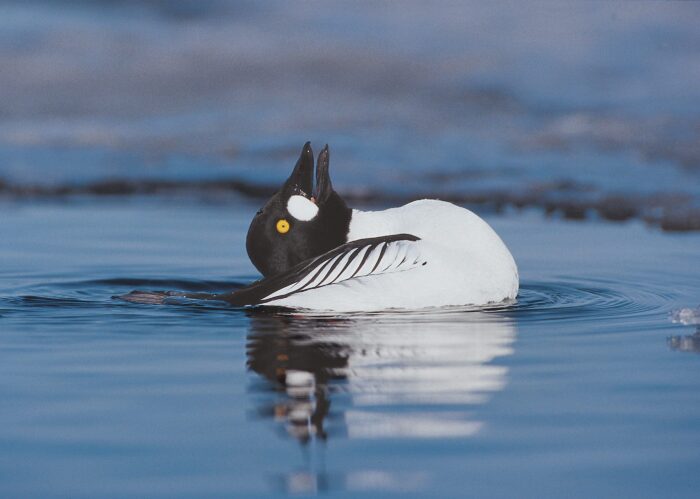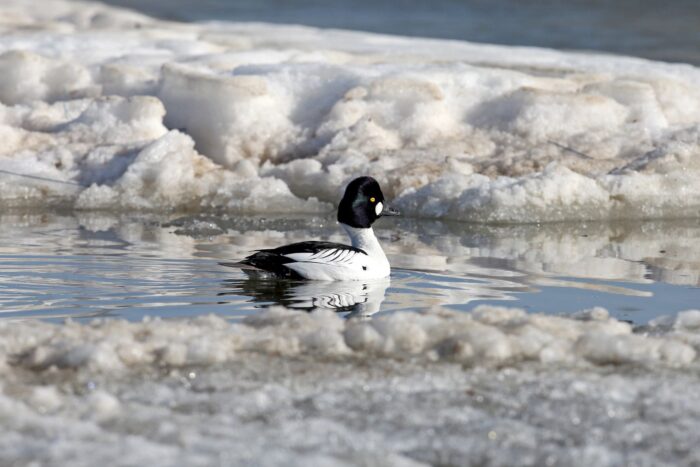 ---
3. Hooded mergansers
Merganser drakes weigh less than a pound-and-a-half* but they're fancy 🤵🏽 They swim past with their eye-catching crests held high to entice a hen. If she responds, she'll soon set up a tree cavity nest and use her own feathers to make it warm.
In winter, you can see mergansers swimming low in the water in the southern Great Lakes and southern British Columbia.
* That's 680 grams.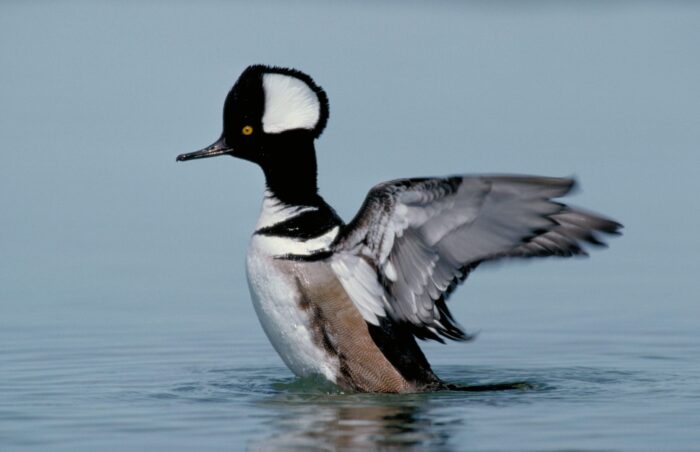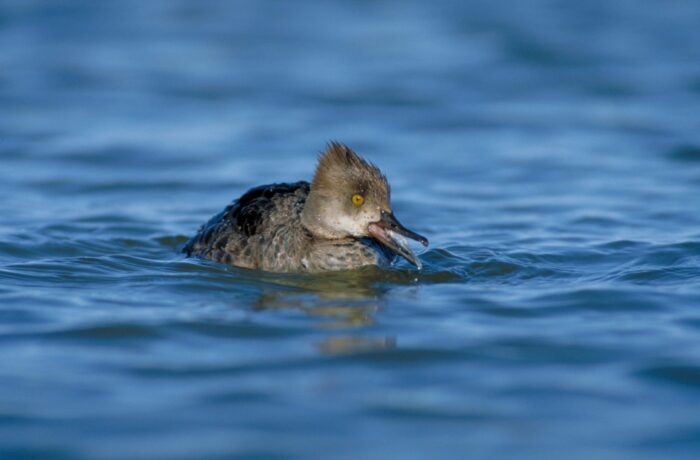 ---
4. Harlequin ducks
Harlequin ducks, just a pound* or so in weight, hang out on rushing rivers and rough coasts 🏄🏽‍♀️ Tiny but tough, they're tossed by waves so big they may even break bones in the rough terrain.
In winter, you can see striking groups of the sociable birds on saltwater shores. The nesting pairs start to fly inland in late March.
* That's 450 grams.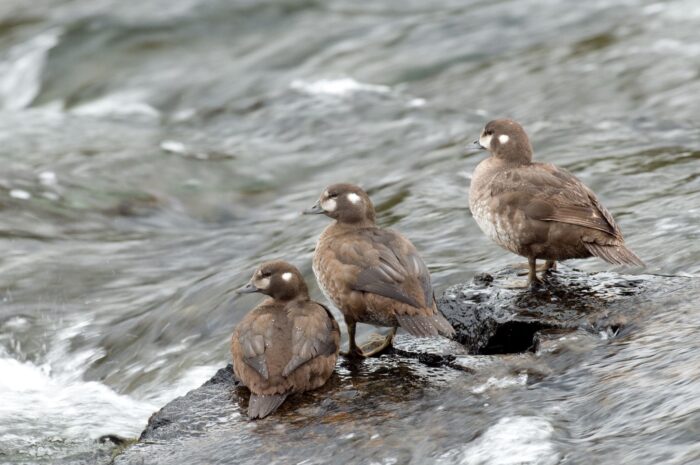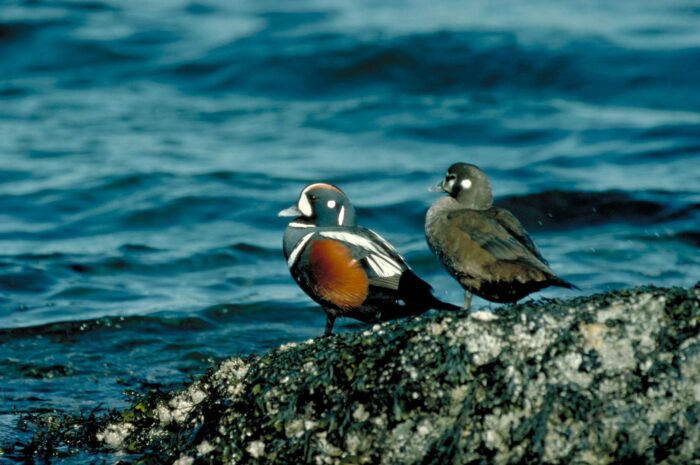 ---
5. Cinnamon teal
Cinnamon teal weigh less than a pound*. They all look much the same for much of the year—except for the males' red eyes. Then midwinter comes and the males grow new feathers, emerging all dressed up in red ❤ for mating season.
In winter, you may see them in southwestern British Columbia.
* That's 450 grams.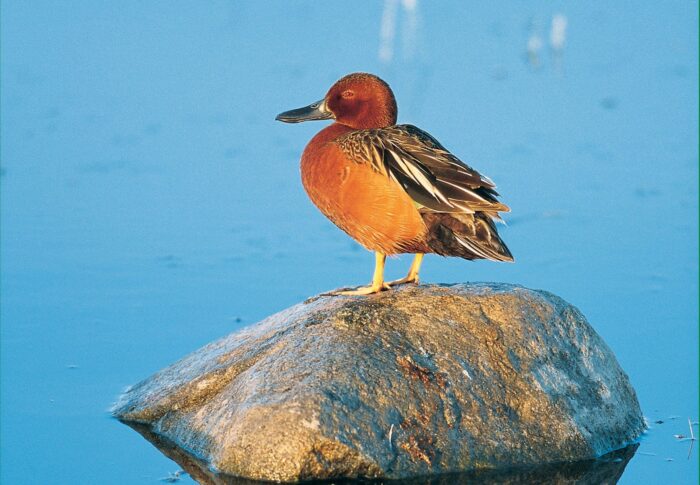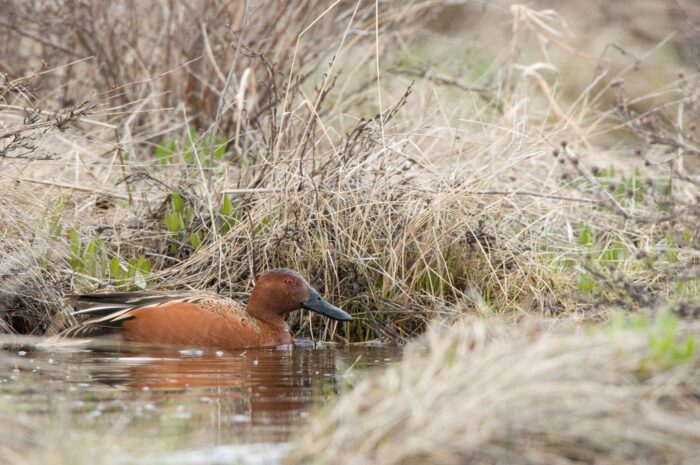 Help us protect these wonderful birds
Your purchases support waterfowl habitat across Canada when you choose from our exclusive line of clothing and outdoor gear.
Shop Now