We greet each other with a hug. Our only connection until now is that we are both members of the Facebook group Sask Birders. Hanna Walczykowski's photos of a famous Regina wood duck piqued my interest. In her post, she is delightfully apologetic in that quintessentially Canadian way: "Wood duck again. Sorry, but he stole my heart!", reminding me of Bianca Andreescu's apology after winning the U.S. Open. Hanna's appreciation of her avian subject is unmistakable.
I wanted to find out more about Hanna, and her love of wood ducks and photography.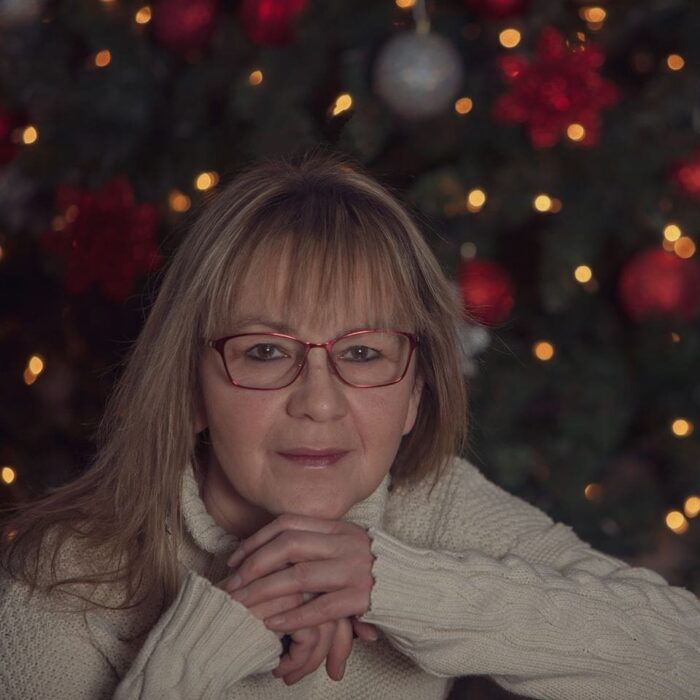 For the love of a wood duck
We arrange to meet at a Tim Hortons in east Regina.
I start by asking Hanna about the wood duck drake because, in Sask Birders circles, this guy is a bit of a celebrity. This is the fourth year he's overwintered in Regina, and he's often in the company of a mallard hen. Rumours abound about whether these two species could form a couple. Most birders appear to be in favour.
Hanna doesn't get into any of this but rather gushes over the drake's "softest, cutest sounds ever": vocalizations she's heard while she's watching and photographing him: I can tell that Hanna is my kind of people.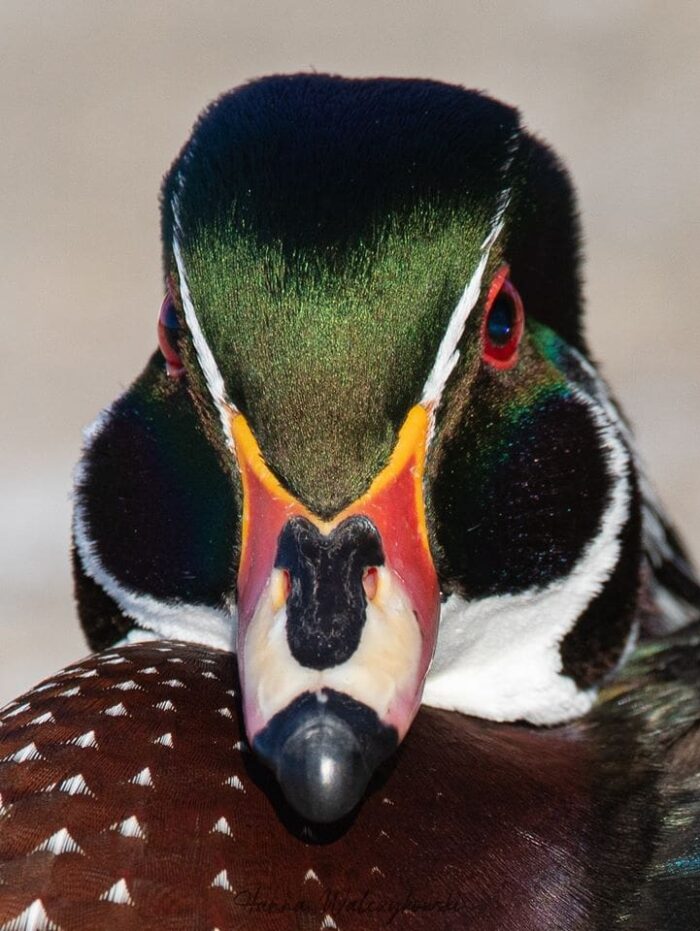 Photography, then birding, becomes her passions
When it comes to photography and birds, the photography came first for Hanna. She was born in Poland and emigrated to Canada in the late 1980s.
In the early days, when money was tight, she took pictures with whatever equipment she could afford, often documenting time with family and friends. Years later, when her father-in-law visited Canada, Hanna sent him home with 300 pictures of his holiday with them. He was furious: "Why would you waste your money on this?" but the next year called and apologized. The 300 pictures had become an invaluable reminder of his trip.
"But…" I ask, "…where do the birds come in?" I am eager to learn how this puzzle piece might fit. While this, and there's no other word for it—passion—came later, the seeds were sowed early in Hanna's life. Wiecbork, Poland, the town where she grew up, was built around a large lake and surrounded by forest. As a girl, Hanna recalls her family feeding blue tits, similar to our chickadees, and spending hours exploring nature.
It wasn't until 2012 that the birding bug really bit, and hard. This was the year that flocks of Bohemian waxwings showed up in Hanna's backyard. She spent hours photographing these birds and life hasn't been the same since. Now she has nine different feeders set up over winter and, along with identifying different species, has become a curious observer of bird behaviour.
She excitedly describes how her backyard birds interact with each other: competition, co-existence, the works.
When summer comes, Hanna changes gears, and puts out hummingbird feeders.
"Hummingbirds are my spirit birds" she confides. Two years ago, she identified a Rufous hummingbird coming to her feeders with the other ruby-throats. Birders from Regina area visited to see it for themselves. Hanna herself spent five straight hours on her deck, watching and photographing. When she and her family are off on one of their many summer camping trips, Hanna always asks whether it's OK to put out food for hummingbirds in their campsite and, if the answer is yes, she always does.
Sharing the love of birding, and nature
Hanna's enthusiasm is contagious. I ask whether she thinks her passion for birds has influenced others. Suddenly quiet and thoughtful, she tells me about friends who now have bird feeders in their yards, and others who go on birding expeditions with her. She beams with pride as she describes how, with the help of a chickadee and a handful of birdseed, she is already introducing her one-year-old granddaughter to the wonder of wild things.
"Most people don't pay attention to the beauty that surrounds us and the positive energy it gives," she laments. "Spending time in nature is an antidepressant". We talk about how, for both of us, it's when we're sitting and watching birds that we're really living in the present moment, setting aside the to-do lists of the future and the regrets of the past.
Smiling wide, Hanna tells me "I always say that a day without birds is a day wasted."
I couldn't agree more.
What's your bird ID?
Attention birders! Improve your duck identification skills
Improve your Duck ID