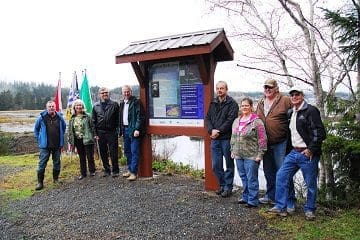 Tuesday, February 17th, 2015
British Columbia
British Columbia's wetlands are home to some 300 species of birds, millions of salmon and other wildlife. Annually, up to eight million waterfowl and 20 million shorebirds nest, spend the winter, rest and feed during migration here as they travel the Pacific Flyway to other parts of North America. The B.C. Coast is Canada's number one wintering area for birds.
Some alarming facts on wetland loss in B.C.:
In the Okanagan, up to 85 per cent of valley-bottom freshwater wetlands are gone
80 per cent of wetlands in the Fraser Valley and on the east coast of Vancouver Island are altered or destroyed
Biggest threats to B.C.'s wetlands and waterfowl habitat
climate change
urban and industrial expansion
harmful agricultural, forestry and aquaculture practices
Our wetland conservation programs provide a solution.
We manage more than 565 wetland projects conserving some 370,000 acres.
We partner with government, industry, landowners and people like you to conserve our precious wetland resources.
Where your support is needed
Help us rebuild B.C.'s signature wetlands
Support efforts to protect habitat on Crown land
Become a local voice for wetlands. Talk to your friends, neighbours and politicians about the importance of wetlands in your community
Check out current habitat conditions in B.C.
Support us by becoming a voice for wetlands in your community.
Contact:
B.C. Provincial Office
Unit 511, 13370 – 78th Ave
Surrey, BC V3W 0H6
Tel: 604-592-0987
Fax: 604-592-0930
Email: du_surrey@ducks.ca
Toll-free: 1-800-665-DUCK (3825)