What do Wood Buffalo National Park (Alberta), the Akaitcho Traditional Territory (Northwest Territories), and the Dawson Planning Region (Yukon) have in common?
They are all located in Canada's boreal forest. And wetlands form the majority of their landscape. Wetlands provide a range of social and economic benefits to neighbouring communities and also harbour a wide diversity of life, from plants to large mammals, some of which are unique to the region. Our enjoyment of nature—from watching a giant bull moose slowly trudge across a marsh to identifying dozens of waterfowl feeding in a lake—is directly linked to successfully conserving wetlands.
Spanning from the Yukon to Labrador, Canada's boreal forest spans 1.38 billion acres and covers 58 per cent of the country's landmass, holding 85 per cent of Canada's remaining wetlands. It's no wonder conserving wetlands means conserving waterfowl and all other animals that depend on them.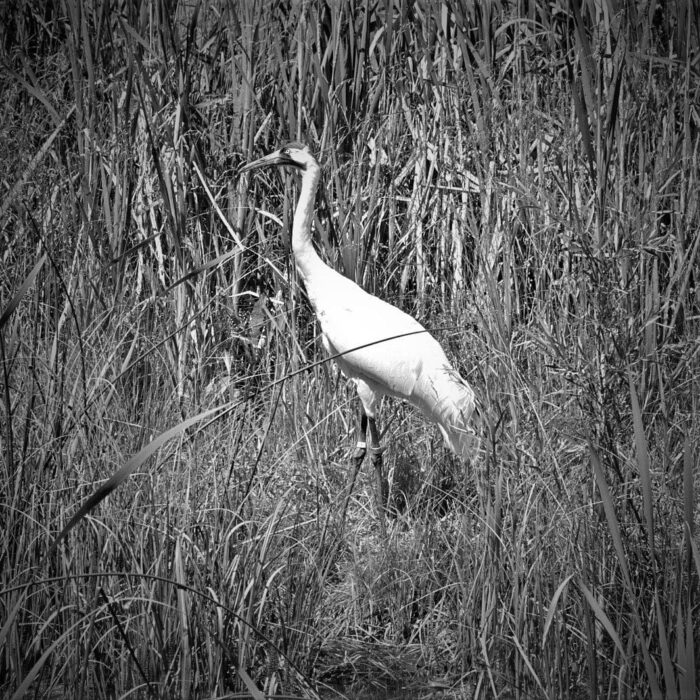 Whooping cranes
The whooping crane, the tallest bird in North America, weigh about 18 pounds. It is a sensitive species to protect as it only has two breeding areas, one of which is in Wood Buffalo National Park (and learn more about their migration through Saskatchewan). Relying heavily on wetlands for breeding, their presence on the landscape in Wood Buffalo every summer is indicative that there are enough contiguous wetlands and food to support this crucial aspect of their life cycle. If wetlands are not properly conserved in Wood Buffalo, the loss of breeding habitat for whooping cranes could mean the loss of a species.
Barren-ground caribou and the common nighthawk
In the Akaitcho Traditional Territory, barren-ground caribou is an indicator species of the fragmentation status of the land. In this region, large wetland complexes dominate the landscape and hundreds of small bodies of water have made this area remote and relatively difficult to develop. Despite this, industrial development persists and the Bathurst caribou herd (which overlaps with the Akaitcho Traditional Territory) has been on the decline. DUC has supported the Akaitcho communities by providing them with wetland maps of the region to be used as a tool in their land-use planning management and avoid development in caribou habitat, also benefitting the countless other wildlife in that area.
In the Dawson Planning Region, the common nighthawk is an aerial insectivore who gets its fill of insects in the boreal wetlands of the Yukon every summer. Wetlands are a hotspot for insects, particularly in the summer when standing water creates excellent breeding habitat. From the bottom up, intact wetlands provide a home for the insects which in turn become food for the common nighthawk during their Spring migration.
To say that wetlands are crucial across the boreal forest is an understatement. These three regions across the boreal share a common truth: the presence of intact wetlands promotes biodiversity by harbouring all wetland-dependent species. With certain species being unique to wetlands in these regions, it is a reminder that a world without wetlands means no longer will you ever see a whooping crane or hear the call of the common nighthawk. It's time to see wetlands for more than just being wet pools of water! Show your support for wetlands by showing your support for an organization where conserving wetlands is central to its mandate. DUC understands the importance of wetlands, and we invite you to join us.