Rick Andrews has spent most of his life leading conservation efforts in Manitoba but his 43 years with DUC almost didn't happen.
"In May of 1977, I applied for a position at DUC after graduating with a science degree from the University of Manitoba," recalls Andrews, "but they hired someone else!"
A month later, DUC called to say their first choice hadn't work out and offered Andrews a position in the provincial headquarters. He would spend his entire career from 1977 to 2020 at the Brandon office, progressing from field biologist to manager of provincial operations.
"
A career highlight? The opportunity to do something that I truly loved. I worked with the top waterfowl and wetland scientists at Ducks Unlimited. We used the science to find the right solution for each landowner, while ensuring waterfowl benefits were provided. For me, that was very rewarding, to take the big picture and work it down to find that bit that works for each particular case.
In September 2022, DUC recognized Andrews for his lifetime of conservation by naming 160 acres (65 hectares) of marsh and grasslands north of Brandon in his honour. Nearly 50 family, friends and former workmates attended the dedication ceremony.
"Rick will always talk about teamwork and the strength of the team at DUC," says Mark Francis, who became provincial manager when Andrews retired. "But this ceremony pays tribute to Rick for devoting his life to protecting habitat in Manitoba; habitat that is critical for people, livestock and wildlife."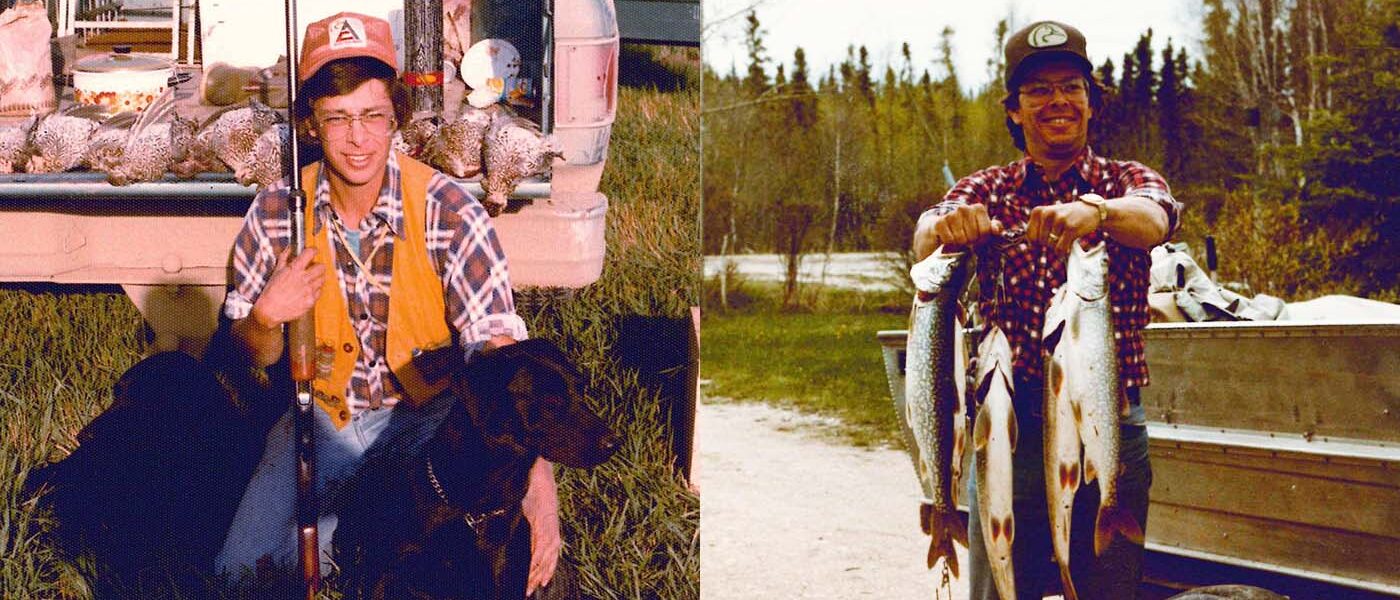 Growing up as an outdoor enthusiast
Raised in south Winnipeg, Andrews enjoyed family camping at nearby Whiteshell Provincial Park. Hunting and fishing with his father further fueled his love of nature.
"I pretty much knew then that waterfowl was special and I wanted to do something for conservation. I pursued that through junior high, high school and university. That was the goal."
In his first role with DUC, Andrews inspected wetlands throughout the province, gathering biological data used in developing conservation practices. He says a new agreement in 1986 harmonized conservation efforts among provincial, state and federal governments in Canada and the United States. The North American Waterfowl Management Plan (NAWMP) also expanded DUC's role.
"
Working on wetlands was only one part of the equation – a very important part – but many birds need places to nest away from the water in grasslands. Before NAWMP, we had no program to set aside or manage those uplands. After, we started hiring agrologists to work with the agricultural community to find the win-win that benefitted both farmers and waterfowl.
Andrews says more new legislation in Manitoba in the late 1990s provided long-term legal protection for conserved land. The Conservation Agreements Act also enabled DUC to financially compensate landowners; an important tool that continues today.
"Virtually everything in the southwest is on private land," Andrews notes, "and we were talking with the landowners about what to do with wetlands and water control to mitigate flooding and ensure there was enough water for cattle. Our partnership with landowners became stronger after the Conservation Agreements Act was passed in 1997."
Other DUC programs introduced during Andrews' time include incentives for growing duck-friendly winter wheat, assisting livestock producers with improvements to rangelands, restoration of previously drained wetlands, and the creation of Manitoba's first grazing clubs.
"DUC is something I was always able to believe in. We did things that gave tangible results. That drove me," says Andrews.
"I spent a lot of time through the 90s planting a lot of native grass, working with biologists within DUC to develop the program. We probably planted 15,000 to 20,000 acres of native grassland over the years."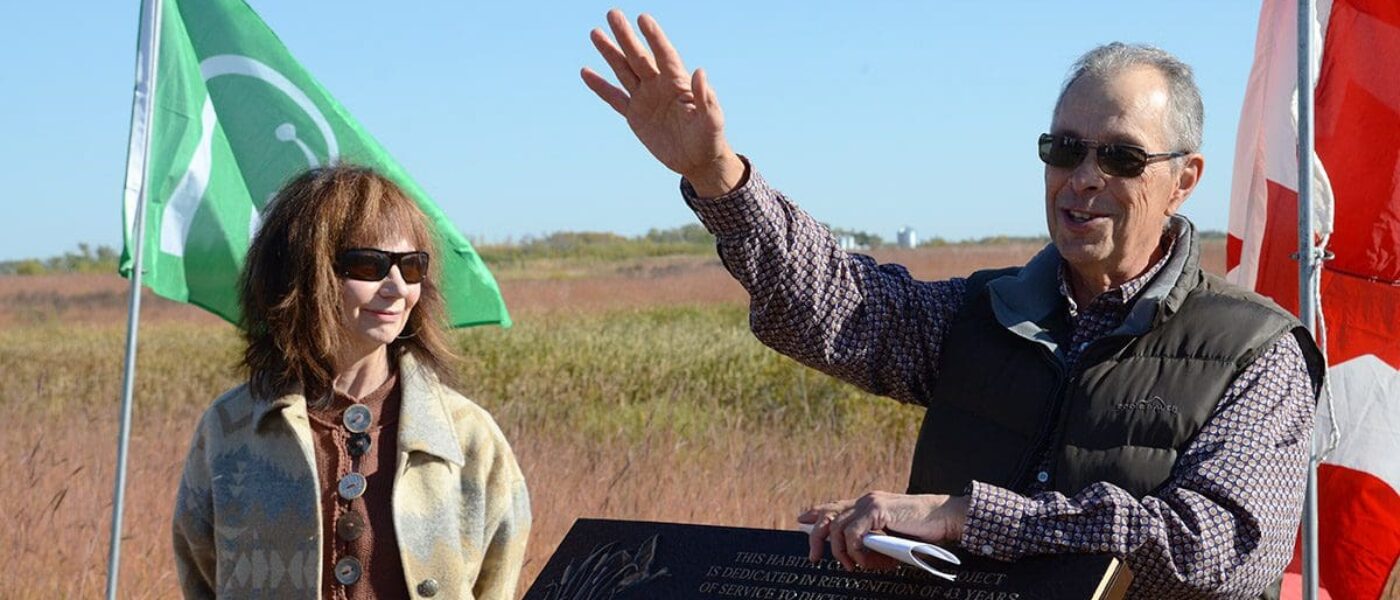 Celebrating 43 years with DUC
Andrews returned to one location in late September 2022, when DUC unveiled a bronze plaque at the Rick Andrews Project.
Attending the ceremony were current and former colleagues from Ducks Unlimited Canada, the Manitoba government and Manitoba Habitat Heritage Corporation, who praised Andrews for his passion to "connect the dots" and bring conservation efforts to a wider provincial and national audience.
"
I came for the cause and I stayed for the people, as corny as that sounds. We've always had an incredible team at DUC with common goals and common objectives and always found a way to do the best we could.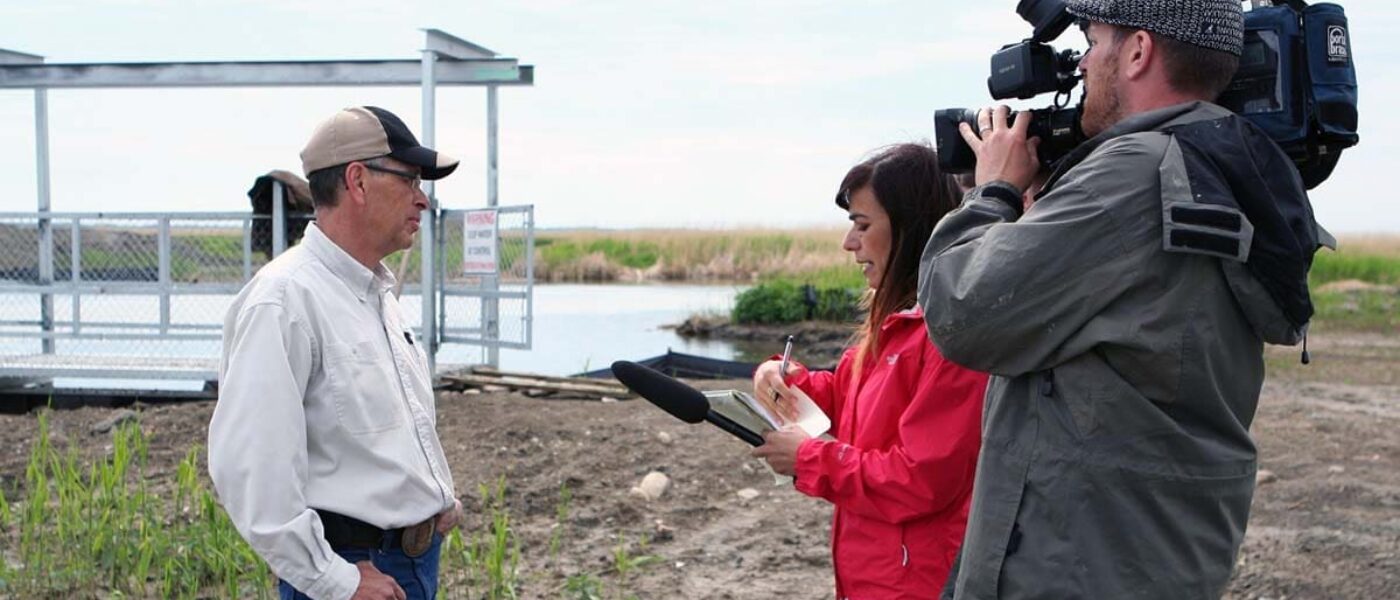 Andrews is especially proud of his involvement with the Broughton's Creek project, which provided scientific data on the effects of wetland drainage. Policy makers extended protection for certain classes of wetlands in 2017 with Manitoba's Sustainable Watersheds Act.
A decade-long effort to enhance habitat at Delta Marsh on the south shore of Lake Manitoba is another project he fondly remembers because of a family connection to the revered hunting area.
"I never did hunt Delta Marsh with my grandfather, but I remember my grandmother telling me, and I was fairly young, that the canvasbacks grandfather brought back from there were the ones we really enjoyed. So, to come full circle, I had the chance to work with an excellent team to restore Delta Marsh. That was incredibly rewarding."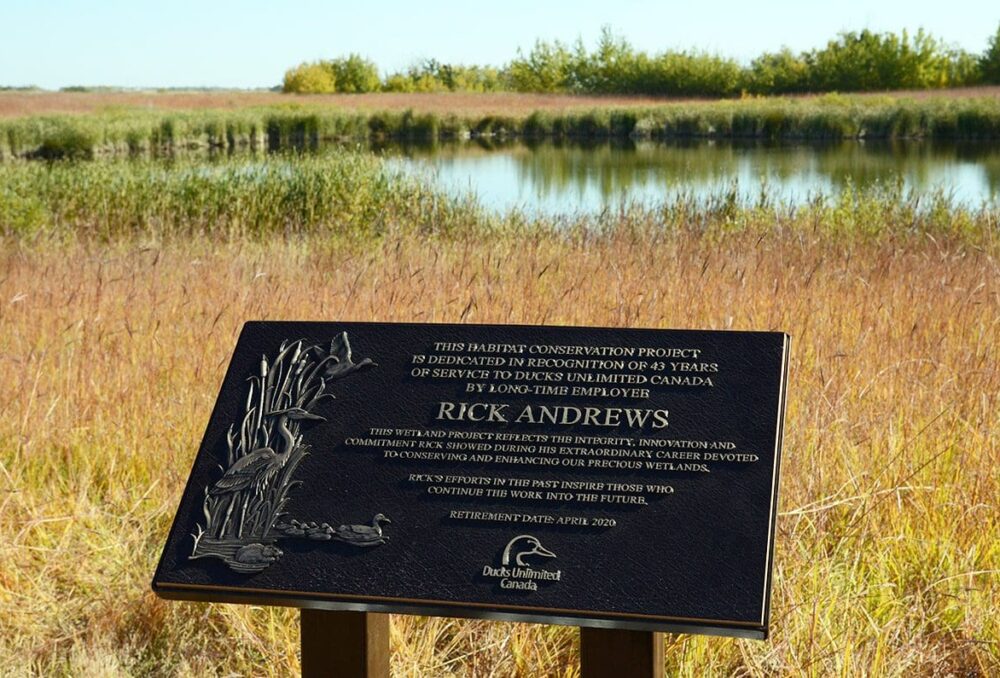 Careers in conservation
Put your passion for conservation into action and apply for a career with us today.
Join our team