At the intersection of open saltwater and the land, coastal ecosystems are regularly flooded by incoming tides. These shallow conversion zones are rich in biodiversity, serving as shelter for young wildlife such as lobster and salmon, and providing waterfowl and other birds with bountiful habitat. They also form a natural barrier that slows wave action and reduces storm surges that can result in floods.
These marshes are irreplaceable and they're vanishing fast due to rising pressures from climate change, development and land conversion, among other threats. That's why Ducks Unlimited Canada (DUC) and our partners are accelerating work to preserve and restore remnant tidal ecosystems on both the Atlantic and Pacific coasts — work that is valuable but not nearly enough to reverse the trend of loss.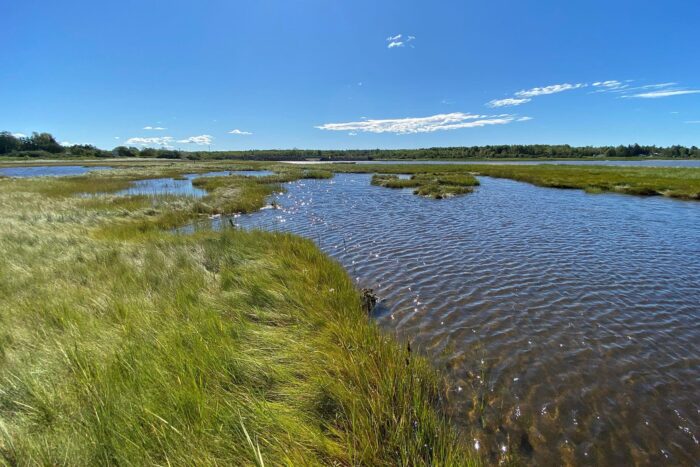 Atlantic coast: Conserving coastal ecosystems
Jutting into Shediac Bay, along the Acadian coast of the Northumberland Strait in New Brunswick, is a beach community called Pointe-du-Chene. Cottages large and small comprise the village, densely developed decades ago for its proximity to the Parlee Beach Provincial Park — one of the province's hotspots that attracts more than 300,000 visitors each summer. The ocean water here is said to be the warmest north of Virginia and, on hot summer afternoons, the shallows are dotted with splashing families and anchored boats, their owners basking in the sun.
A few hundred metres behind the beach, often unnoticed and squeezed between a bike bath and the main road, you'll find a small salt marsh. This is one of the last remaining sections of natural coastline on the busy, little peninsula. And it's working overtime.
Not only is the salt marsh acting as a nursery for lobsters and other marine species, but it's also helping to protect the coastline and filter surface water as it flows toward Shediac Bay. But with little wetland infrastructure remaining on the peninsula, Parlee Beach has big water quality concerns. In 2022, more than a dozen no-swim advisories raised a warning flag about the problem.
Since 1828, the salt marsh property has been owned by the Anglican Parish of Shediac. It was originally obtained by land grant, part of a significant parcel designated by King George IV of England. Aware of its role in environmental health, the church leaders have now donated the land to DUC for conservation. The Anglican Parish of Shediac Land Office shared that "the desire to have this land maintained for conservation purposes became a topic discussed on a regular basis in our Parish Land Office and Committee… The Parish partnered with the Shediac Bay Watershed Association, and we supported their desire to partner with Ducks Unlimited Canada in this endeavor. We are excited to be a part of what is happening in our province with land conservation."
DUC has been concerned with salt marsh habitats on Atlantic coastlines for the past 15 years as their importance has become a prominent factor in coastline protection.
"
This hard-working salt marsh is a survivor that we'll help sustain for the benefit of both wildlife and the local community.
Adam Campbell oversees DUC's programs in the Atlantic region. "This hard-working salt marsh is a survivor that we'll help sustain for the benefit of both wildlife and the local community," he said. "More than 65 per cent of New Brunswick's salt marshes have been lost to coastal development. The remaining coastal infrastructure is a critical ally that we need to mitigate the effects of sea-level rise and hurricanes, which often demonstrate how beach communities like Pointe-du-Chene are vulnerable to storm surges and flooding."
With every year, the role of salt marshes rises in prominence but preserving them is also a race against sea-level rise. As the ocean creeps inland, centimetre by centimetre, salt marsh vegetation must move with it or drown. The challenge is how to both protect them in situ and give them space to migrate inland in some of the most sought-after locations on Canada's coastlines.
Help ease the squeeze
DUC and our conservation partners are conserving and restoring salt marshes with undeveloped supporting lands across Atlantic Canada to save them from coastal squeeze. We encourage individuals interested in selling or donating undeveloped coastal habitat to contact us.
---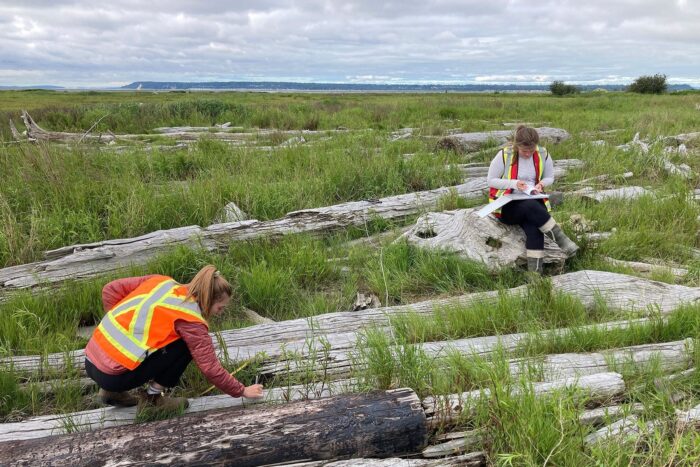 Pacific coast: Restoring coastal ecosystems
On the other side of the country, DUC is focusing its tidal marsh work in the Fraser River Estuary, a critical eco-region for wildlife that is encircled by coastal development. This estuary is the most important river-mouth area for fish and birds on the West Coast of Canada.
Waterfowl migrating north refuel here before continuing up the coast on the last leg of their journey. It's also a beloved — and commercially valuable — feature of coastal life for the cities of Delta, Richmond and Vancouver. In recent decades, climate change and rising sea levels have joined the pressures of urban expansion that are slowly squeezing out the estuary's ability tosustain high levels of biodiversity and shoreline protection.
Eric Balke is leading DUC's role in the Fraser River Estuary Salmon Habitat (FRESH) Restoration Projects, a partnership with Raincoast Conservation Foundation, Tsawwassen First Nation and the Lower Fraser Fisheries Alliance, supported by federal and provincial funding through the British Columbia Salmon Restoration and Innovation Fund, with additional funding from Tsawwassen First Nation and the Vancouver Fraser Port Authority.
The FRESH team is seeking to trial and demonstrate innovative techniques for restoration. Working in the brackish habitats requires DUC's team to stay nimble, adapting to the tides, wind and weather that define life on the edge of a powerful ocean.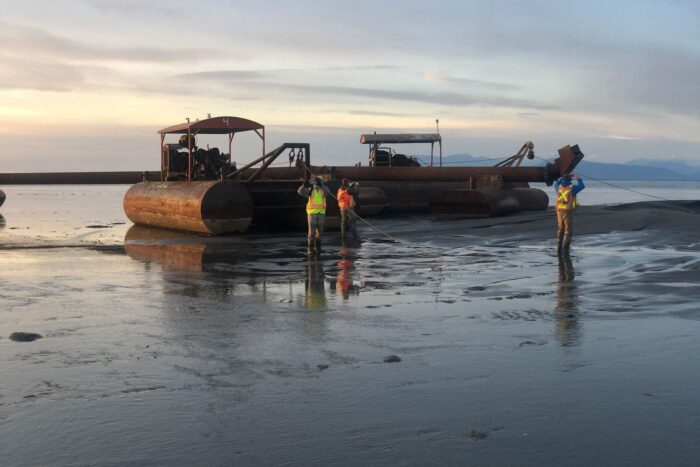 At Sturgeon Bank, between the North and South Arms of the Fraser River, a pilot project has diverted sediment that is regularly dredged from the river as part of shipping activities. Using a temporary sediment delivery pipeline, the fertile sediment is distributed in areas of recent tidal marsh die off to encourage new growth of tidal marsh vegetation — assisting marsh resilience to sea-level rise. Success in restoring marsh habitat could lead to transformational change for coastal communities where sea-level rise is erasing intertidal ecosystems.
Another nearby project is restoring marsh in Boundary Bay. Round logs, which have been delimbed during forestry activities, can escape upriver and tend to linger in the marsh and crush vegetation. Recently, large accumulations of round logs were removed from 1.5 hectares — about the size of two soccer fields — of valuable tidal marsh. The logs were recycled at a biofuel facility and ultimately used to create topsoil. If the marsh rebounds this summer as projected, the project can expand to include the many other log accumulations in the estuary.
"The team is celebrating our progress thus far but there is an urgent need to do more to build the resilience of the habitats," said Balke. "There is no replacement for the Fraser River Estuary and its incredible ecosystem services to fish, other wildlife and local communities."
With the challenges that deplete their health, including rapid development, pollution, rising seas and encroachment, there is a key role for public support for sustained, focused investments that enhance the complex ecosystems protecting our coastlines.
Turn the tide on coastal squeeze
Spread the word about rising pressures on Canada's coasts
Learn more